To protect our children, the Chicago City Council passed a new proposal that restricts the sale of flavored tobacco products, including menthol-flavored cigarettes, within 500 feet of a school. As part of Mayor Rahm Emanuel's campaign to curb youth smoking, the new ordinance is good news for our children as it prevents Big Tobacco from enticing and capturing children in the very places they should be nurtured and cared for -- school zones.
This summer the U.S. Food and Drug Administration (FDA) released a report on menthol-flavored cigarettes -- perhaps the most insidious and ubiquitous of all flavored tobacco products. The FDA's report confirmed what the public health community has known for years -- menthol cigarettes pose a greater public health risk than regular cigarettes. The cooling effect of menthol facilitates initiation and early persistence of smoking, especially among youth. Menthol-flavored cigarettes are more addictive and harder to quit than unflavored cigarettes.
Mayor Emanuel called on the Chicago Board of Health last summer to hold town hall meetings to help identify local policy options for curbing the use of flavored tobacco products among youth. This month's ordinance is an outcome of that community-driven process.
The people of Chicago know Big Tobacco uses candy and fruit flavors to hook youth. They also know this is nothing new. After the FDA removed candy-flavored cigarettes from the market in 2009, the tobacco industry immediately created candy -- and fruit-flavored cigarillos and cigars -- the same products that this ordinance removes from school zones.
Big Tobacco claims they don't use these flavors to market to youth. But look closer and the truth is easy to see. Phillies Sugarillo Cigarillos are advertised with the tagline, "when sweet isn't enough." Electronic cigarettes now come in flavors like gummy bear, cotton candy, bubble gum and Atomic Fireball. Swisher Sweets flavors include kid-friendly flavors like peach, strawberry, tropical fusion, chocolate, grape, and blueberry -- and they are called Swisher Sweets!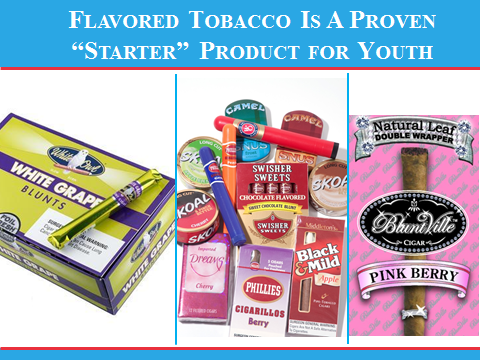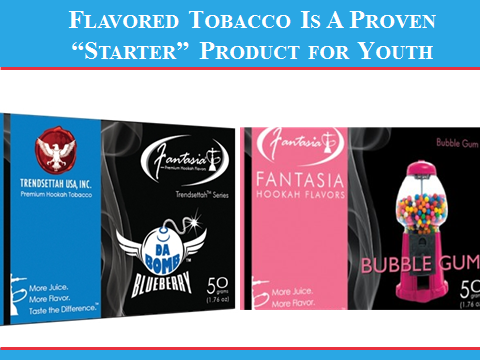 Furthermore, some products are sold individually or in two-packs, increasing their affordability and appeal to children. Because other flavored tobacco products are not taxed in many jurisdictions at the same rates as cigarettes, they are cheap. At less than $1 a piece, flavored cigars are accessible to even the youngest smokers and are an impulse purchase for many consumers. These dangerous and addictive products can cost less than a candy bar or an ice cream cone.
The colors are the same. The flavors are the same. The shapes are the same. The pricing is the same. The packaging is similar. What is different is that one is an addictive, dangerous drug and the other is candy.
Mayor Emanuel and the Chicago City Council made it clear: Big Tobacco does not belong in school zones. We hope other cities will take notice and adopt similar legislation to restrict the sale of flavored tobacco without delay. Together we can keep more children from ever lighting up, which in turn will help them grow into healthier young adults.
Check out our new ads as part of Chicago's campaign and continue the conversation on Twitter #NoMoreMenthol.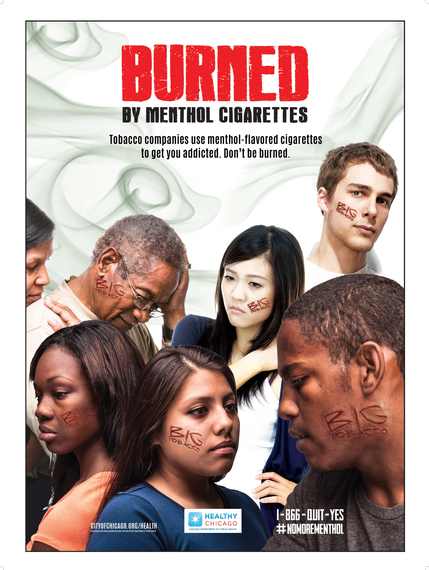 Calling all HuffPost superfans!
Sign up for membership to become a founding member and help shape HuffPost's next chapter