A teen in Florida who beat cancer and wore a shirt with the word "survivor" on it has been told his attire didn't adhere to dress code at his high school.
On Nov. 2, 16-year-old Tyler Powers wore a purple Relay for Life and American Cancer Society shirt that included the word "survivor" across the back of it to Ridgewood High School in New Port Richey, Florida. At 7 years old, Powers won his first cancer battle after being diagnosed with acute lymphoblastic leukemia at age 5. He relapsed when he was 8, but was declared cancer-free at age 10.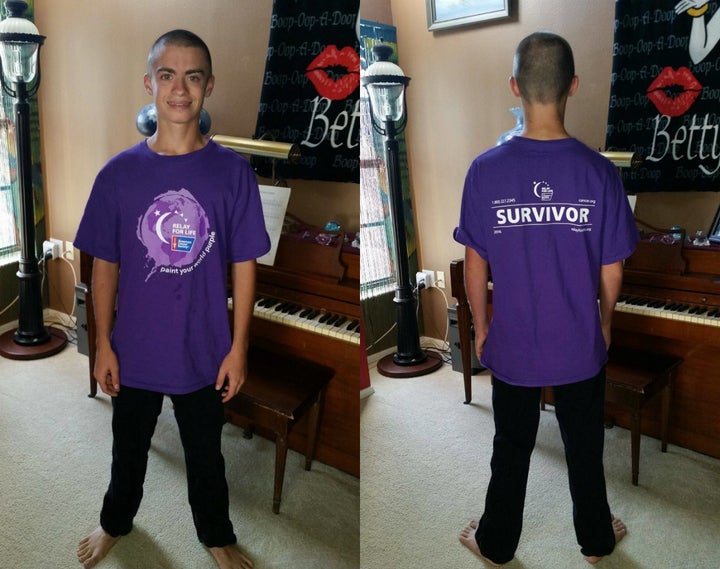 The teen told The Huffington Post he thought he grabbed a purple Ridgewood High School shirt that morning, but put on his "survivor" shirt instead. During second period, a teacher told Powers his shirt didn't meet the school's dress code because one of the logos on it was too large. According to the school's dress code, logos cannot be bigger than a quarter. Powers told HuffPost the teacher then said he had to go in-school suspension to get a new shirt to wear.
"I asked her where the ISS [in-school suspension] room was and she told me room 111," Powers said. "I went down there where I had three options: I could get a change of clothes that they provide, a free Ridgewood shirt, and they would confiscate my shirt until the end of the day or I could call my parents and they would have their workday interrupted and bring me a change of clothes down or I could accept ISS and stay there all day."
Powers chose to wear a temporary shirt that the school provided for him.
Linda Cobbe, communications and government relations director of Pasco County Schools, told HuffPost that Ridgewood has a modified dress code in place this year, an effort to improve academic performance and college preparation. She confirmed that the size of the logo was the issue for Powers' shirt, but said that the teacher provided him with a different shirt and that Powers was not sent to in-school suspension.
In a statement, she noted that Powers was only at school for part of the day (Powers takes classes at a local college) and that the faculty at Ridgewood "can't discriminate by allowing one student to wear a special shirt" (emphasis hers):
On November 2, a young man who attends the school for one period per day showed up in a shirt that violated the dress code. His teacher noted that he had a shirt with a logo that violated the logo size limitations and asked him if he had another shirt to change into. He said no. She then asked him if someone could bring him a different shirt and he said no, so she asked him what size he wore and then got him a school-provided shirt. She never noticed what was on his shirt and he never mentioned anything about being a cancer survivor; the school never knew he was a cancer survivor. If he had said something, the teacher would have listened empathetically and explained to him how the logo size limit applies to all shirts and that they can't discriminate by allowing one student to wear a special shirt. In high school, they hold students accountable for knowing rules, processes and procedures.
Since the incident, Powers has been speaking out about the "extremely strict" dress code at his school. He told HuffPost several students have said they disagree with the standards, including his friend whose brother is in the army and who was told to change out of his sibling's platoon shirt. On Sunday, Powers wrote on Facebook that he is the junior class president at Ridgewood and noted that he wants to be a "voice" for his fellow classmates.
"I was not elected by the staff of Ridgewood, I was elected by the students of Ridgewood High School," he wrote. "With that being said, I represent the students, not the administration."
Along with the students, Powers' mom, Dorothy Powers, stands by her son and supports his decision to speak out about his school's dress code.
"He has a voice and he is using it," she said. "Couldn't be more proud!"
Powers said he met with an assistant principal at his school to discuss what happened, but that "nothing got resolved." He plans to stand by his class and continue being vocal about Ridgewood's dress code.
"I in no way, shape or form see how an American Cancer Society shirt, a shirt that promotes a positive influence, from a nonprofit foundation that cures diseases would have more of a distraction than pulling a student out of class ... to get a new shirt."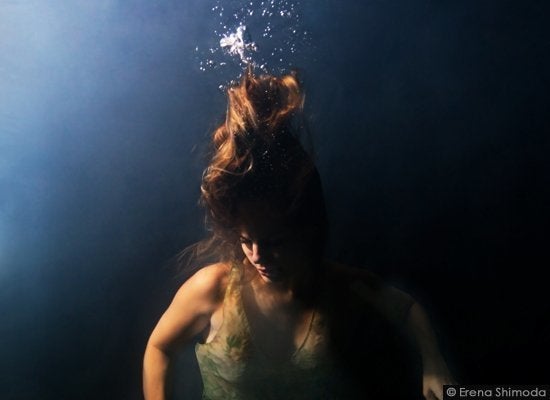 Stunning Underwater Healing Photos of Cancer Survivors