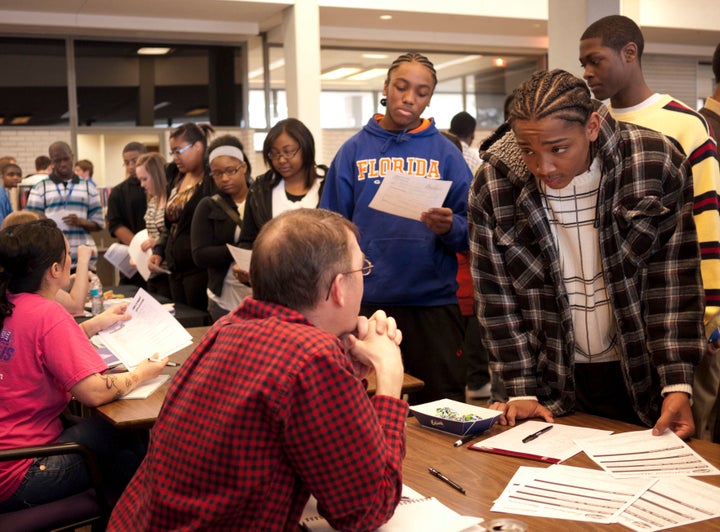 Four legislators, several Chicago-area service providers and dozens of high-school and college-aged youth sat down on the South Side Monday for a summit on a problem that's approaching fast: summer jobs for teens.
Teen unemployment across the country is at a record high, and with school letting out soon, a county jobs program in transition and federal dollars drying up, many worry that the crisis could get worse over the summer. And that could have dire consequences in Chicago.
"A summer job keeps students off the streets. It shows them responsibility, motivates them to continue doing good," said state Rep. Toni Berrios, one of the attendees of Monday's summit at the Chicago Urban League.
She and the others in attendance heard stories from students from around the city about why they wanted work, and how hard it was to find it. Some had held jobs before; others, 18, 19 years old, had never found one, despite years of looking.
Teens are often squeezed out of the jobs they might have found in better economic times. Many more experienced and older workers are now out of work, and are applying for and filling the entry-level positions that might otherwise have been reserved for teenagers.
And the particular circumstances of this summer may well make matters worse. For one, the federal stimulus contained programs that helped state and local governments hire teenagers during the summer months. Those dollars have dried up. "Two years ago, we had 1,500 jobs," Cook County Commissioner Earlean Collins, another summit attendee, told HuffPost Chicago. "Now, they say we may have 500. It's very inconclusive if we will have any."
On top of that, new Cook County Board President Toni Preckwinkle recently announced a massive overhaul of the county's jobs programs, hoping to address rampant corruption at the President's Office of Employment and Training. The result of the overhaul, according to Collins at least, is that the office is less well-prepared to provide opportunities to those who need them.
"I don't know what they're doing, but I know what they're not doing," she said, voicing criticisms for a reform that was widely popular and celebrated by advocates of good government. "They don't have any applications online, they haven't let the community people apply for jobs. They've wiped out everything from the past."
With opportunities few and help from government sparse, it could be especially difficult for the city's at-risk teens to find work once school lets out — which for college students will happen within weeks. And as the weather warms up, that could mean trouble. Gang violence is always up during the summer months, and with more teens idle and on the street, the results could be deadly.
Representative Berrios said there is some prospect for state assistance. Last year, Representative Esther Golar helped push through the Community Youth Employment Act, which set aside funds for six-week jobs programs. "It would go into effect this year," Berrios said; "we're hoping we can find the funding."
And Commissioner Collins is ready to give Springfield a nudge — by bringing the youth she heard from to the Capitol to lobby in person. "I want to engage these kids. We've got the buses, we've got the motivation," she said.
Given the state's own dire economic situation, they can only hope they'll come out with the funds for at least a few jobs.
Calling all HuffPost superfans!
Sign up for membership to become a founding member and help shape HuffPost's next chapter