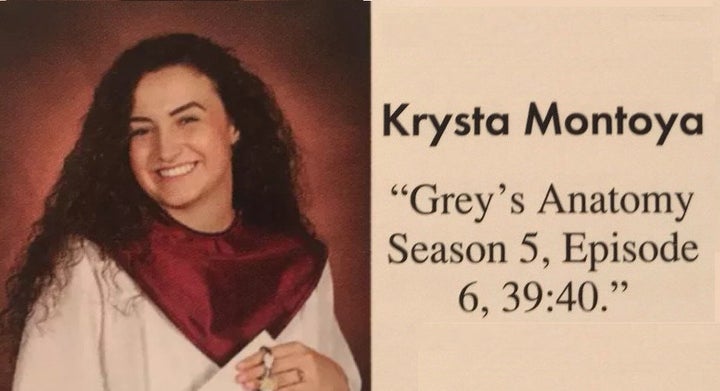 A teen was able to make one hell of a statement by using a clever loophole — and a little help from Shonda Rhimes.
Krysta Montoya, an 18-year-old from Albuquerque, New Mexico, confused the student body at Valley High School with her cryptic senior quote in the school's 2018 yearbook.
"Grey's Anatomy Season 5, Episode 6, 39:40," the quote said.
Montoya told HuffPost that "most people didn't understand it" and she got sick of explaining what it meant. So, on Monday, she decided to clear everything up on Twitter.
The senior, who is set to graduate from high school later this month, was referencing a moment in Season 5, Episode 6 of "Grey's Anatomy" in which the character Erica Hahn says, "I am so, so, so gay."
The scene takes place about 3 minutes and 18 seconds into the episode, with 39:40 remaining.
"I just loved it," Montoya told HuffPost. "I was watching 'Grey's' and I saw it and I took a screenshot, so I kept it in my camera roll ever since."
The school administration "would not let me post that," she said, so she relayed her message secretly instead.
Montoya stressed the importance of being able to express herself this way.
The high school senior said she's been out since her freshmen year. But because she never dated anyone in middle school, and only experienced her first kiss in high school after dating another girl, people thought she was just going through a phase.
"I feel like people were like, 'How would you know if you're gay if you haven't even tried dating a boy?'"
Those kinds of questions caused her a lot of pain, she said.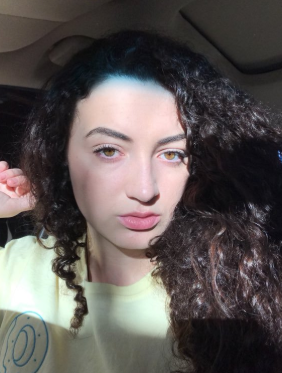 "I felt insecure ― even at times I doubted if I was a lesbian," she told HuffPost.
Yet, through the support of her parents and a teacher who "taught me so much about being confident and to not be afraid of who you are," by her senior year Montoya knew exactly who she was.  
"Some people even said I'd be with a boy by senior year," she said. "So what better way to prove them wrong by making my senior quote, 'I'm so, so, so gay?'"
And being able to use a quote from "Grey's Anatomy" made everything even more satisfying.
"Ah, this show," she said. "It's put me on a roller coaster of emotions. This is probably one of my favorite TV shows, and it's amazing that I got to use a quote from 'Grey's' to express myself."
Calling all HuffPost superfans!
Sign up for membership to become a founding member and help shape HuffPost's next chapter