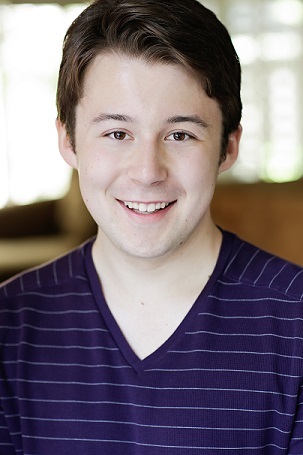 18 year-old Matthew J. Evans' mission as a filmmaker is to produce movies and videos that entertain, educate, inspire, and empower audiences to find value and meaning in their lives and in the world. He supports organizations whose mission is religious tolerance, inclusivity, and peace and compassion for all life. His film A Quest for Peace: Nonviolence Among Religions has won top honors at 16 film festivals in the past year and a half and was a finalist in the 2013 Cannes Film Festival's Emerging Filmmaker Showcase.
Matthew J. Evans was chosen to receive the PeaceMaker Corps Association's prestigious Art of Making Peace Award for his documentary short film, A Quest For Peace: Nonviolence Among Religions. The film features personal interviews with Arun Gandhi, grandson of the legendary Mahatma Gandhi. The award is part of the first annual Peace in the Streets Global Film Festival for youth and teen filmmakers! Matthew traveled to New York City to receive the award on September 9th at the United Nations.
You've produced and edited many documentary short films. At what point in your life did you decide to work BEHIND the camera? How have your documentaries educated and inspired others?
I became interested in film making as a result of my acting work. I was around 11 years old, and I had been working as a professional actor in TV and film for about three years. I had a growing fascination with film production and started learning by asking questions and talking with the experts on set. I soon learned that film was a powerful medium for communicating ideas to people all over the world. I had an idea that I was passionate about and produced my first documentary short film when I was 12 years old. I don't just stay behind the camera, though. I do a great deal of narration and interviews in my films.
Documentary films are important to me because they tell the stories of everyday heroes who have shown themselves as examples of the overcoming power within all of us. I'm grateful to have received a number of awards for my films over the years, but what makes it most special is when people I've never met tell me they feel inspired and more hopeful about their own lives because of what they saw on screen.
This week you're at the United Nations in NY to receive the PeaceMaker Corps Association's prestigious Art of Making Peace Award for your documentary short film, A Quest For Peace: Nonviolence Among Religions. Describe how you felt when you found out you were receiving this honor.
I was blown away when I found out I was receiving the art of making peace award. This honor does a lot to renew my passion for film making and helps me understand that this message of peace is important to people, and that they really take it seriously. I was actually sitting on the couch eating breakfast when the film festival called to tell me I won! The first person I told was my mom, who was just upstairs. She's supported me and guided me through everything, so I told her first for sure.
In ONE sentence, tell us the most important thing you want to share with the world right NOW.
The most important thing I can say in one sentence is, Peace Begins with Me, we have the power within us to make a positive difference in the world, and we can't wait around for someone else to start it, peace has to start within us as individuals, and then it begins to spread.
You recently celebrated your 18th birthday. What's it feel like to now have certain rights and freedoms that you didn't have before?
Registering to vote was really exciting, and I'm glad to have a voice in the voting process. I've followed news and politics for a long time, and I'm looking forward to actually participating in it.
You're about to appear in the upcoming Disney show I Didn't Do It. Tell us about your character, how you got the part and a behind the scenes story.
Working on I Didn't Do It was a great experience. My character is the high school band leader named Ross. It was a really fun part and I had a great time working with Austin North, Piper Curda and the rest of the cast on the show. I have a great agent and manager in L.A. who send me to auditions they think I'd be right for. It was exciting working on that episode, because during that rehearsal week the writers and producers really enjoyed what I was doing with the part, and actually expanded it and gave me more great jokes and screen time.
What plans do you have while in New York?
I plan on going to all the UN events that I can. It's such an amazing opportunity to see these events and panels, and I want to soak up as much information as possible. Outside of the UN, there is one thing I have to do every time I go to New York. I have to ride the subway. It doesn't matter where, I just love theidea of going underground, getting on a train and riding it. As someone who lives in a non-subway city, I find the concept amazing. Aside from that, I love just experiencing the city and everything it has to offer. Maybe it comes from watching Woody Allen movies religiously, but I have a real fondness for New York.
How do you fill up your time when you're not working?
When I'm not doing schoolwork, film making or acting, I play and listen to music. I've been studying upright bass and bass guitar for a long time and I love just taking out my standup, putting on some jazz songs, (most likely a Charles Mingus tune) and jamming away. I love improvising and the freedom it gives me.
You are an accomplished musician and singer, but what is your true passion?
I think my true passion is connecting with people through the arts. I know that's vague, but I couldn't pick one thing that I love more than the other. They're all different and I get a different feeling when I do them. For me music is "in the moment adventure," since I'm improvising and taking solos in my college jazz combo, acting is more about emotional self-discovery and interpreting a character who is different from me, and film making is a really long term commitment to one idea, and it takes a lot more focus and effort to see one project through. But it's just as exciting and satisfying to me playing a great bass solo, interpreting an awesome acting part or seeing my film on the big screen. It's all connecting to people through art and that's amazing to me.
I see myself as a person who is working on developing greater self confidence and letting go of sweating the small stuff. What's interesting is that people see me as calm, cool, comfortable in any circumstance and totally on top of things. I love that people see me that way but I also want them to know that I really work hard at almost everything I do.
You starred in the film Bad Teacher alongside Cameron Diaz. Tell us about
that experience? What's your secret to memorizing lines?
Working on Bad Teacher was absolutely amazing. Cameron Diaz was one of the best people I've ever worked with. She was so loving and supportive to me throughout the entire shoot. We talked a lot and just had a great relationship. She even gave me some boxing lessons on the set, which was unexpected but really a lot of fun! The whole shoot, working with Jake Kasdan, Justin Timberlake and Cameron was truly unforgettable and I loved every second of it.
I don't know if I have a "secret" to memorizing lines, but I think it's very helpful to run them over and over before going to sleep at night. It seems that during the night the lines "marinate" in my head and I can remember them more clearly in the morning.
Anything else you'd like to say?
I'd just like to thank the PeaceMaker Corps for honoring my film, and I would like to encourage people to see A Quest for Peace: Nonviolence Among Religions and remember that there is hope for our future. We all have the power to become peacemakers in our own lives.
Going to the UN is such an incredible experience and I'm really grateful for the opportunity to be an active participant in the global peace movement. I also want to say how grateful I am to Arun Gandhi for being such an amazing support and inspiration.
Calling all HuffPost superfans!
Sign up for membership to become a founding member and help shape HuffPost's next chapter