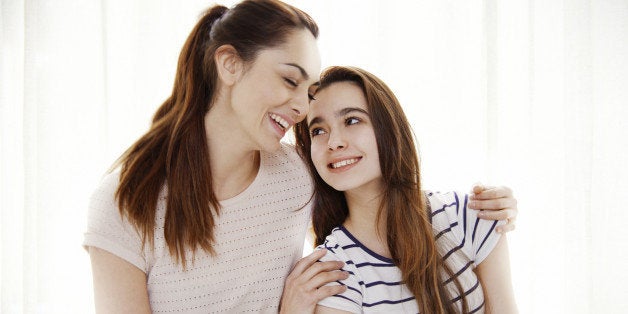 I am the single mom of three girls and am having a hard time with my fifteen-year-old. We have always been very close, but this past year, when she's upset, she turns to her Facebook friends instead of me. What can I do to make sure she's not getting steered wrong when she's stopped opening up to me about her problems? Parenting on my own is hard enough without having to worry about her getting advice from other mixed up teenagers.
Until very recently, raising children almost always included the support of extended family and friends. These days, parents often feel terribly isolated as they attempt to meet the needs of their children, whether they are raising them on their own or with a partner.
Author Bunmi Laditan wrote a beautiful essay called I Miss the Village, which I quoted in my latest book. In it, she says that if we were raising our children in a village,
"I'd know your children, and you'd know mine. Not just on a surface level -- favorite foods, games and such -- but real, true knowledge of the soul that flickers behind their eyes. I'd trust them in your arms just as much as I'd trust them in mine. They'd respect you and heed your "no."
Your daughter needs a safe, trustworthy auntie to lean on as she does the work of separating from you. Yes, it would be great if she knew that she could tell you anything; I have written much about the importance of managing our responses so that our children know they can reveal their struggles to us without fearing our reactions.
But it is entirely normal for teens to need someone other than a parent in whom they can confide.
What loving, caring woman do you know might you prevail upon to spend time with your fifteen-year-old? It could be someone related -- a sister, older cousin, or sister-in-law -- or it might be a close friend who shares your sensibilities and values but has a natural talent for establishing rapport with young people.
It could be a trusted teacher or school counselor that offers your daughter support, or even a wise young woman you hire from a local university to do some tutoring. (Be sure to use referrals!)
If you cannot identify a trustworthy person to become a confidante for your daughter, look for a therapist with whom she can forge a bond. In my psychotherapy practice, one of my greatest joys is working with tween and teen girls. Many times, they have loving, attentive mothers but for reasons they can't quite explain, these young women still find it hard to share the details of their lives with Mom. Wisely, their mothers have provided their individuating daughters with someone from whom they can get sane advice... instead of their peers.
Youngsters need aunties. By sharing their wisdom, trials, and successes without the added layer of having the complicated relationships we invariably had with our daughters, they broaden our girls' horizons and open them to insights they might not be receptive to hearing from their own parents.
Seek out a reliable (and cool!) wise woman to mentor your daughter. In the not too distant future, she'll be returning to you for advice, but during this awkward interim, you will both be grateful for the loving support an auntie can bring to your lives.
Do you have a question for the Parent Coach? Send it to askparentcoach@gmail.com and you could be featured in an upcoming blog post.