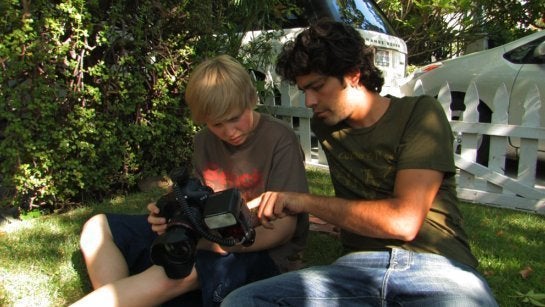 Adrian Grenier became a celebrity by playing one on 'Entourage,' and in a new documentary he gets on the other side of the camera to explore just how the paparazzi exploit celebrities, and vice-versa.
Adrian's window into LA's tabloid culture is a child paparazzo named Austin Visschedyk, just 13 years old and fetching up to $2,000 per Kim Kardashian photo when 'Teenage Paparazzo' begins. As Austin gets caught up in filming the movie, his own celebrity grows and the media attention stokes his appetite for fame. Academics, photographers and celebrities including Matt Damon, Alec Baldwin, Eva Longoria, Lindsay Lohan and Rosie O'Donnell weigh in, and Adrian stages a photo-op with his friend Paris Hilton to see how it will be reported in the press.
HuffPost spoke with Adrian about his "little brother" Austin (now almost 17), the meaning of celebrity and how he once tricked the paparazzi during a car chase.
What were you thinking when you first met Austin?
"At first I thought he was just a kid, just a fan. He asked to take my picture, and he was innocent enough until he took out a camera that he could barely hold up and flashed me with 30 rapid-fire shots. I was blown away."
Did you feel responsible for his development as a paparazzo and then his eventually wanting to be in front of the camera while you were filming the documentary? Did you feel like you encouraged him?
"Absolutely. I was making a film and just like the paparazzi, I'm looking for a good performance. On one level I was encouraging him to quit that behavior and on the other hand I didn't want him to stop because I was making the movie about it. It led me to recognize that most importantly a personal responsibility we all have when out taking pictures. It's not just what we see but how we encourage what we see."
Do you still have a friendship with Austin now that you have turned off the cameras?
"Yeah. Sort of like big brother, little brother thing. He's in LA and I'm in New York, so we mostly talk on the phone. But I'm looking forward to getting a chance to hang out with him tonight (at the movie's premiere--scroll down for pic)."
You grew up in New York. What do you think accounts for the difference in paparazzi culture between New York and LA - is it just that there are more celebrities in LA?
"I think that's part of it. More celebrities contained, easier to shoot. Hollywood's where it's at. There are many different industries in New York. Entertainment isn't the main industry, and it's easy to get lost and fade into the background."
Do you see the paparazzi business peaking at some point? What will cause the price of a photo to start to come down?
"The meaning of celebrity and the role of celebrity in our lives is changing. I think my movie will mark the end of the hyper-tabloid era. I don't know if my film will be the catalyst, but as I've captured it, it's definitely changing and we're starting to recognize our individual power of media. It's not just held in monopoly by the few media companies, but we all have an opportunity to snap, post, comment and really become our own reflections of ourselves."
Do you think Twitter has given celebrities back some of the control over their images?
"One thing Twitter has done is allow celebrities to reclaim control of their own image and their own relationship to the public. For so long, celebrities or performers had to cater to the will of the few monopolies who had the money and the tools to create media, and now people can go out and take pictures and make films."
How did your experience on 'Entourage' help you make this film?
"This is definitely a response to the past six years playing a celebrity on a show about celebrity. The only way I could really make sense of it is by deconstructing it and adding another layer of reflection onto this bizarre hall of mirrors I've been thrust into."
Do you remember the first time the paparazzi ever photographed you?
"I'd been in movies before 'Entourage,' and I guess I'd been photographed, but I guess the whole notion of paparazzi is when there's a lot of it coming at you. I remember a couple of times expecting to be photographed and I wasn't, so I felt awkward about that. But I knew that it was only a matter of time because the show was becoming popular."
Do you have any good stories about being chased by the paparazzi?
"It becomes a game, which I think can become dangerous. One time they were following me and I ended up leading them down a cul-de-sac dead end, and I turned around and I ended up enlisting the help of a stranger who was in another car coming my way. I pulled up next to him and I said, 'When I pass you, pull behind me and block these guys.' He immediately got it. He recognized me from 'Entourage,' and he said, 'I'm a stunt guy. I know what to do.' So I pulled off, and like a stunt guy pro, he pulled in and blocked them and I was free."
Last month California passed a bill that will impose harsh fines and jail time on paparazzi who drive too fast. Do you think this will change their behavior?
"I think it's a good start. The bottom line is there are laws that would restrict the way paparazzi do business and create dangerous situations. They just need to be enforced, so hopefully this will put a strong message out there. At the end of the day there needs to be a paparazzi task force that goes out and keeps an eye on these guys. You might need a hall monitor or babysitter for these guys because they forget themselves, especially when there's a price tag attached to what they do."
Is Austin still taking pictures of celebrities?
"He's growing. He's doing his thing and we'll see what comes of it. Once the movie comes out, it'll be a whole new story and we'll see how he responds to that."
'Teenage Paparazzo' premieres Monday, September 27 at 9 pm on HBO.
WATCH the trailer:
Adrian and Austin at the movie's premiere Tuesday night: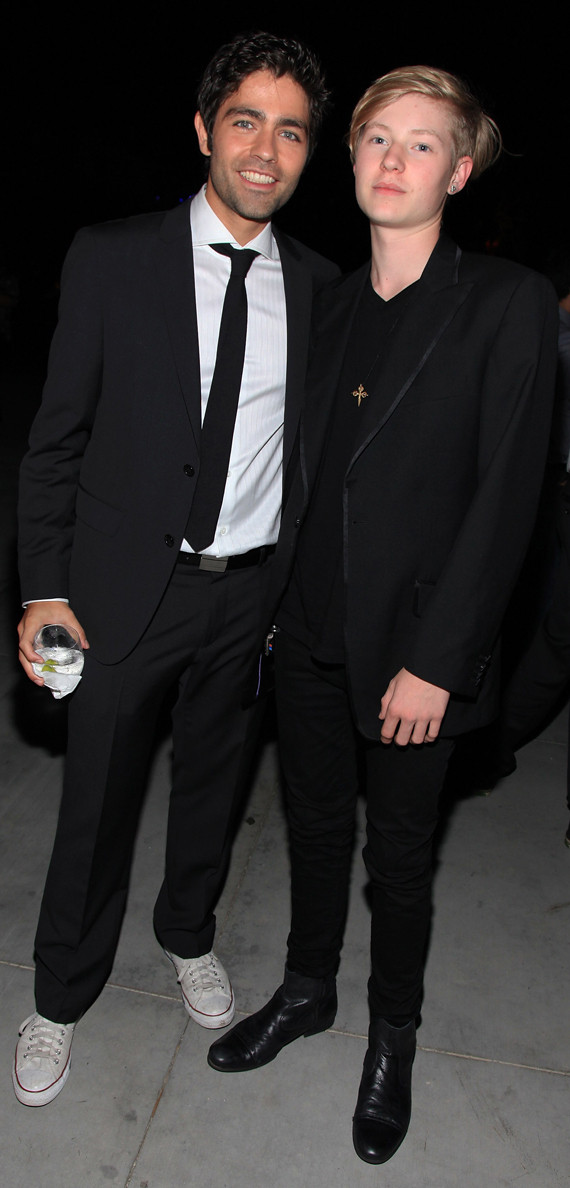 Popular in the Community