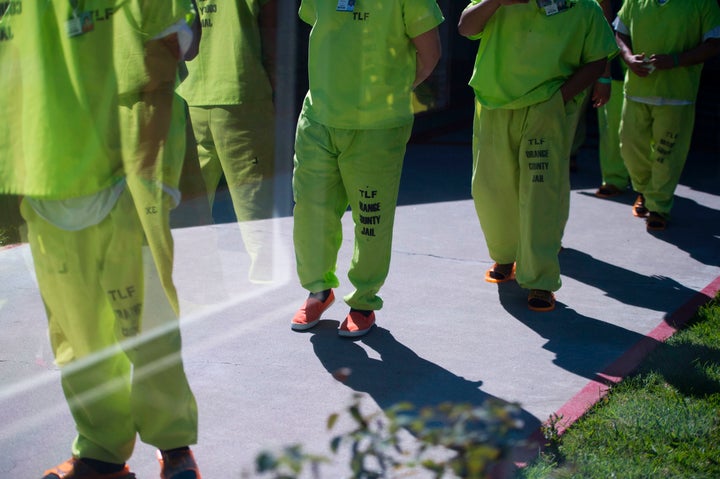 A teenager seeking asylum from "severe child abuse" is currently being held in an adult detention center in Southern California after U.S. immigration agents shackled and arrested him in a youth shelter on his 18th birthday.
Erik Javier Flores Hernandez fled northern Mexico in late 2016 to escape his abusive father, as well as drug traffickers who abducted and killed his mother and grandmother, according to the Immigrant Defenders Law Center, an advocacy group providing Flores with legal representation.
The IDLC said Immigration and Customs Enforcement officials detained the teen on Saturday despite their client's compliance with guidelines that would likely have allowed for his release from the Office of Refugee Resettlement custody at 18 under the Obama administration. Flores is currently being held at the Theo Lacy Facility in Orange County.
Some immigration advocates fear his detainment is a precursor to more "cruel" and "shameful" immigration tactics toward children and teens under President Donald Trump's administration.
"There's nothing about this arrest that serves any rational policy in the United States government. Period," said David Leopold, an immigration lawyer. "It's cruel, baseless, mean-spirited, ugly ― it's just wrong."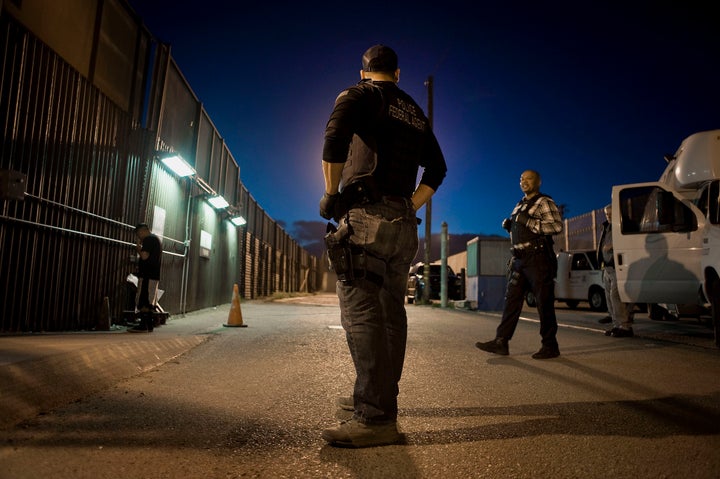 After crossing into the U.S. in December, Flores was immediately apprehended by U.S. officials, designated as an unaccompanied minor, and sent to a federally run youth shelter in Los Angeles. The IDLC appointed Flores an attorney in January and began the process of applying for his asylum.
Flores' chances of securing asylum status seem strong, said IDLC executive director Lindsay Toczylowski. He has no criminal record and earned glowing behavior testimonials from shelter staff, who have described him as respectful and soft-spoken. Both his aunt and another community member offered to take him in, another factor that would likely have helped garner his release under the last administration.
"There's nothing about this arrest that serves any rational policy in the United States government. Period."
Toczylowski said her group briefed ICE agents last week about Flores' good standing, but agency officials told IDLC that Flores would nonetheless be detained when he turned 18 and transferred to an adult detention facility.
"Prior to this, if we had all of those things in place, unless there was some reason to believe that the child was a threat to the community or they were a flight risk, ICE would always release them on their own recognizance," Toczylowski said.
It's unclear why ICE didn't release Flores, though the agency said in a statement that he could not "appropriately remain" in the children's shelter:
Individuals being housed in centers operated by the Department of Health and Human Services that are designed to hold unaccompanied alien children may not appropriately remain in those facilities once they reach age 18, as Mr. Flores now has. Accordingly, he was transferred to U.S. Immigration and Customs Enforcement (ICE) custody Saturday and will be moved to a facility used to house immigration detainees who are 18 and older. ICE is currently reviewing the circumstances of Mr. Flores' case to determine appropriate next steps. At this time, his immigration proceedings are ongoing before the Department of Justice's Executive Office for Immigration Review.
Toczylowski claimed ICE had other options besides hauling Flores off to an adult detention center, where conditions are similar to a prison and strikingly different from the "group home" setting he was used to at the shelter.
She said officials could have allowed Flores to live with relatives or transfer to an adult shelter instead, as they've done with other cases in the past.
"We just think this is emblematic of what they'll be doing across the country in these cases under this new policy," she added. "And it's really tragic because it means these kids will be traumatized a second time when we should be welcoming them as asylum seekers and ensuring they have the services that they need."
In February, Secretary of Homeland Security John Kelly issued a memo to immigration officials instructing them on how to implement Trump's executive order on immigration from January.
The memo instructs ICE agents to ignore Obama's memos on immigration priorities that targeted only recent arrivals and convicted criminal migrants for deportation. Instead, ICE agents are allowed to use wide discretion in deciding who to deport, and to consider anyone who is in the U.S. illegally to be subject to deportation.
"[Kelly] has the audacity to publicly state to the media that they're going after 'bad hombres,'" Leopold said. "He either doesn't know what's going on or he's lying to the American public ― or both."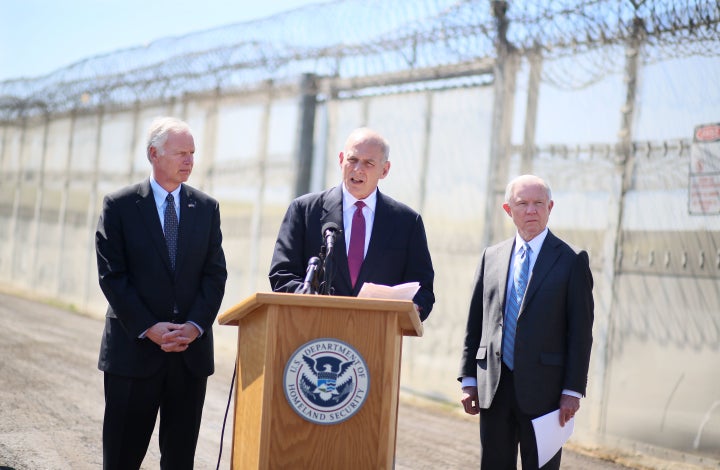 Toczylowski argued that Flores' detention is not only egregious from a moral standpoint, but in terms of government efficiency as well. She said releasing Flores would have minimal costs, maybe a few dollars a day. Instead, the government will spend an estimated $164 a day to detain him, according to Human Rights First.
"What we're hoping is that if the public is aware of what's happening ― and also of the inefficiencies of what's happening ― that there will be pressure on the Trump administration to rethink whether or not detaining asylum seekers ... is something that they will continue to do," said Toczylowski.
The IDLC plans to seek a bond hearing to get Flores released, but that could take weeks. Flores will likely remain in adult detention until at least May 8, when a judge is scheduled to consider his asylum application, Toczylowski said.
"The American people are not going to take this kind of stuff lying down," Leopold said. "We have been shocked over and over again by the brazen cruelty of this administration toward immigrants. Enough is enough."
Read more details about Flores' detainment below in a Facebook post from Lisa Okamoto, the IDLC's managing attorney.
Popular in the Community