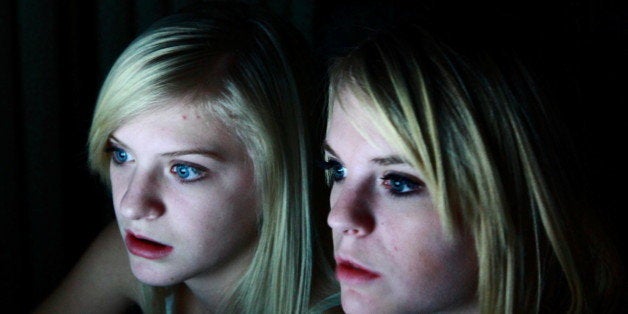 McAfee Consumer released their "2014 Teens and Screens Study" on the heels of a national headline about two 12-year-old girls who told police they were influenced by an Internet meme named Slenderman and allegedly brutally attacked another 12-year-old girl who barely survived after being stabbed 19 times.
We can explore many disconcerting statistics from this study, such as the finding that cyberbullying has tripled in 2014 and 24% of study respondents said that they would not know what to do in the event of cyberbullying. This is especially troubling since there are so many resources, organizations, and individuals that are available to assist teens and tweens today. Where is the communication breakdown?
In light of current events, we have to explore an important finding regarding digital so-called friends, also known as strangers.
The study shows that 59% of teens engage with strangers online and one out of 12 actually meet the online stranger in real life. Why? Because 33% of teens feel they are more accepted online than they are in real life, according to the study.
Does this all come back to teens and self-esteem?
We have taught our kids about stranger danger in the parks and playgrounds, and we talked to them about the chatrooms where predators can linger. However, are our teens prepared for when people that they really don't know want to friend them on social media? Do they assume they are good people since they are friends of friends of friends? Or do they simply want to build their self-esteem?
After determining 59% of our kids are mingling with strangers, the study revealed that even though 77% know that what is posted online can't be deleted, many are still oversharing personal information. In fact, 49% admitted to post regret and 14% have posted their home address, which is 14% too many.
We shouldn't have to read about the tragedy that occurred in Wisconsin; 12-year-olds should know better. They should be able to separate reality from fantasy.
The 2014 McAfee Teens and Screens Study said that 90% of tweens and teens believe their parents trust them to know right from wrong online, yet 45% of them said they would change their online behavior if they knew their parents were watching.
More disturbing is that 53% say they clear their online history and either close or minimize their web browser if a parent enters the room.
Many can be quick to blame websites and apps, but when we are faced with studies like this current one, we need to understand that it's time to turn the finger around and enhance digital parenting.
This is with the assumption that every parent is trying to keep their child safe online, however it is not an easy task. The Internet is evolving everyday -- new sites, new apps, new strangers -- this isn't going to change.
We have to equip our kids, tweens and teens with the tools, knowledge and resources to help them develop and use their common sense on a daily basis when they are faced with digital challenges such as:
•Friending someone they really don't know: strangers
•Engaging in chatrooms that are they are not familiar with
•Gaming with people that make them feel uncomfortable
•Knowing when to click-out when faced with inappropriate websites or videos
•Knowing how to report cyberbullying or online abuse
•Installing apps that may not be appropriate for them
Parents have to become more engaged in their child's digital lives. Monitoring is good, but it can be a false sense of security. Listening to your kids, tweens and teens is imperative to learning about what they are doing online -- and offline, for that matter. Making time to communicate with your children and finding out more about their interests can help you to better understand where they are in their emotional lives too.
Step it up a notch. Ask them if they have downloaded any new interesting apps or visited any new websites. Maybe go to your tween or teen for tech support. Let them become your tech-advisor, this can help you open up a digital line of communication with them. Make this a positive conversation -- not an accusatory confrontation.
We can discuss online safety all day long, but when you ask your teen for help, they will feel important and the lines of communication just may open wider. I would bet it will also build their self-esteem!
Let's face it; our kids will learn more about the latest apps and sites before we will; let's use this to our advantage and let them help us be better parents in the digital world.
Related