A Tennessee teen is encouraging others to break the mold after reportedly earning a spot at Yale University with an unusual essay about ordering pizza.
Carolina Williams announced that she had been accepted to the Ivy League school on Twitter earlier this month and shared a copy of her essay that appeared to draw high praise (and laughs) from an admissions officer.
"I just want @PapaJohns to know that I wrote a college essay about how much I love to order their pizza and it got me into Yale," she boasted in a Tweet.
The 18-year-old, who told HuffPost that she will be the first in her family to attend college, had been tasked with writing about something that she loves to do. Williams said she genuinely loves ordering pizza.
"Accepting these warm cardboard boxes at my front door is second nature to me, but I will always love ordering pizza because of the way eight slices of something so ordinary are able to evoke feelings of independence, consolation, and joy," a portion of her essay reads.
"I came up with the idea all on my own and did not really tell anyone about it," she told HuffPost by email on Thursday. "When my friends found out about it though, they thought it was hilarious."
Her admissions officer apparently did, too.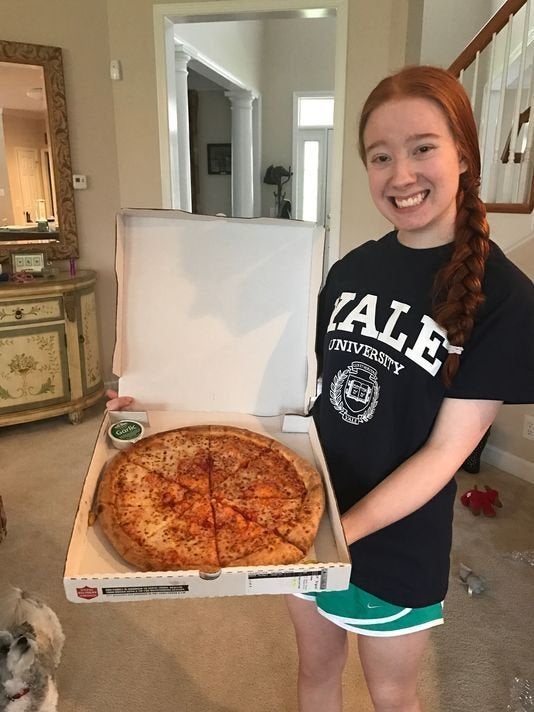 In a letter shared by the teen, the officer, who was not named, said she "laughed so hard" while reading it.
"I want you to know that every part of your application stood out in our process and we are thrilled to be able to offer you a spot at Yale," the officer's accompanying message reads.
Another handwritten note, read: "Yale would be lucky to have you."
Of course, it wasn't just Williams' creative essay that earned her a coveted spot among the 2,272 students accepted by Yale this year ― making a slim, 6.9% acceptance rate.
Her application contained all the right ingredients, including a high GPA, volunteer work, as well as memberships with the English Honors Society, National Honors Society, Model UN and Youth in Government, the Tennessean reported.
But just as she had many choices on what to write about, she also had choices other than Yale.
In the end, she opted to go to Auburn University instead. One big reason, she shared, is that the Alabama school is much closer to home.
"I absolutely love Yale, but I felt so at home at Auburn," she told HuffPost. "I love the South and the school spirit. I will be a part of the Honors College. I'm so honored to have been accepted by Yale, though!"
At Auburn, she plans to pursue a business degree while minoring in economics, she told the Tennessean, which also reported that the school provided scholarship opportunities.