The Facebook generation is fed up with Facebook.
Pew's findings suggest teens' enthusiasm for Facebook is waning, lending credence to concerns, raised by the company's investors and others that the social network may be losing a crucial demographic that has long fueled its success.
Facebook has become a "social burden" for teens, write the authors of the Pew report. "While Facebook is still deeply integrated in teens' everyday lives, it is sometimes seen as a utility and an obligation rather than an exciting new platform that teens can claim as their own."
Teen's aren't abandoning Facebook -- deactivating their accounts would mean missing out on the crucial social intrigues that transpire online -- and 94 percent of teenage social media users still have profiles on the site, Pew's report notes. But they're simultaneously migrating to Twitter and Instagram, which teens say offer a parent-free place where they can better express themselves. Eleven percent of teens surveyed had Instagram accounts, while the number of teen Twitter users climbed from 16 percent in 2011 to 24 percent in 2012. Five percent of teens have accounts on Tumblr, which was just purchased by Yahoo for $1.1 billion, while 7 percent have accounts on Myspace.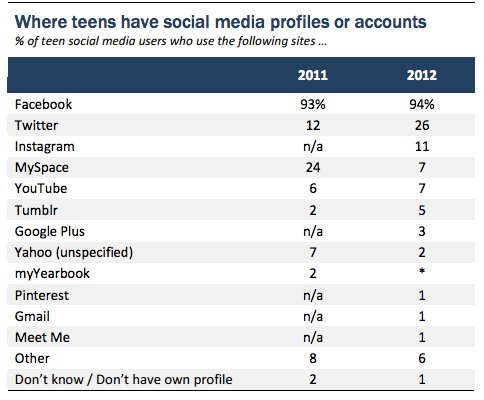 Facebook, teens say, has been overrun by parents, fuels unnecessary social "drama" and gives a mouthpiece to annoying oversharers who drone on about inane events in their lives.
"I got mine [Facebook account] around sixth grade. And I was really obsessed with it for a while," another 14 year-old said. "Then towards eighth grade, I kind of just -- once you get into Twitter, if you make a Twitter and an Instagram, then you'll just kind of forget about Facebook, is what I did."
On the whole, teens' usage of social media seems to have plateaued, and the fraction of those who check social sites "several times a day" has stayed steady at around 40 percent since 2011.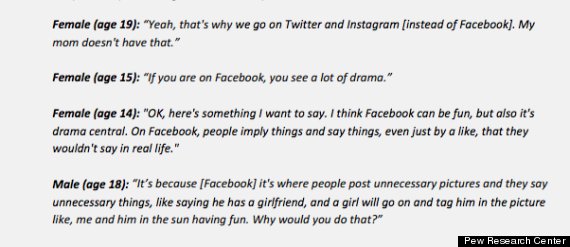 Here's what that "high level of engagement" really looks like, according to Pew:
They're deleting, lying and blocking: As the chart below shows, some three-quarters of Facebook users have purged friends on Facebook, 58 percent have edited or deleted content they've shared and 26 percent have tried to protect their privacy by sharing false information. Among all teens online (not just Facebook users), 39 percent have lied about their age. The report also notes, "Girls are more likely than boys to delete friends from their network (82 percent vs. 66 percent) and block people (67 percent vs. 48 percent)."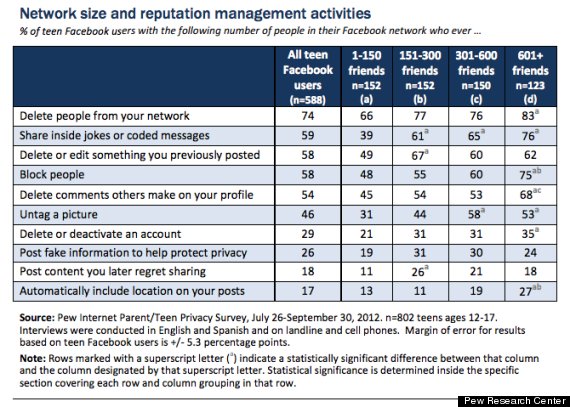 Superusers on Facebook are superusers on other social sites: Teens with large friend networks on Facebook are more likely than their peers to have profiles on other social media sites: 46 percent of teens with over 600 Facebook friends have a Twitter profile, and 12 percent of such users have an Instagram account. By comparison, just 21 percent and 11 percent of teens who have 150 to 300 friends have Twitter and Instagram accounts, respectively.
Teens have hundreds of friends, but they haven't met them all: The typical Facebook-using teen has 300 friends, though girls are more likely to have more friends (the median is 350) than boys (300). Seventy percent of teens are friends with their parents, 30 percent are friends with teachers or coaches, and 33 percent are friends with people they've never met in person.
It turns out parents actually do see what their kids are posting: Just 5 percent of teens tweak their privacy to limit what their parents see.
They're watching out for their privacy: Sixty percent of teens on Facebook say they've checked their privacy settings in the past month -- a third of them within the past seven days. The majority (60 percent) of teens have their profiles set to private, while 14 percent have profiles that are completely public.
But yes, they are sharing personal details: Teens with more Facebook friends are more likely to share a greater variety of personal details about themselves online. Among all teens on Facebook, 21 percent share their cell phone number, 63 percent share their relationship status and 54 perent share their email address.
Seventeen percent of teens on Facebook will automatically share their location in their posts, and 18 percent say they've shared something they later regret posting.
They're enjoying themselves, but they've been contacted by creeps: Among all teens surveyed by Pew, 17 percent have been contacted by strangers in a way that made them "scared or uncomfortable." However, 57 percent of social media-using teens said they've had an experience online that "made them feel good about themselves," and 37 percent say social media has made them feel more connected to someone else.
Related
Before You Go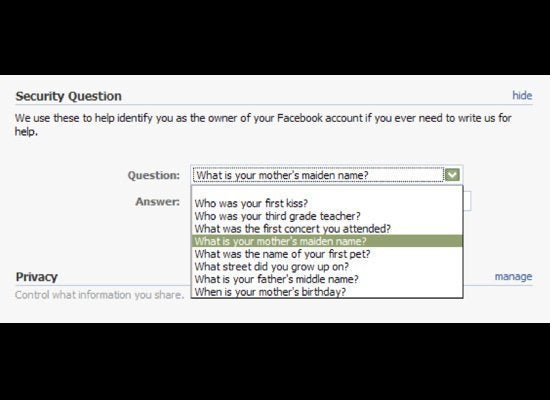 What Not To Post On Facebook
Popular in the Community