Life was only just beginning for Daekwon Tobar. At 17, the South Bend, Indiana, teen was starting to figure out some of the keys to success in the adult world: good eye contact, a firm handshake and a confident tone of voice.
Daekwon was still in school, but he wanted to be a welder when he completed his education, his family said. With a mentor teaching him how to write a cover letter and fill out a résumé to help him stand out from the pack, people who knew Daekwon had high hopes for a young man coming into his own.
But on Feb. 17, Daekwon was gunned down in broad daylight as he walked home from the store with his grandmother. He suffered gunshot wounds to the leg, hip and head.
Daekwon was one of three 17-year-olds who have been fatally shot in South Bend this year. A fourth teenager, just 13 years old, was also killed in the city in late December.
"A lot of people are just a hair-trigger away from snapping, I really think, and if you happen to have a gun in your hand, you can't put that bullet back in once it leaves," said Michael Elliott, organizer of South Bend's On Site Prayer Ministry, in an interview with WNDU at a recent vigil for Daekwon.
Daekwon's story is painfully familiar not just in South Bend but in many places across a nation that is publicly grappling with the effects of gun violence following the Feb. 14 school shooting in Parkland, Florida.
At least 73 teens have been shot to death in the 37 days since that massacre, according to HuffPost's review of a database compiled by Gun Violence Archive, a not-for-profit organization that tracks shootings across the country. (Because Gun Violence Archive culls its data from media reports, there may be cases that haven't been included.)
That's a rate of nearly two teens each day. Among them were Kaiden Vague, a California student who died on his 16th birthday after accidentally killing himself at a shooting range, and 15-year-old Jay Diaz in El Paso, Texas, who survived a childhood fight with cancer only to be killed when a family member fired his shotgun while cleaning it.
There are too many incidents to document each of them here, but the dozens of cases are disproportionately centered in urban areas. They include teens gunned down by other teens or slain by parents or relatives, young people killed in public and at home, in murders, accidents and suicides. The tally doesn't include victims younger than 13, nor does it count any of the many teens who suffered only gunshot injuries over that period.
The slaughter of 17 people at Marjory Stoneman Douglas High School has sparked a national awakening on gun violence. But as throngs of young people prepare to gather in Washington, D.C., and cities across the world on Saturday for the March for Our Lives, the nascent youth-led movement still seems to be figuring out how best to communicate the breadth of the issue. Each of these lives cut short is a reminder of the relentlessness of gun violence in America.
Much of the conversation around guns has focused on school safety and attacks carried out with military-style semiautomatic rifles, such as the AR-15 used at Stoneman Douglas. Those may be the most pressing concerns in well-to-do suburban communities like Parkland, but in communities of color, and specifically in black communities, gun violence is more of an everyday reality.
The Parkland students have themselves sought to use their platform to remind the nation that this bloodshed extends far beyond the sort of tragic mass shooting that they experienced, and which reliably attracts the national spotlight.
The Stoneman Douglas survivors who have become the face of the "Never Again" movement met with students from Chicago schools this month to discuss ways to address the shootings that tear through neighborhoods on a routine basis. And earlier this week, they criticized the media for the "racial disparity" in its coverage of gun violence, which serves to silence victims from less affluent communities and from communities of color.
"We have to use our white privilege now to make sure that all of the people that have died as a result of [gun violence] and haven't been covered the same can now be heard," said David Hogg, a Stoneman Douglas senior.
As this movement evolves beyond the marches, rallies and media appearances and into more concrete advocacy, it will be on young leaders like Hogg to make sure that it encompasses the voices and experiences of people like Daekwon Tobar as well.
Before You Go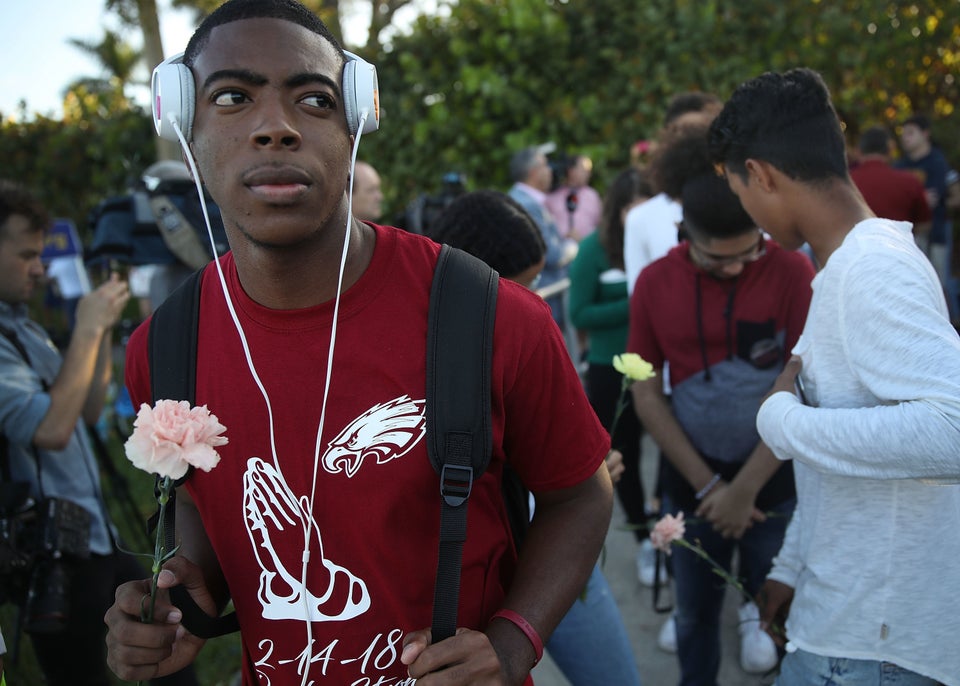 Parkland Students Return To School