America's teenagers are dropping their jeans and replacing them with elastic-waistband stretch pants, according to a well-regarded report on teenage buying habits.
Leggings (and yoga pants from Lululemon) were ranked the most popular trend among female teens this spring, according to a semi-annual study released this week by financial services firm Piper Jaffray. Nike was the No. 1 brand among teen boys.
Jeans were nowhere to be found on the list, after years of consistently ranking as a top 10 trend.
Teens now prefer "Athleisure" -- the horrendous industry term for workout gear that you can wear outside the gym -- over the skinny, butt-crack exposing, low-rise jeans that dominated the landscape for a seemingly interminable amount of years.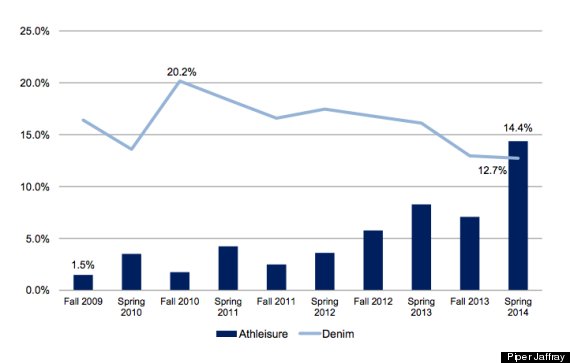 Winning the athleisure push, according to Piper Jaffray: Yoga powerhouse Lululemon and longtime player Nike. Losing the jean battle: The big teen retailers like Abercrombie & Fitch and American Eagle, along with the old guard of jean-makers like Levi's and Wrangler.
Lululemon helped pioneer yoga pants as leisure wear and quickly rose to the forefront of the stretchy pants movement, as yoga became more mainstream. Its success attracted the eyes of both mass-market retailers and athletic clothing companies. Chief executive Laurent Potdevin even admitted last week that his chain is "not the only game in town anymore."
Gap entered the fray by acquiring activewear seller Athleta in 2008, and it is now hopscotching around the country, opening stores alongside Lululemon's. Nike, Under Armour and Adidas refused to be left behind, touting their own lines of pliable pants and moisture-wicking tank tops that can be worn throughout the day and at the yoga studio.
Piper Jaffray also found that teens are now spending more money on food than clothes. Perhaps those elastic waistbands are coming in handy?
Popular in the Community