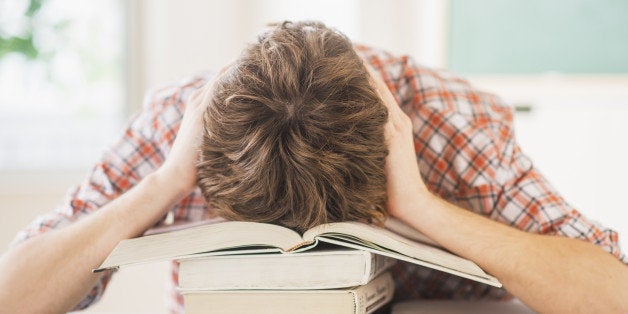 Averaging less than six hours of sleep a night doesn't just make for a sleepy teen -- a new study in the journal Preventive Medicine shows it could also increase the likelihood he or she uses alcohol, participates in risky sexual behaviors, gets in fights and is obese.
Researchers from Florida International University looked at the sleep durations of 15,364 high-schoolers who were part of the 2011 Youth Risk Behavior Survey, and compared those amounts of sleep with 12 different behavioral and health outcomes: drunk driving, carrying of weapons, fighting, contemplation of suicide, attempting suicide, smoking, using alcohol, binge drinking, using marijuana, engaging in risky sexual behavior, obesity and texting while driving.
Compared with teens who averaged eight or more hours of sleep a night, teens who clocked five hours of sleep a night were more likely to engage in every single one of the 12 risky behaviors.

Infographic by Alissa Scheller
And the likelihood of engaging in these behaviors was even greater for teens averaging less than five hours of sleep a night, researchers found. However, they did not find that averaging six to seven hours of sleep had a big impact -- if any -- on the outcomes examined in the study.