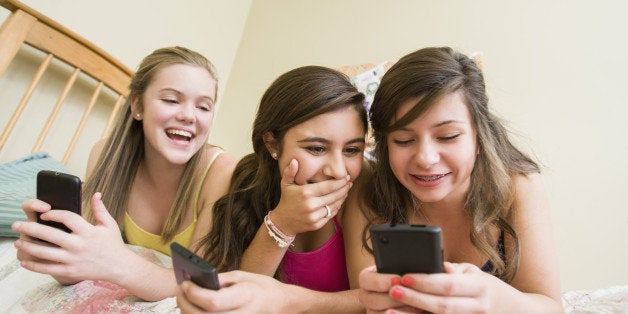 Earlier this week, a concerned blogger raised the alarm about a troubling statistic: It seems a surprising number of users on the popular dating app Tinder are under the age of 18.
"While there are plenty of twenty-, thirty- and forty-somethings on the app, there has been a reported rise of teenagers using the app," wrote Samantha Escobar for lifestyle blog YourTango.com. "In fact, 7 percent of users are between 13 and 17, and that's ... uncomfortable, to say the least."
Tinder co-founder Justin Mateen disclosed this stat in February during a conversation with The Guardian about the app's changing demographics. "Early on, over 90 percent of our user base was aged between 18 and 24," Mateen said. "Today, that number is about 51 percent. 13-17 year-olds are now over 7 percent, 25-32 year-olds are about 32 percent, 35-44 is about 6.5 percent and the remainder are older than 45." (Though the company has not disclosed the total number of active users it has, it said in February that it processes some 10 million matches every single day.)
"Tinder is an app for adults, and it's commonly viewed as one that facilitates casual hookups rather than friendships or long-term partnerships," wrote Escobar. "Basically, it's not a place children should be allowed on whatsoever."
Escobar isn't the first to express concern over the app's low age limit of 13.
"Since the whole purpose of Tinder is to find someone who you can actually meet up with in real-life, you can drill down to a one-mile radius from your location. I imagine that if you were a pedophile, Tinder would be your dream come true," said the blog post.
So, just how worried should parents be?
Rosette Pambakian, a spokeswoman for Tinder, told The Huffington Post that adults and minors cannot interact on the app. "To protect young users, those between the ages of 13 to 17 can only connect with other users in that same age range on Tinder," she wrote in an email. "Additionally, the only way two users are able to message each other within Tinder is if they mutually expressed interest by 'liking' each other, which results in a match. That means that users cannot send messages to other users without mutual consent."
Earlier this year, Tinder's Justin Mateen was quoted as saying, "There's nothing wrong with 13 and 17-year-olds making friends and connecting with new people on Tinder," per The Times of London. Speaking with The Guardian in February, Mateen said the app was not designed as a hookup or dating app, but rather as a "social discovery platform, facilitating an introduction between two people."
Pambakian also told the HuffPost that there are safeguards in place to ensure the privacy and safety of minors. "The only way a user can access Tinder is through their Facebook profile. Facebook has security measures in place that verify each user's authenticity," Pambakian said in her email, adding that the app shows only users' relative location, not their exact location.
Though most popular dating and hookup apps and websites -- including OKCupid, Match.com, Grindr, MiuMeet and Blendr -- only allow users who are 18 and older, Tinder is not the only app in this category that permits users as young as 13. Skout and Distinc.tt, for instance, both allow users who are 13 and older. Teen dating app MyLOL is geared specifically to younger users; it permits users between the ages of 13 and 20.
Ultimately, experts say that parents need to educate their children about the dangers of social media sites and apps of all kinds so that they can protect themselves against online predators, cyberbullying and other hazards.
"Don't forget to talk to your child about the dangers of apps like [Tinder]. New ones are popping up every day, so it's nearly impossible to stay ahead of the game. It's best to educate your child and encourage smart, healthy choices," cautions the Qustodio blog post.
Tinder agrees with this recommendation. Pambakian told the HuffPost that it "recommends that all parents know what sites and apps their children are using, who they're talking to, and how they're representing themselves."
Would you allow your child to use Tinder or similar dating apps? Weigh in below.
Related