Teens are known to be picky, and the teens from the Saturday Youth Transition Program at Lighthouse Guild for the Blind in New York City are no different, especially when it comes to their yoga mats.
The SYTP serves students who are blind and visually impaired, aged 14-21, and helps them prepare for higher education and employment by focusing on teamwork, problem-solving, and independent living skills. "Students who are visually impaired are often the only one in their school, neighborhood or community, and do not have the opportunity to interact with peers who share their unique experiences," says Merrie Balka, Director of Youth Rehabilitative Services.
Yoga has been an exciting part of the day for the program, and the benefits are obvious. "Spatial skills, body awareness and physical fitness are all important for people who are visually impaired, and yoga helps build all three," says Balka. The Saturday program also teaches adapted methods for cooking, personal care, working with computers, travel skills, and self-advocacy. The SYTP provides a supportive platform for students who are visually impaired to learn skills in many areas, but most especially in socialization.
The group of teens who practice yoga at Lighthouse love the physical challenges of yoga, and classes are modified to fit the skill and fitness level of each group of teens. Some groups have learned to do arm balances and inversions that would be a challenge for any beginning yoga practitioner, while others focus more on spatial awareness and meditation.
Five unique mats were donated to Lighthouse by a company called Yoga Outlet. Every mat had something wonderful and unique about it, whether it be texture, environmental friendliness, or performance. This inspired the Yoga Mat Review Project, a cross-curricular writing activity, where students were given the opportunity to have their writing featured in this Huffington Post article. Writing teacher Jenny Depena noted how the project was an opportunity to encourage critical thinking and practice descriptive writing. "Since the teens love yoga so much, I knew it was something they would be excited about...We were telling them their opinions matter, improving self-esteem."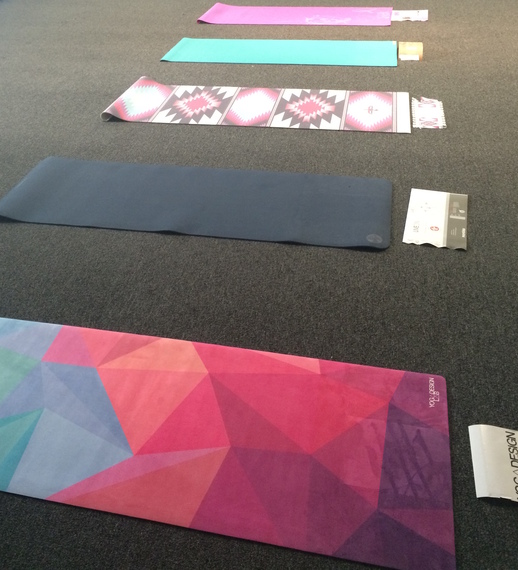 Mats donated by Yoga Outlet: Yoga Design Lab's Geo Yoga Mat, Manduka's Live On mat, La Vie Boheme's Phoenix mat, Jade's Harmony mat, and Gaiam's Pink Ribbon mat
Teens did five poses on each mat, judging it based on the description on the label, texture, smell, grip, and how safe they felt practicing on the mat. They have a vast spectrum of visual impairment; Some of the students have limited vision, and were able to see what the mats looked like. Others were given a visual description. Some of the teens used typical pen and paper to write, some used bold line paper with markers, and some used a braille writer to emboss.
Anyone who knows a teen knows that they can be very selective and opinionated about what they like. You won't believe what the diverse group of teens at the Lighthouse Guild Saturday program have to say about these mats. Check out their reviews below!
Michael: The texture of the Live On mat was remarkable. The color reminded me of a nice cool cloudy night in which you are at peace, and you can let your thoughts run free. It was soft and light with marvelous gripping, so I felt confident with every yoga pose I performed. The smell of the mat made the practice even better it reminded me of a clean environment. At the end of my yoga routine I felt as though I was lying on a cloud during my corpse pose. The live on mat was just wonderful. It also doesn't use harmful chemicals.
Regina: The Live On Mat: Today a mat, tomorrow a pair of sandals. This mat is environmentally friendly, it does not use harsh chemicals. It has a strong grip and it is very smooth. When performing posses, it keeps you cool if you are hot. Another cool thing about the mat is it is easy to clean. All you need is an alcohol based cleaner and maybe a bit of tea tree oil.
Amanda: The Live On yoga mat is my favorite mat to use for yoga. Others mats in the past have been slippery, but this mat is very supportive. Another characteristic about this mat is that it is made from recyclable materials and doesn't use any harsh chemicals during production. It is also very easy to clean, all you need is a tea tree oil. One complaint is that the mat has a strange rubbery smell.
Joel: The live on mat is the right mat for a comfortable yoga lesson. It is soft, has an amazing grip, and is very comfortable, so comfortable that it almost feels like a very thin bed. It is recyclable and can be turned into sandals or shoes. Its also eco-friendly materials make it environmentally safe for the earth. If you want a comfortable, soft, relaxing yoga session, you would want the live one mat. The only two negatives I have for this mat is that it contains latex and has a strong rubbery smell when you first purchase it.
Chelsie: The pink Ribbon mat is a great mat. Every time a pink mat is sold the manufacturers donate a dollar to breast cancer organizations. The pink mat is a thin and sticky mat with different shades of pink. The sticky surface of the mat provides great support when performing yoga poses. I really like how easy it is to clean the mat. All you need is a wet rag. The only negative side about the mat is that it cannot be used in the sun for long periods of time.
Adriel: The Live On Mat: It's a sock friendly mat that has good casing. My favorite part of the mat is that it has a good grip, perfect for those difficult to achieve poses. As a guy, I want a mat that is easy to clean and won't require much time and effort to do so. It will help you live and breathe a better life!
Esmarelda: The Pink Ribbon yoga mat: I am really impressed. Not only does the mat feel soft and relaxing, but the company donates money for breast cancer research. When I was testing the mat to see how it felt, I noticed a few things I liked about it. It was not just the fact that it was soft. I feel that the most important thing to remember when making a mat is that when a person does yoga, they want to feel secure, and this mat made me feel exactly that, since it wasn't slippery. Another thing I liked about the mat was that it didn't smell like rubber. Additionally, the mat wasn't too thin. There are some mats that are so thin that when I lay on them I feel like I am lying on the floor. I was happy to find that this mat wasn't like that. The last thing I liked about the mat is of course the color and design. The mat was pink and had beautiful designs on it. Overall, I really liked the Pink Ribbon mat and feel like that is a great yoga mat.
Lunique: I like the feel of the Phoenix mat. It's the best looking mat. It has bright colors and great fun patterns. However, this mat did not make me feel as safe as some of the other mats did. The feel of the mat was slippery. I don't feel like it would be the best for "sock yoga." I do however like it a lot. I love the name of this mat. Phoenix. It just sounds powerful.
Sky Meltzer, CEO of mission-based yoga mat manufacturer Manduka, reflected on being chosen by the teens as the favorite mat.
"Yoga is an inclusive practice for everybody -- for every culture, age, shape, ability. It's an honor anytime yogis choose Manduka mats for their practice, but this was something really special. [It] reminds us why we're here in the first place: to support and inspire the practice of yoga everywhere. "
This story has a very happy ending. After learning the Live On mat was the favorite amongst the teens, the Manduka company donated a set of them to the Saturday program. Teens can now look forward to more new mats in the fall!

Lauren Coles has a MSEd in Teaching Urban Adolescents with Disabilities. She worked in the NYC Department of Education for five years, and started a yoga program at NYC Lab High School during her tenure. She is now the Founder and Lead Teacher of Daisy Office Yoga in New York City, and teaches for youth programs at Lighthouse Guild for the Blind and Mentoring USA.