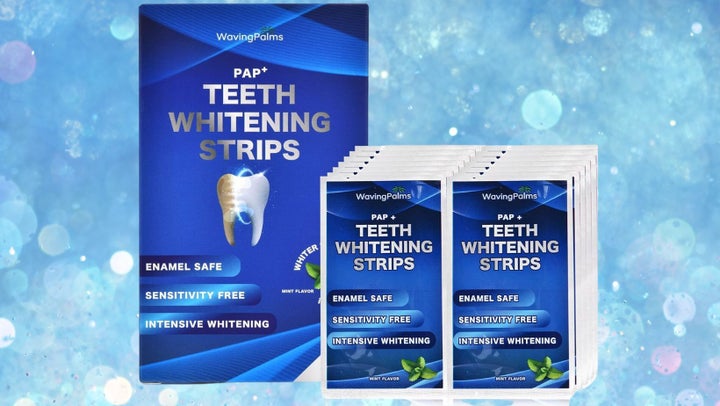 HuffPost and its publishing partners may receive a commission from some purchases made via links on this page. Every item is independently curated by the HuffPost Shopping team. Prices and availability are subject to change.
As a daily coffee drinker, I've seen the toll my caffeine consumption has taken on the shade of my teeth. If you are like me and have previously called upon the pricy forces of Crest's Whitestrips to help brighten your pearly whites, listen up: These whitening strips are 44% off at Amazon, and users say they can perform just as well, if not better, than the name brands you've probably already tried.
The Waving Palms Pap+ teeth whitening strips utilize PVP, a kind of whitening agent that's been clinically proven to inhibit the absorption of staining materials onto teeth. In addition to a whitening effect that the brand claims can be seen in just one week of use, these strips won't cause teeth sensitivity thanks to the peroxide-free formula — an uncomfortable side effect that frequent teeth-whiteners know all too well.
To use, just apply these non-slip and enamel-safe strips to your top and bottom teeth once a day for two weeks and the brand promises your teeth may look five to seven shades lighter. Many reviewers recommend wiping your teeth dry before applying a strip for the best hold possible.
In the reviews below, you can read about the significant difference that these strips left behind for many users. Or snag yourself a two-week treatment on sale for just a little over $16 in the link above.
Promising Amazon reviews:
"I neglected oral hygiene for like a year brushing 1 time a day and never really flossing. I noticed my teeth started to change colors. After it was pointed out, I started to bush twice a day and floss regularly even a dental visit. I seen little change. My mouth was clean but it didn't show so I tried a bunch of different methods baking soda, certain toothpaste, Crest whitening strips, etc. I knew it took time due to my neglect so after about 2 months of improved practice still no change. I ran across this and it was really effective and sensitivity free. I seen significant change in color after using it for 10 days straight. I don't need to do that anymore but it actually works. If you don't see immediate results, give it some days and track the progress. When it comes to staining, there is the type that is on the surface compared to the other that is deeply rooted in the teeth. Better brushing takes care of the surface but only works over time to take of deeper stains. This product targets those deeply rooted stains that refuse to go away." — shaquan wright

"I use Crest White Strips every six months to get rid of stains and keep the pearly whites, well white. The last few treatments, my teeth never changed and almost looked worse as if they were never treated at all. I went searching and these reviews did justice and were accurate. I only did my first treatment this morning and it was such a huge difference. Just one treatment did more than other products in a week. Trust the reviews, this product is amazing. I am looking forward to finishing the week, my teeth will probably be glowing in the dark by then." — Amber Creviston

"I used to buy Crest 3D for my son but decided to try this one because Crest is getting more and more expensive. I was a little skeptical in the beginning but it actually worked, delivering the same result as the Crest 3D with 1/3 of the price and 1/2 treatment term! We are very satisfied with product and will continue to use it." — Anne

"Wow- I'm so impressed by these! I've purchased white strips maybe 3-5x over the years, and I never last more than 2 treatments in because they make my teeth so unbearably sensitive. But these have been fantastic and super gentle! Zero sensitivity. (This coming from someone who did them twice a day for a week, instead of once a day for 14 on accident- whoops!) Definitely seeing a noticeable difference in the whiteness of my teeth! Super pleased with the results and purchased a kit for my husband to try as well! Will definitely repurchase next time my teeth need a lift!" — Molly B
Before You Go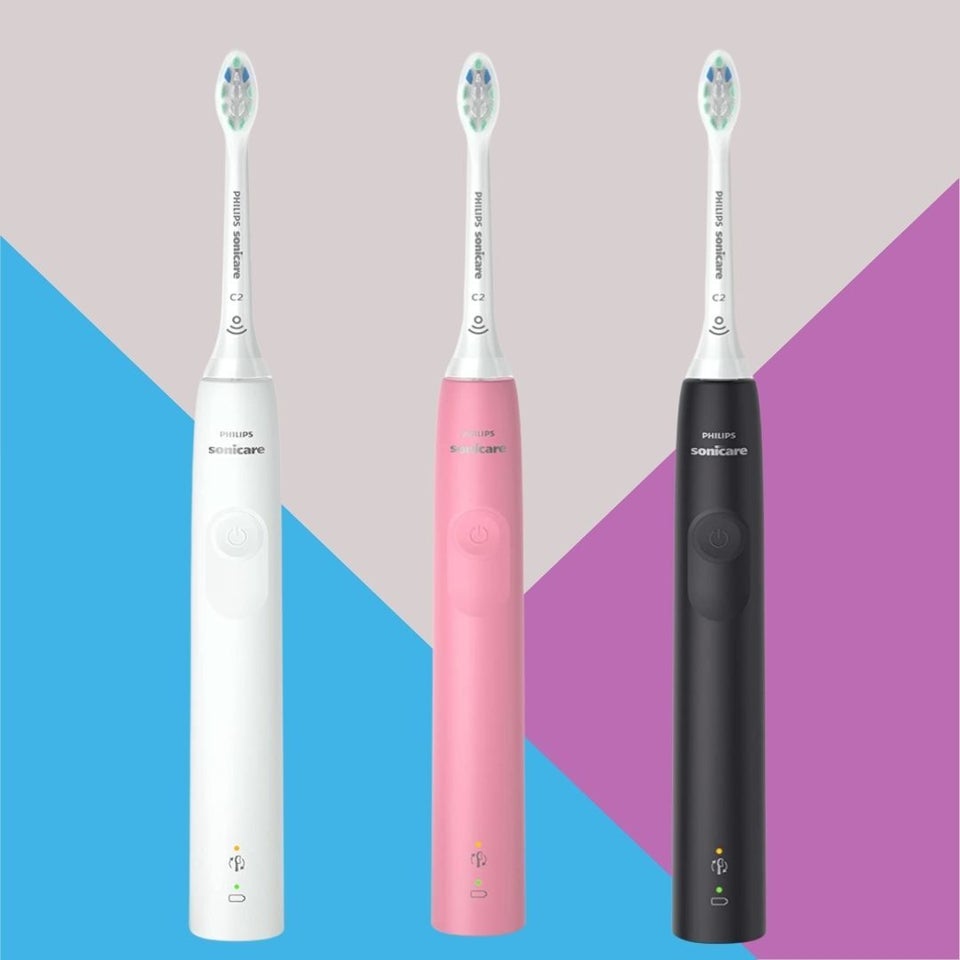 Five Electric Toothbrushes That Got An Insane Amount Of Five Star Reviews On Amazon
Popular in the Community