Where were you when you first heard Tegan and Sara? The answer is probably obvious: As a young teen with swoopy bangs, a moody MySpace page, and a penchant for hating all things school-related. I, too, bumped the twin duo on my chunky iPod in the early '00s.
With their latest release "Love You to Death," Tegan and Sara have come a long way musically, while continuing to be monumentally vocal and inspirational for those within the queer community. We caught up with the band in the futuristic New York concert space Samsung 837, where they kicked off the venue's ultra-hip summer concert series.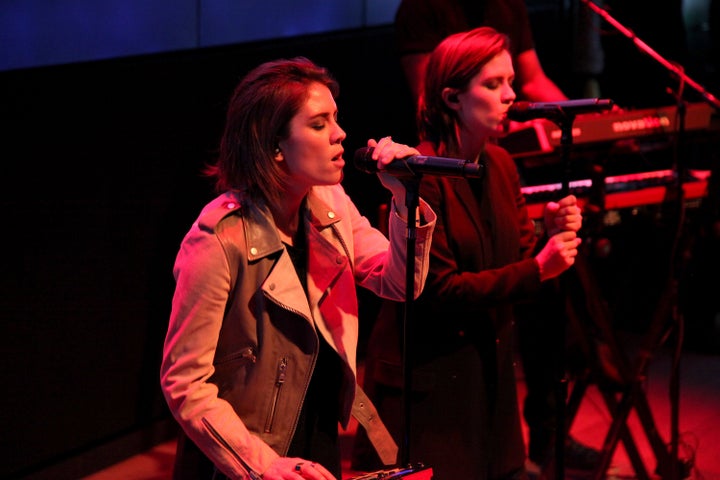 You guys were recently on James Corden's "The Late Late Show" the other day. Can you talk a little bit about that performance and what it was like?
Sara: OK, so two interesting things. The one thing that was really exciting was, first of all, the other guests. A lot of time, it's guests that you're like, "Oh, it's that person. That's cool." But, Ben [Schwartz], who was on the show ... I just scored a film, and he's one of the leads in the film that I scored, so I mean, I've memorized that man's face. He's so familiar to me that [it] feels incredibly intimate now. We were excited.
Tegan Quin: He was also promoting his last episode of "House of Lies," so we were excited to see him.
Sara: ... And then Linda [Cardellini] who's on "Freaks and Geeks" ... We were basically like, "Are you kidding?!"
Yeah, her in that role was life-changing for me.
Sara: Another thing ... We asked them, because we had just done Fallon and had just sung "Boyfriend": "Can you help us make it unique and different from what we just did two weeks ago?" They brought the whole audience up to the stage and let the whole audience stand around onstage. So, we were able to almost perform ... to me, it feels like a live performance. James is also hilarious.
Tegan: Yeah, he came and hung out with us for a minute before the show. We were telling him how he was on our list of things that we wanted to do with this record. He was like, "That's so nice." We said, "Our dad -- of course, our family is ecstatic at our success -- he in particular was so thrilled when he heard we were doing James Corden." And Sara was like, "Well, he [asked] if we were doing 'Carpool Karaoke.'" And we said no. And he said, "Oh" [in a disappointed tone]. James burst out laughing.
So, you would be down to do "Carpool Karaoke"?
Tegan: Yes. I think what's so amazing [about James Corden] is that he's getting the kind of artists that maybe wouldn't necessarily go on and play a TV show to do something really unique and different. I actually don't know what an Adele or a Sia [do]. Their voices are just so amazing. He was telling us about the Broadway one and how they had to do it a second time because they were so bloody loud. He was saying how it was blowing the microphones because their voices were so powerful, and I'm like, "Yeah, I don't want to follow that."
What's your favorite one?
Tegan: Wait, the first one or the second one?
Sara: The first one ... Where he's eating fries in it.
Tegan: I think the Adele one is magic. She can do no wrong.
 I recently saw your Vulture article where you talked about your favorite songs that you've done. Your sound has changed a lot -- how has that changed your relationship with your fans, and what you've noticed over the course of the few years?
Sara: Tegan and I always say how if you let the fans ask the question, almost always the first question we will get from the audience is, "Tegan, what's your favorite Sara song?" and "Sara, what's your favorite Tegan song?" There's this interest to know what we like about our music, or which song we like of each other.
When you think about your catalog and the songs you're most proud of, [the article] was exciting ... I think because we have such a respect for our older material, even though we've transitioned and sort of evolved into this new sound, one thing is that we will never leave that other music behind. It's important to us to continue to honor those older records and give an opportunity for our fans to hear them, even if we change them slightly ... We're doing a version of "Back In Your Head," for example, tonight; there's no acoustic guitar. It's not immediately the most recognizable version of the song, but all the things that should be there are there. Bass line is there. The melodic piano hook is there. The vocal harmonies are still the same.
Sara: We're still trying to be a band that, even if you found us 15 years ago, you still love us ...The truth is, we don't really listen to a lot of rock music anymore, so it makes sense to us that we would have transitioned our sound a bit, but for people who are listening to rock music and still want us to be a rock bad, I think there's no good answer. There's no, "Well, how do we make them like us?" They don't like that music. They don't like pop music. So we try to offer alternative versions, acoustic versions ... We still do our storytelling, detail. We still care about that stuff. 
So, you would say that your fans are super important to you. But sometimes do you feel like you get in your head about that? For me, I would be [overly analytical] and always nervous.
Sara: If we felt like we were doing something that was truly making people unhappy, we would step in ... So, I think that's what allows us not to act from a place of fear. We work from excitement and joy and challenging ourselves and others. We make music we really believe in. I think it also comes off sincerely.
Tegan: The most common feedback since we transitioned from guitar-focused music has been, "We wish you more guitar-focused." We didn't just accidentally end up with a record and were like, "Oh, shit! We forgot to do the guitars!" 
"Love You to Death" is out now.
Calling all HuffPost superfans!
Sign up for membership to become a founding member and help shape HuffPost's next chapter
BEFORE YOU GO