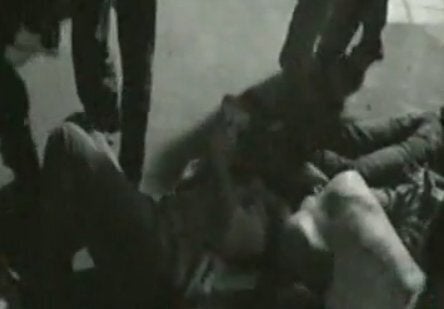 Shocking new footage has emerged on the BBC's Persian service of Iranian security forces launching a night raid on Tehran University last June, a few days after the country's disputed presidential election. A number of people were believed to have died at the time of the attack, but a specific death count was never confirmed.
Interestingly, the BBC notes that the video cameraman was clearly someone who was part of the riot police, thus raising questions of who leaked the video and how it ended up in the BBC's hands. BBC's Marcus George suggests it may have come from a sympathizer, but doesn't say anymore about how the tape emerged.
Saeed Kalami Dehghan has a good run down of the video over at the Guardian:
The riot police behaved so brutally that even some of the Basij tried to stop them, as the video shows. Students were harassed verbally and physically when forced to lie on the ground. Some were bleeding profusely but the police continued to attack them. This was the point when five students were killed by being beaten with electric batons on their heads.

Later that night, students were made to stand in front of a dormitory block with plastic bags over their heads. The video their hands bound with plastic ties - known in Iran as "Israeli handcuffs" - and 46 of them were taken to the basement of the interior ministry on nearby Fatemi Street. It was there, on the building's upper floors, that the vote-rigging was going on, according to opposition supporters.
WATCH: Footage starts around 45 seconds into the video.
REAL LIFE. REAL NEWS. REAL VOICES.
Help us tell more of the stories that matter from voices that too often remain unheard.