Brooklyn rapper Tekashi 6ix9ine (real name Daniel Hernandez) was arrested Sunday and is facing federal racketeering and firearms charges, the Department of Justice confirmed Monday.
Hernandez's former manager Shottie (real name Kifano Jordan) and three others were also arrested between Sunday night and Monday morning, and an additional member of Hernandez's crew was already in custody. Five of the six were arraigned Monday afternoon in a Manhattan federal court; given the 22-year-old Hernandez's criminal history, prosecutors could seek a maximum sentence of life in prison.
Also mentioned in the indictment are Jensel Butler, Jamel Jones, Fuguan Lovick and Faheem Walter. The six were part of a gang known as Nine Trey Gangsta Bloods.
"As alleged in the indictment, this gang, which included platinum-selling rap artist Tekashi 6ix 9ine, wreaked havoc on New York City, engaging in brazen acts of violence," U.S. Attorney Geoffrey S. Berman said in a statement Monday. "Showing reckless indifference to others' safety, members of the gang were allegedly involved in robberies and shootings, including a shooting inside the crowded Barclay's Center, and a shooting in which an innocent bystander was hit."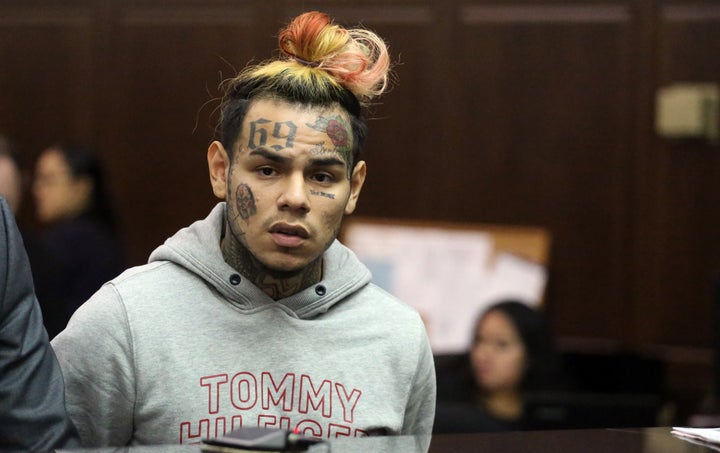 Hernandez was already on thin ice, having been on and off probation multiple times over the last several years.
In 2015, he pleaded guilty to the use of a child in a sexual performance and was placed on probation. A plea agreement he entered into at the time required that he go crime free for two years, which he did, only to commit back-to-back crimes soon afterward.
Hernandez was arrested twice in May 2018, notes Rolling Stone, once for allegedly attacking a 16-year-old in Texas and again after police said he was caught driving with a suspended license ― and then assaulted the arresting officer.
After that, prosecutors pushed on Oct. 27 to have Hernandez register as a sex offender and serve a one-to-three-year prison sentence, but his lawyers argued it down to four years of probation and 1,000 hours of community service.
One day later, two men associated with Hernandez were involved in a shooting outside a Manhattan restaurant; his attorney Lance Lazzaro told NBC New York that Hernandez wasn't present at the time of the incident.
The violence continued on Nov. 8, when a music video set in Beverly Hills, California, featuring Hernandez, with appearances by Kanye West and Nicki Minaj, was targeted by a drive-by shooter.
Prosecutors said Hernandez openly identifies as a gang member and "has failed to mature into the law-abiding adult anticipated by the plea agreement."
His top single, "Gummo," peaked at No. 5 on Billboard's R&B/hip-hop chart in December 2017.
This story has been updated with comment from the U.S. Attorney's Office of the Southern District of New York.
Related
Popular in the Community