As U.S. telecoms continue to expand and mature their implementation of 4G wireless technologies, more action is seen in the mobile health care space -- better known as mHealth -- an emerging "industry" growing at a 7-fold year over year rate, which is projected to reach $6B in 2015.
In 2008, the International Telecommunications Union (ITU) released its approved specifications and evaluation procedures for IMT-advanced, or what is known as 4G wireless, which provides "a wide range of telecommunication services including advanced mobile services, supported by mobile and fixed networks." It is this framework that promises speeds of up to 100Mbps for high mobility users (i.e. trains, planes) and 1Gbps for low mobility users (i.e. stationary, walking).
Many wireless carriers market their mobile network services as 4G, but the reality is that their implementations of LTE and mobile WiMAX technologies are simply candidates for IMT-advanced. However, these technologies present a significant upgrade in performance from 3G and other previous wireless standards.
In short, and to save on technical details regarding compliance and non-compliance, wireless 4G is a continuously evolving space in which all carriers desire to play a significant role in.
As I mentioned in my previous entry on Medical Informatics, it is projected that state-of-the-art technologies like these, may eventually amount to a combined total of $77-80 billion in yearly efficiency savings in the health care industry.
Policy changes in the health care industry such as the introduction of ARRA and HITECH, along with the development of wireless communications technology, created a "fertile crescent" for both wireless carriers and HIT vendors.
Last month, I had the opportunity to attend the 2012 mHealth Summit in Washington DC presented by mHIMSS, in partnership with the mHealth Alliance, the Foundation for the National Institutes of Health, and the National Institutes of Health.
During the conference, I had the chance to speak to some senior leaders of Verizon Wireless, AT&T, mHIMSS, QualcommLife, as well as some representatives of the GSMA. It didn't take long for me to see that there is a significant level of excitement by all concerned.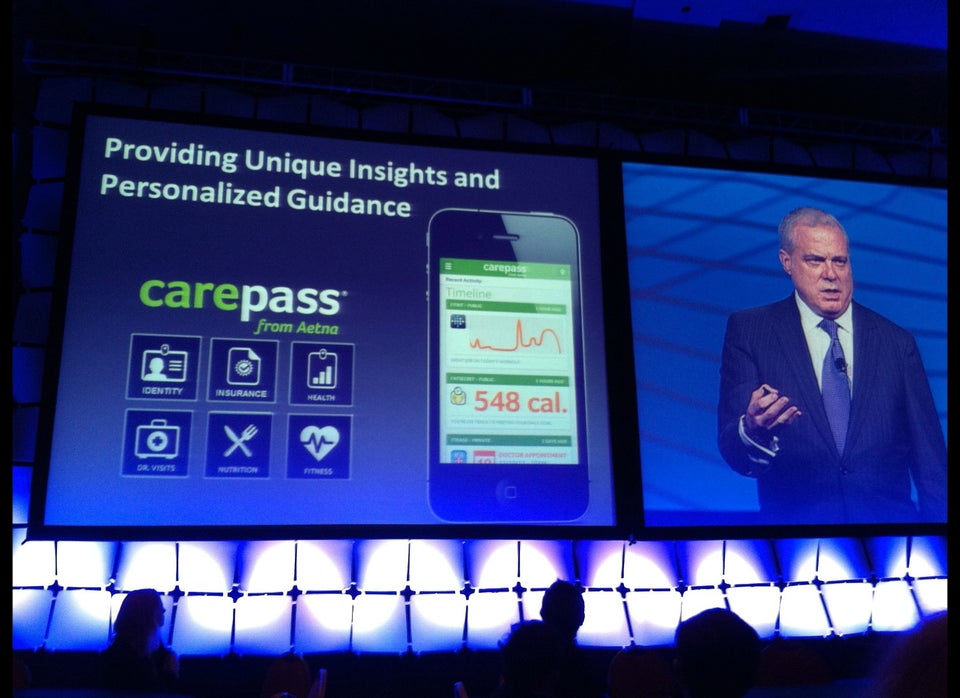 2012 mHealth Summit Keynote Presentations
The potential benefit of wireless technologies in health care lies in the possibility of connecting disparate systems across different care settings, being able to bring a rich and personable experience to the patient -- no matter where they are. This is why 4G wireless is of significant importance in mHealth.
A recent survey of 180 respondents in IT leadership roles within hospitals and healthcare delivery systems titled "2nd Annual HIMSS Mobile Technology Survey," reported, among other things that "mobile technology will either substantially impact or dramatically change the delivery of health care in the future." Participants stated that the most gain would come from pharmacy management (medication reminders, management, etc), care continuum (remote patient monitoring, re-admissions), resource utilization (supplies, marketing), preventive support care (wellness, disease management), and pharma research validation.
Now, the opportunity for carriers in this space is whether to provide value-add on top of the networks by involving HIT partners in forming an "ecosystem," or developing HIT products and services themselves as an "integrated" strategy. AT&T, for example, advocates for the former, while Verizon Wireless aims for a combination of both, with an emphasis on the latter.
AT&T recently announced results of their DiabetesManager trial with HCSC and Centene, that "showed high adoption, sustained engagement, positive behavior changes and high customer satisfaction." Verizon, through its foundation, announced $13M in nonprofit partnerships through grants, in-kind technology solutions to improve patient self-management, access and quality for children, women, and seniors. QualcommLife also announced new partners and customers as they continue to grow their 2net platform, a cloud-based system designed to be universally interoperable with different medical devices and applications.
It's certainly been a busy couple of months in the mHealth space, and 2013 promises to be another exciting year.
I invite you to follow this topic closely throughout the year, and to also watch the YouTube video below from a Google+ Hangout with some of the leaders in the space, providing a good synopsis of some of the hot topics covered in the 2012 mHealth Summit.
Popular in the Community