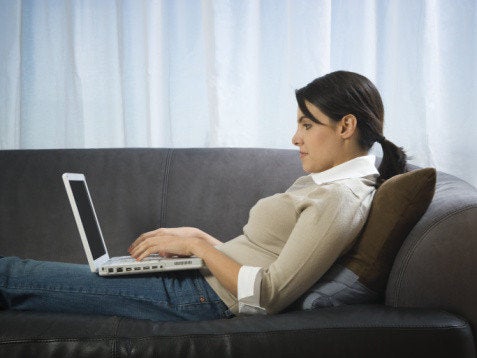 How much do people love working from home? How stressed are small-business owners? And how much do today's teens care about jobs? The answers might surprise you. Here's a closer look at some of the latest small-business surveys.
How much do employees love telecommuting? According to a new study from Staples Advantage, the business-to-business division of Staples, employees who are allowed to work from home love it so much they'd rather give up their favorite TV show (54 percent), an extra hour of sleep (48 percent), a favorite food (40 percent) or even part of their salary (40 percent) than give up telecommuting. (Giving up sleep I can understand. But ice cream? That would be a sacrifice!)
Telecommuters say working from home makes them happier, healthier and more productive -- more than 80 percent claim it gives them a better work-life balance. But business owners have reason to love telecommuting, too: 76 percent of telecommuters not only say they're more willing to work overtime, but they're more loyal employees because of telecommuting.
What's stressing you out? It could be "tech downtime" -- 77 percent of small-business owners surveyed say their productivity has suffered in the last year because of office technology not working properly. (I can so relate to this.)
Or perhaps it's politics: 41 percent claim it's harder to keep up with state and federal policies than it is to bring in new customers. That's certainly not the way to encourage job growth.
Are Jobs Becoming Meaningless?
That makes sense, given that anyone who's worked with today's Millennials knows they treasure their personal time. At the same time, given the state of the economy, unless they win the lottery or strike it rich as an entrepreneur, your labor pool isn't likely to dry up anytime soon.
Related
Popular in the Community