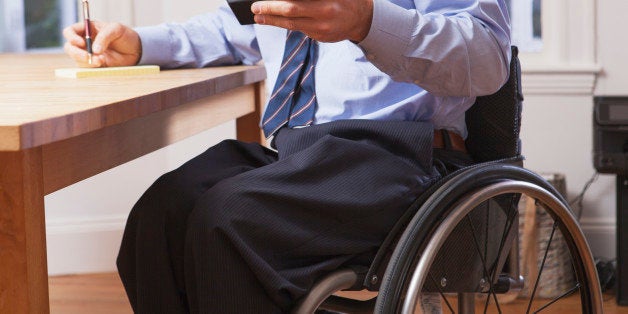 Since Yahoo! ended telecommuting for its employers months ago and ignited a debate around the value of telework, I've been thinking about workplace benefits and how people with disabilities utilize them.
Telecommuting can be an especially valuable benefit for many professionals with disabilities because there are times when being able to work from home is necessary -- whether to accommodate a disability or because of the lack of accessible transportation.
So I wasn't surprised to see that our new survey on telecommuting reveals that 81 percent of professionals with disabilities would like to telecommute, at least part time. Telecommuting also is named as the second most-wanted benefit among workers with disabilities, just behind paid time off. And it beat out other office perks like free lunch, flexible spending programs and onsite fitness centers.
The survey also unveils a different, and unexpected, twist. While eight out of 10 professionals with disabilities say they would like the option to telecommute, the majority (67 percent) say they would still take a job if their employer didn't offer it. And only 17 percent say they need to telecommute because of a disability.
That tells me something I've been saying all along to hiring managers and HR executives: Qualified people with disabilities can be recruited just like anyone else, and very rarely do they need special treatment.
Indeed, the survey also shows that only 30 percent of workers with disabilities need assisting technology to perform their job; of those that need assistance, most of the solutions cost $500 or less, such as needing an adjustable-height desk or a speech-to-text program such as Dragon Dictate.
Telecommuting also suits people with disabilities perfectly because they have adapted so well to using technology in their daily lives. Perhaps that's why 71 percent of workers with disabilities say telecommuting makes them work more efficiently.
Thus the message of inclusive recruiting -- using the same strategy to recruit everyone including people with disabilities -- is very valid here. The survey truly underscores that employers looking to hire diverse candidates, including people with disabilities, should offer telecommuting as a workplace benefit so they can attract the best possible workforce.
Most smart companies already know this. In Fortune's 100 Best Companies to Work For in 2013, eight of the top 10 companies, including Google, SAS and The Boston Consulting Group, offer telecommuting options. In DiversityInc's Top 10 Companies for People with Disabilities, flexible work options are a criterion for the award. This year, winners included companies like Ernst & Young, Microsoft and Accenture, which are known to have generous telework policies.
To be sure, there's room for improvement in Corporate America. Not enough employers are specifically recruiting candidates with disabilities. One solution: Go where the candidates are, such as our online career fair series, where a community of 3,500 qualified professionals with disabilities want to hear from you.
And don't fall prey to the "myths" surrounding disability hiring, the most significant one being that hiring people with disabilities is a charity case or "the right thing to do." Qualified workers with disabilities are a strong investment, and are equivalent or, in some respects, superior to their peers without disabilities, according to a recent report by The Conference Board, which cites factors such as loyalty, productivity, tax incentives and more. (For more on the business case breakdown, check out Think Beyond the Label's Business Case.)
Another myth I'm glad to bust here: The assumption that people with disabilities are less educated. In the Think Beyond the Label Survey, 85 percent of the respondents have six or more years of job experience, and 65 percent have a bachelor's degree or higher.
From promoting the business case to commissioning surveys, there's lots we are doing to help solve the unemployment crisis for people with disabilities. To succeed, more employers need to recognize the value that this group brings to the workplace, and do whatever it takes -- workplace perks and all -- to find and hire qualified workers with disabilities.
Support HuffPost
The Stakes Have Never Been Higher
Related
Popular in the Community