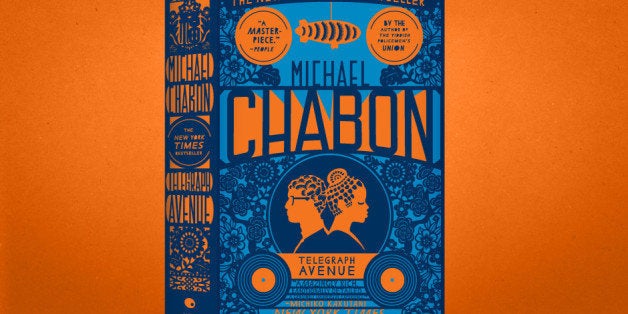 What is this book about?
"Telegraph Avenue" is a novel that follows a handful of characters linked together through bloodlines and friendships. Set in the Oakland and Berkeley areas of California, the novel follows Archy Stallings and his ailing record shop, Brokeland. We get a glimpse into his current life through vignettes featuring his wife, his estranged son, and his ever-plotting father, 70s blaxploitation and kung-fu action star, Luther Stallings. The novel is a complex character study of a unique family that Michael crafts in a very accessible way.

What was the mood, theme or specific moment from the text you depicted with this cover?
The book is a rich tapestry of characters from all walks of life, and numerous cultures. There is an overall theme of family to the book. So, I guess I went the route of attempting to explain the complexity of family by using a complicated pattern on the cover that pulls from the story's recurring location of Chinatown, using a Chinese paper cut style.
What inspires your designs?
These days, it's mostly insane deadlines and angry emails from art directors (half-joking!).
I'm inspired by all sorts of things. I get really excited about new projects, researching, and finding solutions for them. Each project can be a gateway to a different art style, or a different era. I might be designing an art deco cover one week, a sci-fi book set in the future the next, and who knows what afterwards. I've always loved exploring unique design eras in my work.
What is your previous design experience, with books and otherwise?
I've been designing book covers for nearly a decade now, and began my career in New York with HarperCollins Publishers. I'm now based out of Seattle, and have a one-man studio where I design book covers, and the occasional book interior, amongst other fun things. I've designed a few other covers for Michael as well, including The Yiddish Policemen's Union (one of my personal favorites) as well as his recent non-fiction book, Manhood for Amateurs.

What was the biggest challenge in designing this cover?
The biggest challenge with designing any Michael Chabon cover is attempting to match the wit, intelligence, and surprising accessibility of Michael's writing. Michael is one of my all-time favorite authors, so there is always a bit of intimidation when tackling one of his books, but I feel like I've handled it well. As is true for many fans of his work, his novel "The Amazing Adventures of Kavalier and Clay" instantly became one of my all-time favorite books (being a comic-book nerd and all) and in a strange way actually inspired me to get involved in publishing.
I remember owning the paperback edition in college, which was designed by all-around cool guy Henry Sene Yee, and I recall looking at it, and having the realization that this book cover was more than just a cover. It had transformed this fantastic novel into an object. The back cover and quotes were designed in a way that implied comic-book advertising from the 30s, and it really changed the way I looked at book covers from then on. All of a sudden, the cover, the spine, the back and flaps could and should all be part of the overall concept.
Did you consider different ideas or directions for this cover?
Actually, this was a quite unique process. Harper had hired me to design the original hardcover edition of Telegraph Avenue, due to the fact that I had done the covers for their last two Chabon titles. I spent a few weeks working on covers for it, submitted them, and they had narrowed it down to a comp that had a large record in the sky, with a blimp flying around it. I did some additional color passes on it, per their request, and then I hadn't heard anything for a bit. Ultimately, they had decided to take the project in-house and do something a little different. While this doesn't happen often, it is part of the business. To my surprise, they reached back out to me about designing the paperback edition, and had mentioned possibly pursuing one of the earlier comps where I had been attempting to do a modern take on Chinese paper cuts.
Are you happy with the final decision?
I'm quite happy with the design, and had a good time working with Milan Bozic and editor Jennifer Barth, both old colleagues of mine at Harper, through a challenging process. We went through what felt like at least six rounds of color variations near the finish line.
What is the most important element of a successful book cover?
Passion. I think it shows when a designer cares about a book or a project, and I think, or at least hope that the reader can see that. It can be a simple design, or a complex one, but you give it your best, and hope that things get through the gauntlet of approvals without being too compromised.

What are some of your favorite book covers?
There are way too many to mention. I'm really more of a cover designer fan-boy. I'd say these days, anything by Peter Mendelsund. He's currently on a roll. How he gets half of his covers approved, I have no clue. But I'm loving the work. There are so many great cover designers nowadays, that I think it's a great time to be a reader.
Do you judge books by their covers?
Always. I don't expect that answer to change anytime soon.
Check out how the paperback release of "Telegraph Avenue" might have looked: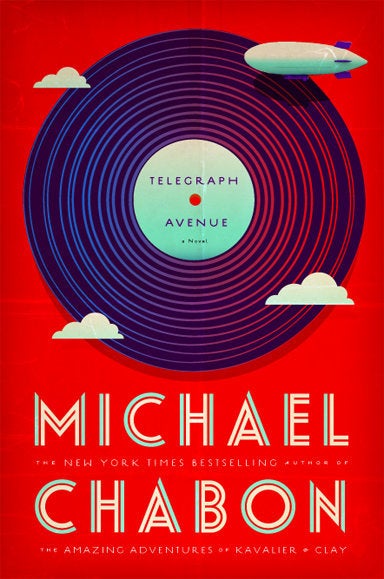 Rejected 'Telegraph Avenue' Designs
Popular in the Community