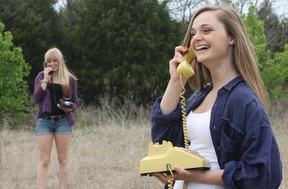 As I was growing up, we had telephones that had a receiver you raised or lowered into a cradle to connect or disconnect from your caller. It was a time when telephone operators directed your call personally, and you were able to have entire conversations with them if you wanted to, just by dialing "information." Eventually, the telephone companies converted to voice recorded messages and the first "live" connection you would make was with the person you were trying to reach; not the operator. That buffer was gone.
Once the telephone and cradle came to be, we had a new "door slam," and it was the "hang up." The upset person on the line would slam the phone down so hard, it echoed their displeasure with the call they were disconnecting from. It was rude and hurtful and final.
Now with smartphones, the disconnect is exactly that: a complete disconnect and it's done quietly, with the upset communicator hitting a button and removing you from the equation without so much as an explanation. It just happens on the click of a button. No slam and no warning. It is rude and hurtful and final.
What these three have in common is that they all display that the person hanging up on you does not respect you. And the closer you are to the caller, the more hurtful that message of disrespect is. There is an attitude to adopt to get around this, and below are some thoughts to consider;
1. If you are on the receiving end of someone's anger, keep in mind that the hanging up is more about their discontent with themselves than with you, no matter what you think you may have said to be hung up on.
2. Don't ignore the hang-up. Instead, insist on an apology the very next time you do happen to speak to them. If you don't get that opportunity, then know that they are not worthy of your communication if you are not worthy of an apology.
3. Never let someone hang up on you more than once. Just as you would any other abuse, consider addressing their immaturity by not allowing them to continue the behavior. Though it may end the relationship, one has to consider that abuse comes in all form.
Keeping in mind the above may not stop this from happening, but it will definitely open your eyes to who sees you as important to their life. People who disrespect most likely need help from another source and are lashing out at you instead.
So the next time someone disrespects you, remember that you don't have to be put into this position. You have options. Silence is nice, but not on the other end of a telephone conversation you did not mutually disconnect from.