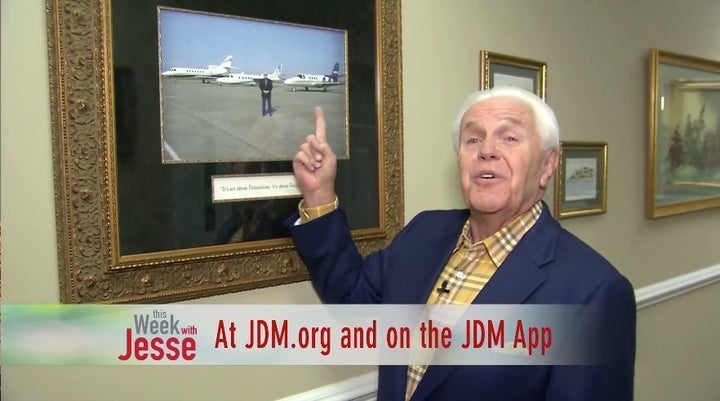 A Louisiana televangelist is convinced that God wants him to own a fourth private jet ― and he's calling on others to donate toward that lofty goal.
Evangelist Jesse Duplantis asked listeners to "pray about becoming a partner" in his grand dream to own a Dassault Falcon 7X, a luxury plane that's reported to be worth at least $54 million. Duplantis claims he needs the private plane with seating for up to 19 and an optional onboard shower to efficiently spread the gospel.
"I really believe that if Jesus was physically on the Earth today, he wouldn't be riding a donkey," Duplantis said in a May 21 video posted on his website. "Think about it for a minute. He'd be in an airplane preaching the gospel all over the world."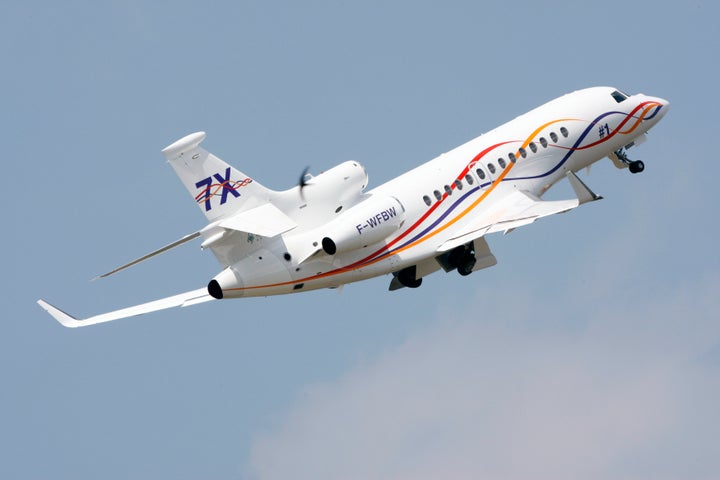 Duplantis is a purveyor of the prosperity gospel, a strand of Christianity that teaches that earthly riches are a sign of God's favor. His organization, Jesse Duplantis Ministries, is headquartered in Destrehan, Louisiana, with a global reach facilitated by a television program, magazine and web series. The evangelist has over 700,000 followers on Facebook. 
In a recent episode of his web show, "This Week With Jesse," Duplantis showed viewers framed photos of three jets he has already "purchased for the Lord." Two of them are now being used by other pastors, while the third, his current Falcon 50, is no longer up to par, he claims.
With a Falcon 7X, the evangelist says he could fly "one stop" to faraway locales "for a lot cheaper," using fuel from his own fuel farm instead of paying for jet fuel during stops. 
The revelation that he needed a Falcon 7X came straight from heaven, Duplantis said. During the video, he recalled a conversation he claims to have had with God.
″[God] said, 'I want you to believe me for a Falcon 7X,'" the evangelist said. "The first thing I thought of was how am I going to pay for it? And a great statement that he told me in 1978 flooded into my mind, and he said, 'Jesse, I didn't ask you to pay for it, I asked you to believe for it.'" 
"I am a blessed man," he added. "You looking at a blessed man." 
HuffPost has reached out to Jesse Duplantis Ministries for comment. 
In the past, the evangelist has said he needs a private jet because of his demanding schedule. Duplantis' Facebook page shows events scheduled throughout the summer in the U.S. and Canada. 
Duplantis and fellow prosperity gospel preacher Kenneth Copeland defended their use of private jets in a television broadcast. Copeland, who was on President Donald Trump's evangelical advisory board during the 2016 campaign, claims in the video that pastors use these private jets as a "sanctuary" where they can talk directly to God. 
"The world is in such a shape, we can't get there without this," Copeland said during the broadcast. "We've got to have this. The mess that the airlines are in today I would have to stop ... at least 75 to 80, more like 90 percent of what we're doing because you can't get there from here." 
"It's impossible," Duplantis said.
"You can't manage that today," Copeland added later, "this dope-filled world, and get in a long tube with a bunch of demons. And it's deadly."
On Twitter, several Christians chimed in to argue against the idea that preachers who own private jets are following Jesus' example. 
In his pitch for the Falcon 7X, Duplantis said he knew not everyone would agree that preachers need jets. But, he said, he's simply trying to follow one of the last commands that Jesus gave his disciples: "Go into the world and preach the gospel to every creature."
"Now how we going to do that? I can't live long enough to travel by car. Or by ship or by train. But I can do it by an airplane."
REAL LIFE. REAL NEWS. REAL VOICES.
Help us tell more of the stories that matter from voices that too often remain unheard.
BEFORE YOU GO
PHOTO GALLERY
Airplane Passengers Over The Years