Republicans and Democrats in Congress very deliberately made their tax arguments before going on a six-week break last week, with Democrats voting to end the Bush-era tax cuts on income above $250,000, and the GOP voting to keep that cut while ending a slew of middle class breaks.
The votes set up clear arguments for voters to choose between, with Democrats saying they're for the middle class, and Republicans saying they're for everybody, especially the "job creators."
And now, here come the ads, with the Democratic-affiliated AFSCME and Americans United for Change rolling out a national, two-day $250,000 buy that also targets five specific Republicans.
"In America, everyone should have a fair shot at success," the ad begins, showing balanced, empty scales.
"So why are the Republicans trying to tip the scales even more for big corporations and the richest 2 percent?" the spot says before coins cascade onto one side. "The Republicans just voted to give people like Donald Trump a tax break worth $150,000 a year while raising taxes on 25 million working families."
The spot refers to numerous estimates, such as one from the Tax Policy Center which found extending the tax cuts for everyone would especially benefit the wealthy. At the same time, the GOP bill ends expanded earned income tax credits, child tax credits and college tuition breaks that were enacted in 2009, and which benefit people of more modest income.
"That way, the Republicans' rich friends can just keep on getting richer," the ad says.
It is expected to run Monday and Tuesday in heavy rotation. Besides the national spot, it also targets Rep. Denny Rehberg (R-Mont.) and Sen. Dean Heller (R-Nev.), who are both running in Senate contests, as well as GOP Reps. Dan Lungren (Calif.), Steve King (Iowa) and Dan Renacci (Ohio).

Before You Go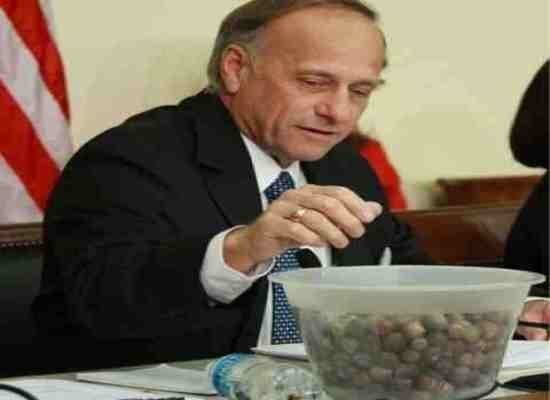 More Crazy Examples of Congressional Theatrics
Popular in the Community