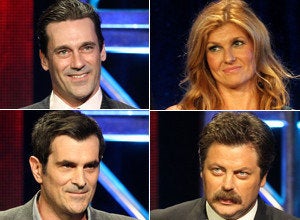 Now that "Friday Night Lights" has ended its final season, the cult hit is taking its victory lap.
The Texas high school football-focused show took home gold from its greatest champions: television critics. The show took home Program of the Year at the Television Critics Association's 27th annual awards show, giving the DirecTV/NBC drama a nice boost going into next month's Emmy Awards, where, for the second straight year, it's nominated in all the major categories.
Nick Offerman, who plays the hilariously deadpan Ron Swanson on "Parks and Recreation," hosted the show and shared the Individual Achievement in Comedy award with Ty Burrell of "Modern Family," as the ABC comedy won the award for top comedy show. Jon Hamm took home the award for Individual Achievement in Drama, while his "Mad Men" won for the top dramatic series.

Outstanding Achievement in Drama: "Mad Men" (AMC)
Outstanding Achievement in Comedy: "Modern Family" (ABC)
Individual Achievement in Drama: Jon Hamm ("Mad Men," AMC)
Outstanding New Program: "Game of Thrones" (HBO)
Individual Achievement in Comedy: Ty Burrell ("Modern Family," ABC) and Nick Offerman ("Parks and Recreation," NBC)
Outstanding Achievement in News and Information: "Restrepo" (National Geographic Channel)
Outstanding Achievement in Reality Programming: "The Amazing Race" (CBS)
Outstanding Achievement in Youth Programming: "Sesame Street" (PBS)
Outstanding Achievement in Movies, Miniseries and Specials: "Masterpiece: Sherlock" (PBS)
Career Achievement Award: "Oprah Winfrey"
Heritage Award: "The Dick Van Dyke Show"
Program of the Year: "Friday Night Lights" (DirecTV/NBC)

Popular in the Community