 "I decided long ago, I am a story teller, not a writer. Instead of writing a book, I simply told a story." -- Paul Shavelson
The phone rings and I pick up, "Hey there, Paul." I don't know what 'possessed' me to answer as if I knew the guy or something but there it was. To my relieved surprise a voice on the other end of the phone answered back with a warm tone, "Hi, Alexandra." This began our conversation which started out as an interview to talk about Paul and internationally acclaimed psychic medium John Edward's new ebook, Beyond the Mayan Prophecy by TOR Publishers, However, the conversation ended differently. We spoke of snapshots in time, television, rising ice caps, having to lose a physical connection, and remaining in the spiritual, and onion fields near where I live. Amusingly and oh what a small world it is... he had been up my way over decades ago in a town nearby working. He's more then his four-decade running career as he's a genuine, authentic husband and father of two. He says that the way he works is he "throws caution into the wind" and that in life you should try and "crystallize your experiences. The upshot is many don't want to know or have any time or energy to put into that." He has philosophies and theories about life. In his new book, foreword by John Edward, as well as some candid interviews he also includes openly and painfully lovingly his beautiful wife's demise. He even has a ghost story in the book to share!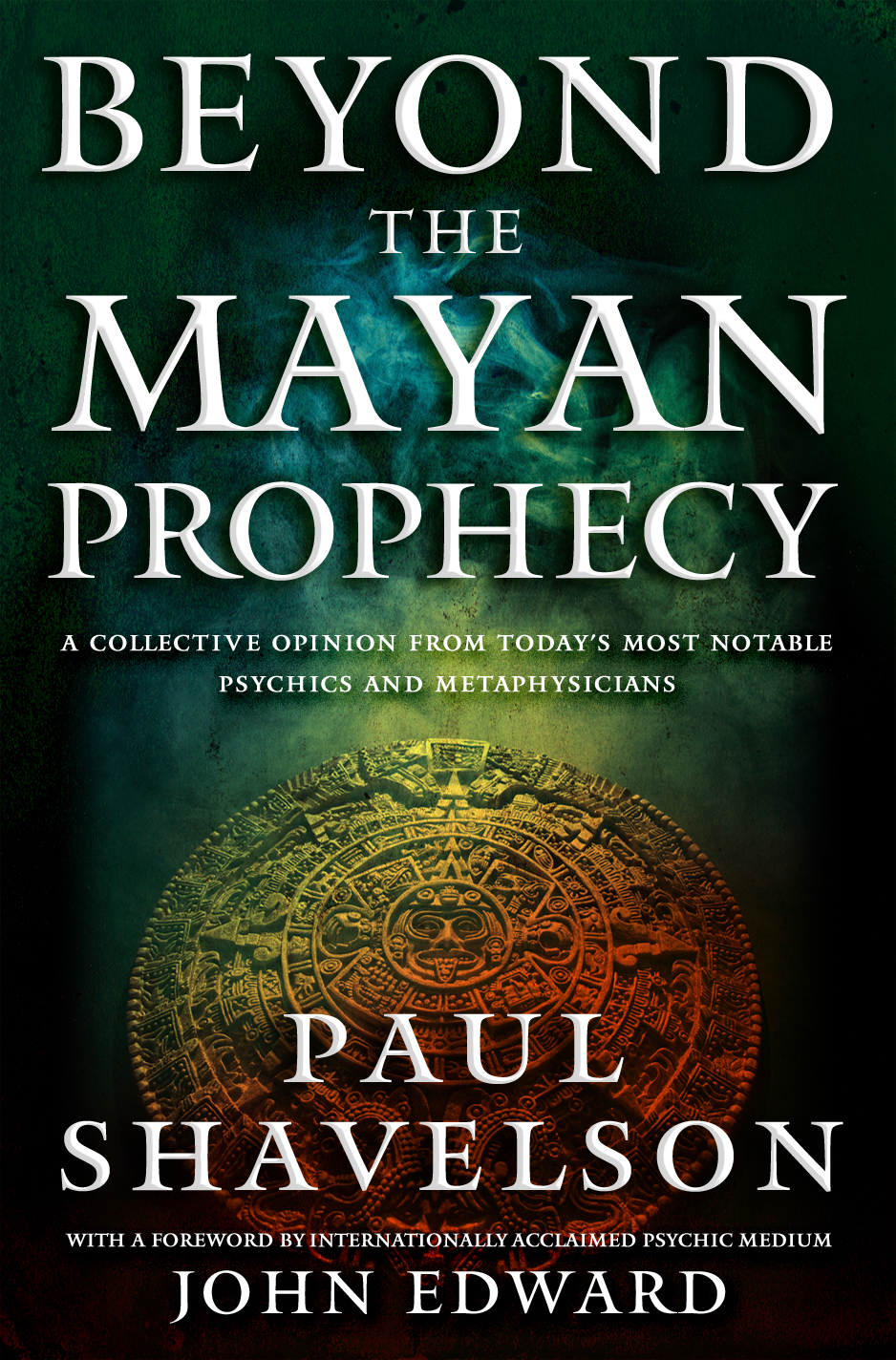 Cover Art supplied and copyrighted TOR Publisher, A Tom Doherty Associates Book.
Paul Shavelson is the executive producer of the Crossing Over television program. Paul has spent the last decade exploring the world of psychics and mystics in his quest to find answers to the unseen patterns and events that shape our world. Although he is not a psychic per se, says that, "We have to learn from our failures" as he's open to many interpretations in our life cycle which includes mediumship as a tool. Paul and John produced over 800 half-hour episodes, from the series on SyFy. You'll learn how they met using the example of harmonic, planetary, and earthly conversion. You'll learn about why and how he took on John's show as CBS had recently called to see if he was interested in working with them on a live component for a new show called Big Brother.
The book reads like --and as Paul describes -- "a bipolar travelogue" which chronicles interviews and opinions throughout the two years . When he switches over from the interview to his current state, he calls it "Marking Time" because it is sharing his real life parallels. "Part one" deals with the past: Mayan Calendar and it's doomsday 2012 prophecies, Astrology, Black Holes, Metaphysical Wizards, Numerology, Power of Prayer, Psychics, Shaman, Healers, New-Paradigm Spiritual, Art History, Quantum Physics, Mind Travel, Psychic Development, Astronomy, Spiritualism, Law of Attraction, Meditation, Kabbalah, Aliens and Technology. "Part two" deals with the Now. "Part three" deals with the future. All intertwined in this beautiful mess of life lessons is his talented wife and mother of two, Rebecca Dorsey. You will not have a dry eye when you finish this book and you will come away from it feeling grateful and humbled when you look around at your blessings.
John expresses with Paul:
"I ponder my current life's trajectory, the unknown of the Afterlife, and my soul's evolutionary journey. My thinking is sort of like a Google map. I start focusing in on the town I was born in, and slowly keep zooming out until I am looking at our planet and then the infinite universe. This meditative process leads to me thinking about how our world is fast approaching its own major milestone."
A quote capturing my eye in the book resonates beautifully from astrologer and teacher of Ancient Wisdom, Alan Oken, in which he states,"A little conscious cooperation with the cosmos is always the right thing to do." Paul says, "I think that we have more options and we often choose the wrong ones." Another great poignant thought in the book talks about "REAL communication. You can go into a restaurant and see everyone texting or focusing on their electronic devices -- no one's talking. Twitter, Facebook, and all these different ways to communicate are superficial. It's not a real connection." On the Internet, Rick Levine says, "Facebook and MySpace and Twitter and cell phones and webcams and YouTube. Now, everyone is Walter Cronkite and the Evening News. Now, everyone is the Beatles." Bloody insightful and scary all at once, I say!
Part two of this personal interview with television visionary and all-around amazing soul, producing partner and long-time friend of John Edward continues in the next post as we learn more about Rebecca, The Mayan Prophecy conflict and the outcome.
Check out the Beyond the Mayan Prophecy ebook today and give this gift to those you love and cherish. It will be a smart, selfless act passing on what Paul and John has learned in such a short life span with much more to go. It's real. It's honest. It's historical life the good and the not so good. To learn more, click here.