While still in his early teens, Michael Essany was publicly hailed by a venerable tapestry of entertainment and broadcasting icons as the future of late night chat shows - in both the U.S. and U.K.
From Kevin Bacon and Nigella Lawson, to Mila Kunis and even a smattering of world leaders, for close to a decade, everyone wanted to talk to Michael Essany, a broadcaster who rose to fame for launching a television chat show while just twelve years of age.
By the age of 21, Essany- who was later named "One of America's Most Remarkable People" by A&E Biography -- had secured deals with E! Entertainment Television and BBC4 to bring his intelligent interviews and topical comedy to millions of viewers across two continents.
So enamored of his talent and tenacity, TV producer and recent Celebrity Apprentice winner Leeza Gibbons offered to executive produce Essany's program. Speaking to the elusive "it factor" that TV hosts either have or don't, Gibbons once told Fox News that Essany definitely has "it."
For a time, say sources at NBC, Michael Essany may have even been seriously considered behind closed doors as a possible replacement for Jay Leno prior to the infamous ill-fated stint of Conan O'Brien as host of the legendary comedy program.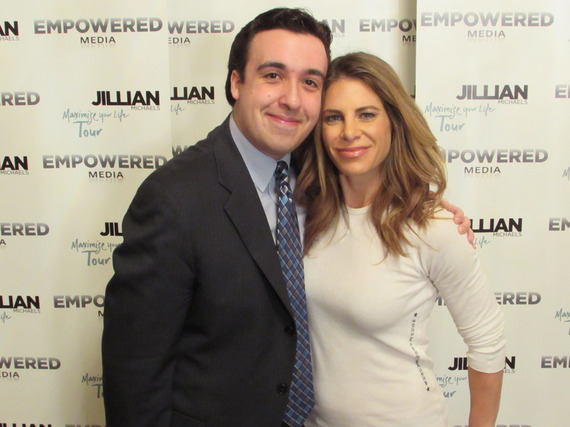 Michael Essany (left) pictured with former Biggest Loser trainer Jillian Michaels (Right)" Copyright © EM Events, LLC
But around 2005, Michael Essany vanished almost entirely from public view. So where did he go exactly? Speaking with Essany this week, it was difficult for the famously talkative TV star to express himself. His voice was gone - the product of a swollen throat and faltering immune system.
"I never should have interviewed Tom Brady," Essany quipped. "The guy must have deflated my immune system."
While saying that he's "fine" and just needed some rest, sources at E! and Essany's alma matter, Valparaiso University, assert that the famous former TV talker's health has been in decline for several years. He has reportedly had surgery multiple times on his ears and throat resulting from chronic infections and immune system-related matters.
Essany, a married father of two, confirmed that while he hasn't exactly been healthy as a horse, he is definitely on the mend.
Of course, looking at his long list of accomplishments over the past decade, one would never think the now 32-year-old has missed a beat. In 2005, Essany graduated magna cum laude from Valparaiso University with a B.A. in political science. He went on to serve as Vice President of a commodities trading outfit for 5 years. His various books, including Reality Check: The Art and Business of Producing Reality Television, have been big successes. A bestselling author, Essany would later become editor-in-chief and managing editor to a number of prominent online news platforms and blogs, including MMW - owned by Los Angeles, California-based mobileStorm.
Essany cites working with esteemed leaders in their respective fields as part of his "ongoing education and preparation for what's next."
"From Leeza Gibbons in the entertainment space to Jared Reitzin in the business of mobile marketing, I've been immensely fortunate to learn from leaders, entrepreneurs, visionaries, and some of the most creative people on the planet," Essany says, noting that he is always eyeing the future.
Listening to Essany speak, he's sort of a modern hybrid of Johnny Carson and Steve Jobs - an exceedingly capable communicator but one who is sensitive to the evolution of technology and changing times.
Essany sees the future of late night talk moving away from traditional television outlets and toward streaming and on-demand digital channels.
"I think we're on the verge of seeing some groundbreaking innovations in a traditional broadcasting format that could be a game-changer in late night comedy programming," Essany contends.
When asked if he'll be the guy to facilitate that change, Essany just flashes that confident grin and says that "someone is going to do it, whether or not it's me is irrelevant in the big picture."
Essany denies having any formal contact with the BBC, Netflix, or Google about what he describes as the "first truly interactive late night talk show," but a source at Netflix says that they have received requests from subscribers hoping that The Michael Essany Show will eventually be a part of the streaming content provider's library.
"I've repeatedly asked my grandmother to stop making those calls to Netflix," Essany jokes.
So what's next for Michael Essany? For now, the charming brown-haired goofball with a devilishly playful glint in his eye says he's focused on his present commitments to work and to getting back into optimal physical and mental shape.
"My friend Jessica Dumanch is a Pilates instructor and she's really changed my life with her guidance on nutrition and wellness," Essany says. "I realized how out of step and out of shape I am. I can't very well reach for the stars if I'm going to throw my back out in the process."
Emma Martin, a longtime colleague of Essany's, says television would be well served by her friend's "inevitable return."
"He [Michael] is just really smart and someone who can give the audience things that they haven't yet seen or even realize they may want," Martin asserts. "Wherever he goes, in the U.S. or across the pond, people remember him and ask for pictures and autographs with him. To be remembered like that means Michael has done more than just entertain people. I think he's also really inspired them."
With Johnny Carson, Jay Leno, and now David Letterman soon to be gone from television, many believe the "old-school" late night chat show is gone forever. But others believe someone like Michael Essany could one day bring back to late night something that's both old and familiar, and something that's completely fresh and youthful.
"I don't know of anyone else who could pull that off," says Martin. "Jimmy Fallon is doing great, but the late night landscape as a whole isn't. Within the next five years, I think a sign of distress -- a 'bat signal' for late night - will be visible, and you're going to see people on this industry calling on guys like Michael to save the day."
REAL LIFE. REAL NEWS. REAL VOICES.
Help us tell more of the stories that matter from voices that too often remain unheard.