Mary Meeker's annual Internet Trends report dropped at last week's Re/Code Code Conference, and is it any surprise that year-over-year mobile growth continues to outpace expectations? Of course not.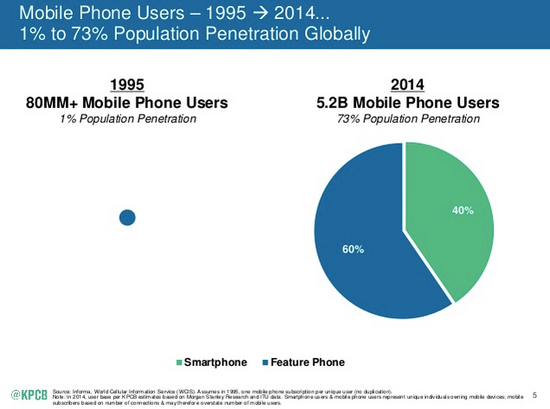 At 73% population penetration growth, the mobile market is an easily understated, yet massive, accomplishment. Particularly considering this tidal wave of mobile growth has emerged in less than a decade. One of the only media penetrations that remains more imposing than mobile, is television. In comparison, the US population penetration of television rests at an impressive 98%. It makes sense that mobile and television would be good together, if there was a way to bridge the gap.
But here's the rub: Americans spend 24% of their time on mobile, but attract only 8% of ad dollars. Time spent and ad spend should index roughly equally, look at television with a 37/41% time/ad spend index, or radio at 11/11% and internet 24/23% (Print is another outlier, but for the wrong reason, yeesh, overvalued!) Mobile, at a 24/8% time/ad spend index shows that mobile is currently undervalued... but is racing to close the gap.
According to Meeker, closing this gap is a $25B opportunity. Dollars are going to continue shifting to mobile... and fast.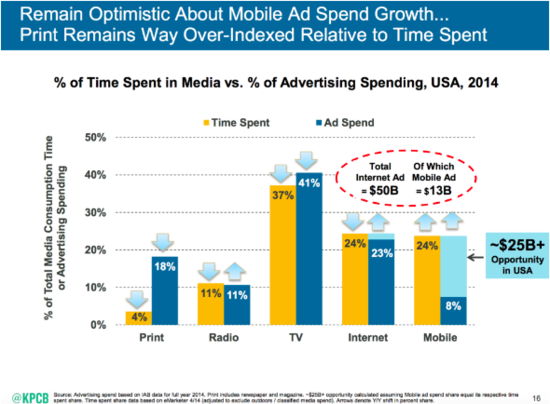 However, this shift doesn't need to be at the expense of television. Instead, television will benefit from this industry transformation in three powerful ways. First, mobile is a content-first platform. Second, mobile is a video-first platform. Third, mobile is a data-first platform. Television has both the content and the video by the bucket-load and is increasingly desperate to become data-first. These three reasons are why television networks are poised to turn that $25B opportunity into a Win, Win, Win.
Mobile is content-first.
Mobile is a content-first platform, not an Ad-first platform, which is also why print is losing so badly. Have you seen a newspaper lately? The average paper now has an ad/editorial ratio of 60/40, if it were a half hour TV show that would be only 12 minutes of programming and 18 minutes of advertising. I'd rather watch PewDiePie scream incoherently for 30 minutes than watch 18 minutes of commercials for 12 minutes of content. I'd say the average user would agree (maybe not on the PewDiePie part).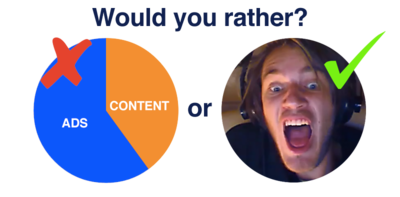 You can't force a 60/40 ad/content ratio onto a mobile screen. Users will revolt, because that kind of Ad overload is revolting.
Banner Ads suck on mobile (say Thanks!) and I believe that part of the reason for the Ad spend/ time spent lop-sidedness is simply because of the challenges advertisers have had in figuring out en masse how to be a truly creative part of the mobile environment. So, what will mobile advertising look like?
Native ad integrations into content.
The best native integrations have an elegant ebb and flo with content. In many instances an integration is a welcome addition (not a distraction) to the story and adds an inclusive element of surprise and fun for the audience. Native integration is a nudge and a wink to the viewer that the advertiser and content are in sync, that they "get" each other. It's about respect - and engaging the viewer in the story of their favorite TV show via their mobile device is a natural expression of that respect.
That's one reason why television is poised to gobble up the mobile ad spend.
Mobile is video-first.
Little needs to be said here.
Mobile views account for half of YouTube traffic and growing. Facebook video traffic grew 4x in six months with 75% of that traffic from mobile. More than 60% of all web traffic is now mobile.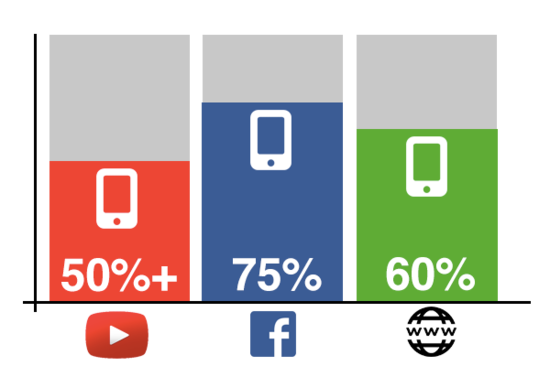 Bandwidth up + cost down = video for all!
And the television industry, with its heavyweight video production infrastructure, the experience, the expertise, and the endless archives of great stories is set to devour the mobile content market. As they say, we just need to get out of our own way and let it happen.
Mobile is data-first.
The message that rang out from the Upfronts is that television needs deep audience data to retain Ad dollars. Loud and clear. TV Networks need to know their audience. In real-time.

Social data! Demographic data! Location data! Mobile Delivers.
For decades, TV networks have allowed advertisers to target viewers based only on age and gender. From the WSJ, "Marketers... have begun shifting ad dollars away from TV and towards digital platforms that can target users based on attributes ranging from their physical location and interests, to income and shopping habits".
TV shows with compelling mobile integrations, more than any other platform, offer an opportunity to generate not only audience demographics, but psychographic data and even real-time brand affinity data on linear TV viewers. Take a second to read that again... generate not only audience demographics, but psychographic data and even real-time brand affinity data on linear TV viewers. The challenge for TV is how access this holy grail of digital audience data. We need to bridge the gap, from the linear TV show that I'm watching, to the digital data on the mobile in my hand.
The solution is found in creative integrations between mobile and television story content. We are well past the valiant early second screen efforts by the likes of GetGlue and Zeebox, and are now moving into elegant real-time solutions like "Participation TV". Real-time TV audience participation connects the viewer to the story on television and yields rich real-time digital analytics. The most progressive companies, and I am proud to say that iPowow is one of them - if not the leader in Participation TV - recognize that media companies are data companies. What TV or Ad Exec wouldn't want the ability to see deep data and analytics on their viewers watching and participating right now, at this moment, during each program?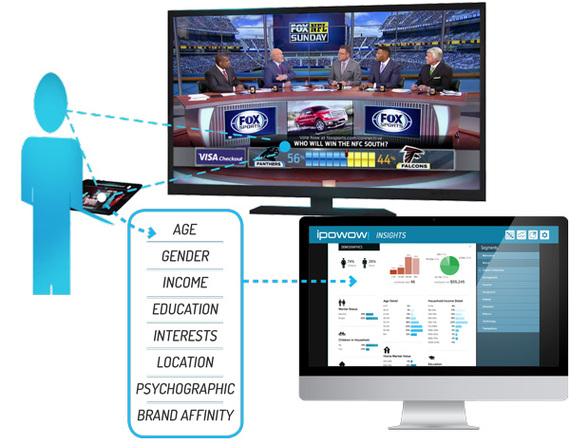 Viewer participation integrations give television the edge.
Time spent on mobile is growing, Ad spend on mobile is growing - and will continue to grow faster than all other platforms until it reaches a parity. Advertisers want in on the mobile space and television need only catch up and provide them a cohesive menu of content, video and data. Integrations into the TV broadcast are the key, and who owns the TV integration market?
It isn't about the number of eyeballs, it is about the quality of those eyeballs (that's a weird picture, right?). By allowing the viewer to connect, via their mobile in real-time, with their favorite TV show, brands now have access to the most finely targeted audience watching the most compelling storytelling platform on the planet.
So, while internet trends continue unabated and the $25B mobile opportunity is gobbled up as brands find the audience and return on their dollars spent, television is surprisingly poised to be a big winner. Let's make it happen!
Popular in the Community