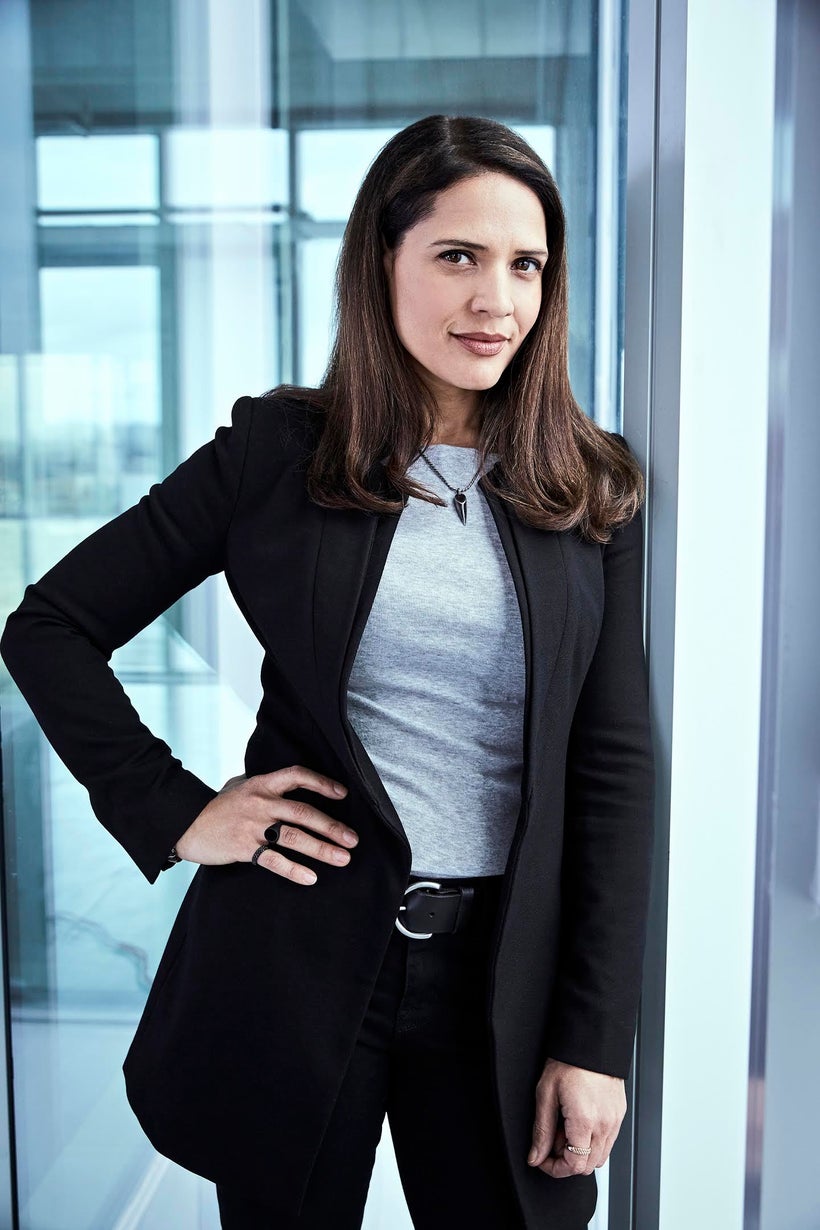 What's amazing about the Taken franchise is not just that all three of the films were outstanding and managed to constantly keep audiences on the edge of their seats while always wanting more, but they also managed to offer a highly profitable blockbuster series to the big screen that didn't feature someone wearing a cape. But, then again, in truth- Luc Besson's complex and layered Bryan Mills is just as much a superhero as any Marvel or DC icon. And while a chorus of readers are no doubt echoing that statement, fans are going to be glad to know that the franchise will add even more spectacular "superheroes" to the line-up with the new TV series installment for NBC, particularly a powerful woman of color played by Monique Gabriela Curnen!
As Becca Vlasik, the fiery actress adds an extra special punch to the fantastic television adaptation- figuratively and quite literally! Not only is she cool as can be and every bit as tough as Mills as she takes down foes, but she also helps round out the cast with some diversity- not just in the form of people of color, but also by adding the perspective of a powerful woman to the field. While it's been wonderful to watch Bryan Mills on his journey for the past three films, and fans are eager to see how it all began, it goes without saying that the story would have been lacking if he would have always been "saving the girl" and surrounded by adept men to help him do so. With Curnen in the cast, the commanding actress helps give the franchise a brand new viewpoint that is fresh, modern, and integral to quality storytelling.
But, snapping necks and analyzing crime scenes is not the extent of the skilled performers range. Next on her plate, the quickly rising star has a film with Laverne Cox called "I Love Hate," as well as a spot on "Brothers In Law," a new series co-written by the amazing Jason Olive- who is also her cousin! And currently in production, the vivacious talent has a film coming out called Model Home, where she stars alongside the esteemed Kathy Bates. In the film, Curnen shows off tremendous dedication and research to her craft as she portrays a woman with bipolar disorder- a diagnosis she spent many hours studying up on. Whether it planting her head in the books looking up treatments and medicine, talking to people at support groups, or self-searching for ways to empathize with the extremes of the illness, the devoted actress made sure to carefully do her homework- and for that, fans can count on yet another great performance from the clever starlet.
With Taken already being a hit, and so much lined up on her plate, Curnen took some time to sit down and talk about her hot new NBC hit show, all the things she had planned in the future, what it's like working with such amazing people, and more! Read below to see what the lovely performer had to say!
Fans are absolutely loving "Taken," which serves as an origin story to the film franchise. Can you talk about what fans can expect from the show?
Fans can expect a really great ride each episode, and a really great peak into who is Brian Mills, and how he ticks, as well as what his strengths and weaknesses, and even passions are. All that will be revealed episode to episode, as well as how he interacts with the rest of us on his team.
And you are playing a character named Becca Vlasik. What can you tell audiences about her?
Vlasik is as at home in the field as she is in the office. Probably more at home in the field when on a mission, but certainly very adept at analysis as well. People can expect a woman of action, someone who is great under pressure, who is a key team player, but also fantastic in her own right.
There are some great people attached here; Clive Standen, Jennifer Beals, and Tim Matheson even steps in as a director! Can you talk about the people you get to work with?
I'd be happy to talk about the people I work with because they're amazing! We have a wonderful, talented cast- who are not only dedicated to their cast, but also seasoned in different ways, and they bring so much energy to the show. And then we have Michael Irby, Gaius Charles and Jose Pablo Cantillo sort of rounding out the team in the field, and they're all such powerful actors. They bring a great level of talent to the game that is so fun to play with. And as you well know, actors work pretty long hours, so having people who are both down to earth and also great at their jobs makes being on set that much more fun. Brooklyn Sudano, who I don't share many scenes with, has still become a wonderful friend. I've worked with Jennifer Marsala before, and she's wonderful. And our fearless leader and showrunner, Alexander Cary, has a leadership that really shines through in selecting a cast that really works well together. The camaraderie that you will see is absolutely in full effect in real life as well.
You also have another new series on the horizon called "Brothers In Law" written by Kent Faulcon of "For Better Or For Worse," and the incredible Jason Olive from "The Comeback" fame! Talk about that!
Sure! Well, Jason is my cousin! His mom is my dad's sister, and they lived out in Los Angeles, and I'm an east coast girl. We met throughout the years, but when I started acting seriously and came out for a chunk of time in 2006 we had always spoke about doing something together. This was his passion project and he said; "Hey cousin, I have a role for you, are you down?" I read it and it was just so funny and sharp, so I'm going to do a cameo there, and if it works out schedule-wise, we will see if I can come back and do a few more episodes!
And then you have two other films in the works- "Model Home," alongside Kathy Bates and "I Love Hate," alongside Laverne Cox and David Zayas. What's the scoop on those?
Model Home is a really fascinating story about a mother and a son, and the mom has bipolar disorder. I play the mother, and the film really details the way in which my character manages the diagnosis, and how it effects her son's life, and essentially how you can be hired to live in model homes so that when they have open houses they look comfortable and lived in. But, unfortunately, due to the diagnosis, my character takes homemaking to an unhealthy extreme. It's an interesting premise because it shows how there are definitely times when the child winds up being the caretaker for the parent when dealing with mental illness. So, it's an fascinating tale about this kid's life and how he struggles to still stay a kid while struggling with his mom's disorder. And I Love Hate is about a person who is transgender in a predominantly black and Latino neighborhood in New York City, and how they navigate the world while coming out to their family and dealing with the social pressures that entails.
And how did you research your role in "Model Home," particularly with all the mental illness stigmas out there?
I did a lot of research about how it is medicated and the history of the disorder, as well as support groups for the person and the family. I talked with different members of my family who have dealt with it with loved ones. I tried to just talk to as many people as possible who had first-hand knowledge. And then I tried to self-search and use my own imagination to identify and have compassion for the diagnosis. We can all have our obsessions, and all have moments of mania. We can all have moments of being really down, and not wanting to deal with the world. So, I really just delved into my own experiences and imagined what could happen that could send me to those extremes, while also trying to manage some level of control. So, it was a combination of research, talking to people, and then self-search and imagining how it would manifest in my own life.
You clearly have a busy plate and are getting a chance to work with tons of great people. Who else would you love to work with, and what other roles would you love to play?
My two favorite films thus far this year are Barry Jenkins' Moonlight, and Ava DuVernay's 13th- and I would love to work with either one of them. I think the kind of storytelling they are doing is so phenomenal. Moonlight is so nuanced and just real and poignant, it's so beautiful- I thought that film was simply beautiful. And Ava's work I've been following since Middle Of Nowhere, and she's incredible. Both those filmmakers let their stories really breathe, are so fantastic. I think 13th just gets right to the point and should be required viewing for everyone in our country. And then, on television, my two favorite shows this year were Atlanta, and Insecure, so I'm totally loving the work of Donald Glover, and would love to work on those shows. I'd also love to work with Noah Hawley again, I think he's doing amazing things between Fargo and Legion. I had worked with him on The Unusuals for ABC. So, there are tons of folks I would love to work with. I would love to work with Denis Villeneuve, as I thought Arrival was really fascinating and beautiful, and I was really drawn to Amy Adams' work in Arrival as well. I was so drawn to her character that was both vulnerable and strong- but a different kind of strong, so I'd love to do something along those lines. I had so much fun on Taken being a bad-ass, and that is something I'd love to do more of as well in perhaps like a Bourne film! I'd also love to be a wise-cracking sidekick in something like a Quentin Tarantino film, or someone with a really great sense of humor!
Hear that directors? The feisty actress can not only kick down doors, but she can also make us cry and laugh! Curnen better get ready to clear off her social calendar- because her star is rising, and her work schedule is about to get a lot more heavy! Consider those dates Taken!
Taken continues Monday nights at 10/9c on NBC.
REAL LIFE. REAL NEWS. REAL VOICES.
Help us tell more of the stories that matter from voices that too often remain unheard.
This post was published on the now-closed HuffPost Contributor platform. Contributors control their own work and posted freely to our site. If you need to flag this entry as abusive,
send us an email
.