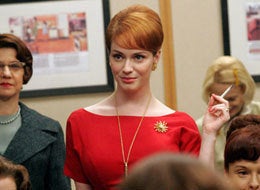 Recently, there has been a glut of TV role-models filling my screen and playing havoc with my credit cards. Just last week, my mouse languished over a soft, white leather jacket on the Karen Millen website. The jacket is very similar to the one worn by Alex Drake (Keeley Hawes) in BBC1's Ashes to Ashes. Why, I thought, if I teamed it with skinny jeans and heels and resurrected my old perm, I would look like a feisty, sexy 1980s detective. Confident, charismastic, the sort of girl unreconstructed men such as DCI Hunt want to rattle senseless over the bonnet of an Audi Quattro. Thankfully, this time common sense prevailed. I didn't buy the coat. Colleagues were denied the treat of me appearing at work resembling a fossilised Whitesnake groupie.

And to be honest, Karen and Alex are both old news. Betty Draper from Mad Men does ice cool femininity better than anyone since Grace Kelly. And I'm most into ITV2's Gossip Girl now anyway. I'm talking Tory Burch flat shoes and the latest Balenciaga bag. OK, the high-street copies. All I need is a few key items from the new Phillip Lim and Alexander Wang collections, or their nearest chain-store equivalent and, yes, I will be Serena van der Woodsen, the darling of New York's most elite prep-schools, about whom simply everyone is gossiping.
Here are some fashion do's from Mad Men: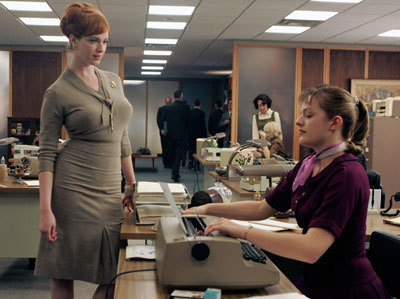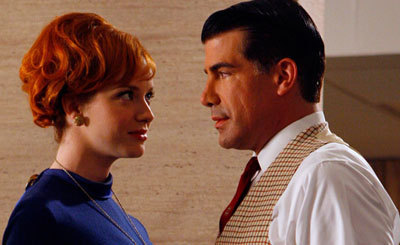 Both images rom AMCTV.com
If you chose "None of the above," tell us which show knocks your fashion socks off below in comments.
Or the website for (the amazing) Mad Men.