Some time in late June of this year I received a curious email about a project in Atlanta. The message was from Anita Arliss, an artist I've worked with in the past, and it contained a request to co-curate a show titled TELL ME a STORY as part of the Atlanta Celebrates Photography Festival 2016. The location would be the B Complex Gallery, and the intent of the exhibition was to build an overview of photo-based art that maintained a compelling narrative quality. Photo-based art is a very broad scope, but in a way, it gave Anita and me an opportunity to show just how much a part of the process photography has become in the making and the development of contemporary art.
Early on, we decided that there would be a number of anchor artists to build the show around, but the bulk of the exhibition would be selected from applicants from across the United States. I didn't know what to expect, to be honest, but I was quite surprised and delighted by the results.
The following is a conversation with Anita, as we discuss the process of selecting the work.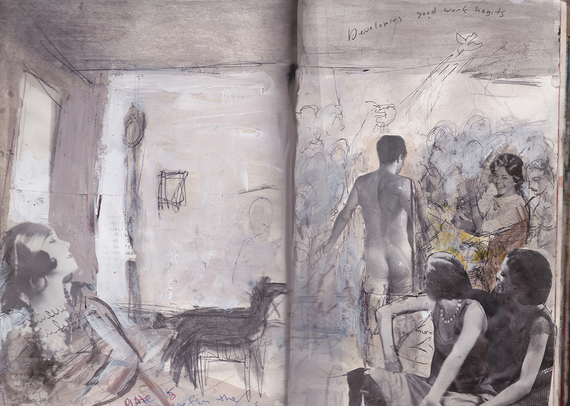 Chuck McNally, The King of Mexico from his book Lost Illusions (1988 -89), mixed media, 9 x 12 inches
DDL: We dove right into organizing and developing TELL ME a STORY so quickly that I never had a chance to ask you how it all came about.
AA: Yes, TELL ME a STORY did happen quickly and naturally. I had been thinking a lot about artists using photography in many ways now and in the past, and how it would make a compelling show, particularly when I moved into my studio in the building next to the B Complex Gallery. Turns out that the gallery schedule was open in October during the prominent Atlanta Celebrates Photography Festival, so I saw an opportunity and went with it. That's when I emailed you.
DDL: One of the aspects of the show, the guest artists, made this particular call for work different than other shows like it. In addition to our work, we reached out to Joy Garnett, Eric Mack, Chuck McNally, Ruben Natal-San Miguel, Leah Oates, Grace Graupe Pillard and John Wyatt to anchor the exhibition. I know it's impossible to discuss everyone and maintain the reader's attention, but were there one or two artists you felt had to be in the show, and why?
AA: To start with, I thought of the photographer Ruben Natal-San Miguel and the wonderful way he connects with each of his subjects making them so confident in who they are. The locations are very often on the streets of his Harlem neighborhood where he really captures the moment. Also, I wanted to include Joy Garnett's recent Unmonumental Paintings series, which is based on her unmonumental social media photography project that she began in 2008. I really like how she seamlessly moves back and forth between photography, social media and painting, interpreting the artist's experience with all the visual minutiae scattered throughout a big city.
DDL: One of the things I enjoyed most about our particular selection and process for TELL ME a STORY was seeing new work. I curate quite a few shows each year and it's always good to learn about outstanding artists I've never heard before now. In particular, I think the narratives in the art of Lissa Rivera, Keris Salmon, Susan Carr and Zsolt Bátori to be the most compelling. Their works pull you right in and hold you captive like a moth to light, while the stories they put forth are deep and rather expansive in the viewer's mind.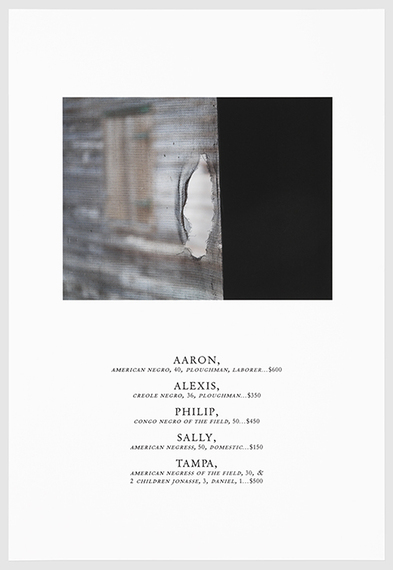 Keris Salmon, TAMPA (2016), digital print and letterpress on Hahnemuhle, 13 x 19 inches
AA: I agree. The narratives of Allison Stewart and Camilla Fallon come from different places, and both are completely engrossing. It was exciting to see Allison Stewart's PBJ's Bug Out Bag (2015), as well as Camilla Fallon's Twisted Space (2015), how clearly each artist is working in various mediums and interests, masterfully organizing her piece, so we get their perspective exactly. Also, a didactic and wonderfully quirky nod to Albrecht Durer is in Philip Carpenter's After Durer 2 (2012) as the artist "toys" with past and present art history dialogues, with his hyper-realistic drawing of a plastic toy bug preying on Durer's 1505 watercolor masterpiece Stag Beetle.
DDL: I am reminded of James Ensor when I look at J William Hill's Atlanta, Lantern Festival (2015), as it has a kind of creepy, festive atmosphere with the masks and the luminous color... A similarly strange feeling is felt with Nancy Oliveri's black and white photograph Mermaid's Tale (2016), only here, you have the extra-added enviro-political issue of the state of our overtly polluted oceans.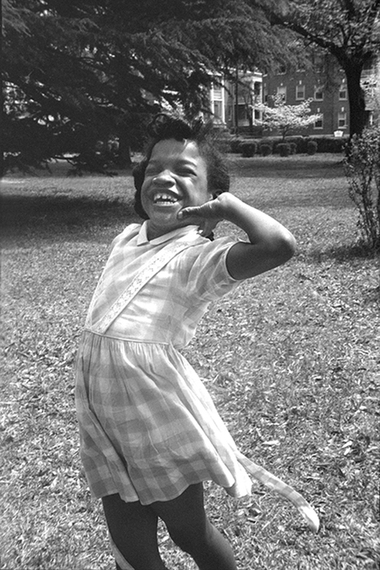 Yvette Meltzer, Bonita (2015), archival digital print dated 1968, scanned and printed, 14 x 11 inches

AA: True, both artists' works have a ghostly, theatrical style that is pretty startling, like in Ensor's paintings. Then you have this intriguing empathetic, cinematic thread, in the portraits by Yvette Meltzer's Bonita, 1968, scanned and printed in (2015) and Wendy Whitesell's Ben (2016) are simultaneously socio/political, as well timelessly romantic. On the other hand, the empathy turns to irony in Russ Rowland's A Tale of Two (2016) and Kathy Meliopoulos's Empathy (2015).
DDL: I'm glad you mention irony, as I was surprised and intrigued by your new work. I've always thought of you as a something of a Realist with a strong leaning toward the psychological or the subconscious - sort of like the representation of waking dream state with a touch of anxiety, even fear, while at other times your images might be laced with a tinge of the banal humor. These new works are quite abstract and bursting with energy - explosions of color - the "fervor of spirit" to quote Wikipedia, as I think of Kandinsky.
AA: For me, it is a natural progression. My eye has turned to new images, but my underlying subject continues to be my momentary perceptions of spontaneous events while my formal processes are likewise the same. This time, though, my glimpse is a closer look, even as the moment is more fleeting. I opened my "window" and felt the colors and breathed the air. That was when I knew this was the direction I was going to go.
The opening reception for TELL ME a STORY is Saturday, October 8th from 7 to 10pm. The exhibition runs from October 5th to October 18th. B Complex Gallery is located at 1272 Murphy Avenue SW, Atlanta, GA 30310.
Related
Popular in the Community