Ohio teenager Kyle Plush was declared dead six hours after he told a 911 operator to deliver a final message to his mother.
"I probably don't have much time left, so tell my mom that I love her if I die," a frightened Plush reportedly told a Hamilton County 911 dispatcher as he took his last breaths on Tuesday.
The 16-year-old was trapped by a folding backseat in his 2004 Honda Odyssey, Cincinnati's WLWT News reported. He used voice commands to direct his cellphone to call 911.
Hamilton County Coroner Lakshmi Sammarcho ruled his death an accidental "asphyxia caused by chest compression," reported WCPO. It is unclear when he died.
Plush reportedly become trapped while attempting to retrieve tennis equipment stored in the rear of his vehicle.
"He put a knee on the third-row bench seat and reached over the bench seat into the rear well [and] the bench seat then flipped backward," an unnamed source told The Cincinnati Enquirer. "The force of that motion and the weight of the seat trapped Plush upside down, head in the rear well and legs in the air against the minivan's rear door."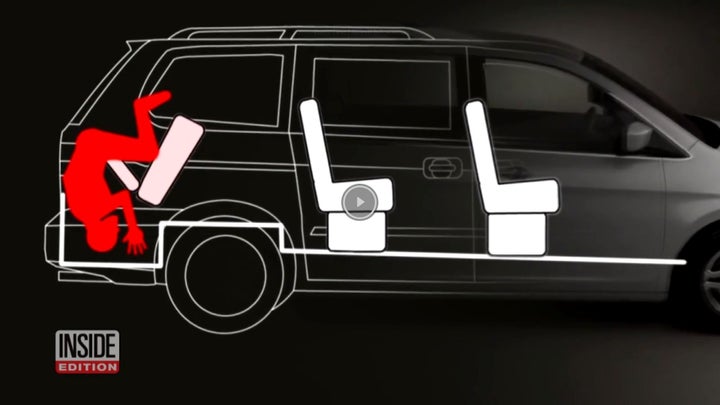 Honda said it has no seat-related recalls for that model of the Odyssey, Autoweek reported Friday, and has not been asked by safety officials to investigate the incident.
According to WCPO in Cincinnati, the teenager's vehicle was parked in a lot adjacent to Seven Hills School. The sophomore reportedly placed the 911 call about 3 p.m.
In the 911 call, Plush asked the dispatcher, "Send officers immediately. I'm almost dead."
The 911 operator reportedly had a difficult time understanding the teen.
Authorities were dispatched to the scene but were unable to locate the van.
"I believe if we had a little bit clearer, more accurate information, we could have found the vehicle," Hamilton County Sheriff's Office spokesman David Daugherty told WCPO.
Plush's father found the teen dead in his vehicle about 9 p.m. Tuesday, police said.
City Manager Harry Black told WLWT News that officials at the 911 center are investigating to determine whether there were "deficiencies on the part of the 911 center."
"Kyle joined the Seven Hills community in the sixth grade," the Seven Hills school said in a press release. "He was a young man of keen intelligence, good humor, and great courage, and this whole community feels this loss very deeply."
REAL LIFE. REAL NEWS. REAL VOICES.
Help us tell more of the stories that matter from voices that too often remain unheard.
BEFORE YOU GO
PHOTO GALLERY
Missing People