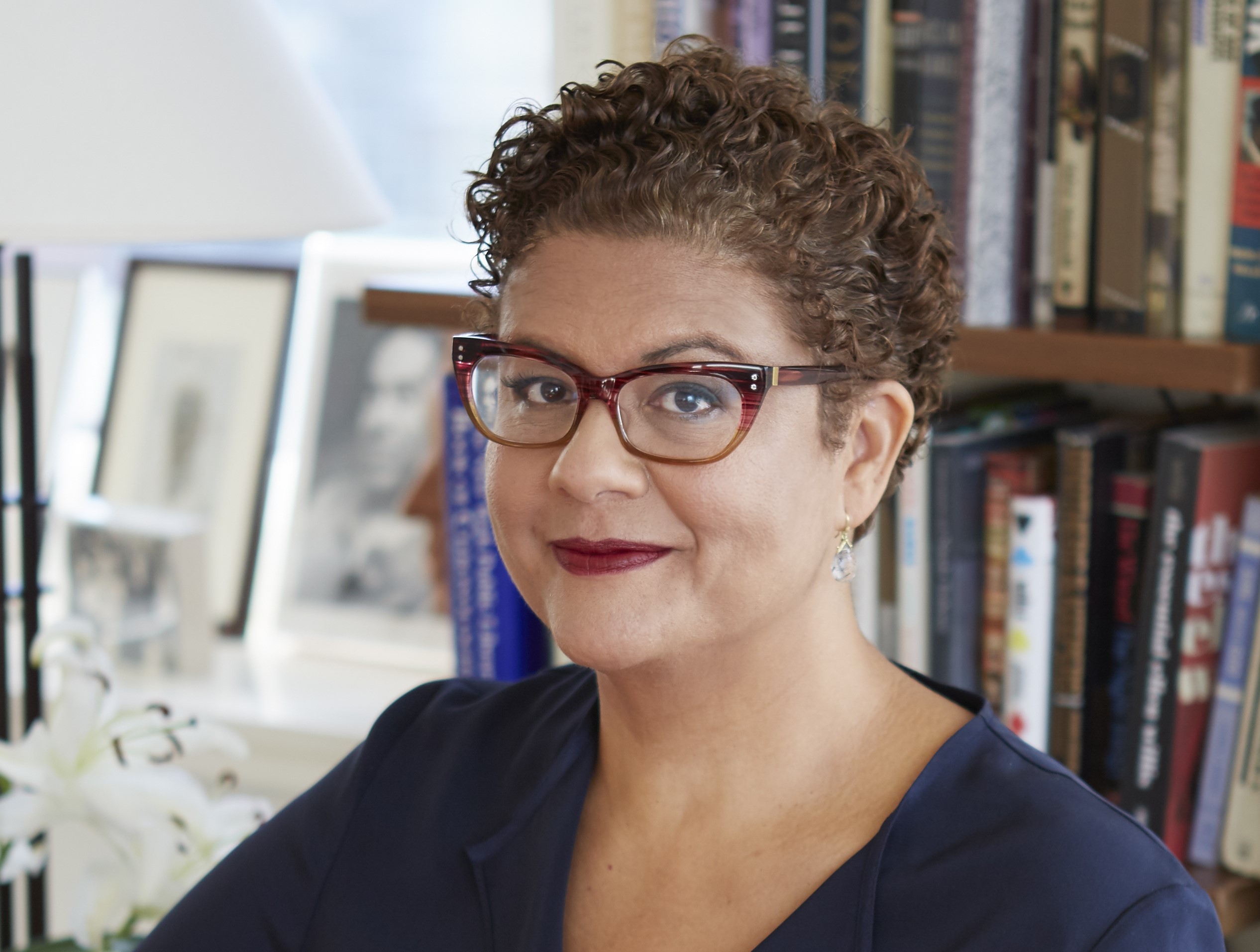 Elizabeth Alexander (Credit: Alpha Smoot)
Poet, essayist, and scholar Elizabeth Alexander was in Tokyo recently to kick off the Tokyo International Literary Festival, her first appearance in Japan. She is the author of The Light of the World, a powerful and deeply moving memoir about her late husband; her poetry collection American Sublime was a finalist for the Pulitzer Prize. In 2009, she composed and read a poem, "Praise Song for the Day," for President Barack Obama's inauguration. She moved last fall from Yale University to Columbia University, where she is the Wun Tsun Tam Mellon Professor in the Humanities, continuing her work in African-American literature, history, and culture. In October, she was appointed director of the Ford Foundation's Program for Creativity and Free Expression. On a springlike afternoon in Tokyo's Akasaka District, we sat down to talk.
What's your impression of Japan?
Japanese aesthetics speaks to me powerfully. What it means to have form and function interwoven, to have elegance but also imperfection, a flaw, the number five--like the way Japanese dishes come in sets of five. There's an analogue in poetry: you're trying to achieve formal harmony but there has to be a torque, something that's a bit off, that lets the sun shine in. Another analogue is in jazz, which is very important to me, and the music of Thelonius Monk. There's that off-note, where all the possibility lies, because life is like that. We strive for formal elegance, but the reality of life is there's always that fifth teacup.
What do you think about haiku?

I'm interested in different forms, and if you're trying to write poetry you should try to inhabit every single form you can. Some people say haiku doesn't work as a transcultural form, because there are qualities of the Japanese language that have to do with economy and syllabic organization that are quite organic to Japanese. When you read haiku poems written in English they do often sound a bit stilted. But that said, severe limitation is a great exercise. It helps you write bigger things.
Was there a moment when you knew you were a poet?
I went to graduate school at Boston University. I was admitted to study fiction, but I went because Derek Walcott, whose work I loved, was there. I showed him some word clouds in my journal, and he copied out one of them and made line breaks. He said, "See, you're trying to write poetry but you just don't understand about line breaks. So now I've shown you. Go, and don't come back until you have some poems." It was the hardest thing I've ever done but as I was doing it, I thought, "I can do this." That was the true moment.
Some say there are too many memoirs being published today. Do you agree?
I love reading memoir, high and low. I'll read tacky things as well as literary ones, because human beings telling you their lives is compelling. That said, I was very turned off at the thought of writing a memoir myself. I thought it wasn't seemly. But doing it told me a lot about what I love about memoirs, which is that human beings exist in stories. We understand each other in stories, and that's a wonderful thing!
The hard part is: Do you tell it true? Do you get to the bone? Do you make someone feel they've looked inside your soul, and your heart, and that a human exchange has happened? For The Light of the World, I told myself to write from the same place from which I write poems. I know in my gut how to measure if I've told the truth in language that is true. That's why the chapters in my memoir are very condensed. They're poet's chapters.
You're Director of the Ford Foundation Program for Creativity and Free Expression. Where are we today, in the U.S. and globally, in terms of creative expression?
I've been doing this work for four months and it's really fascinating. I've been thinking about the human need to share stories, and the potential of stories to help us understand each other differently. When you get underneath a story to something human and surprising, how does that change our sense of stereotype? How does that open up our curiosity about other people and the world? How does that affect our sense of justice? Creative expression is about stories and about the justice that comes when human beings really see each other. Perhaps it's harder to dehumanize people if we understand them in their complexity. That's my hope.
Soon it will be cherry blossom season here in Japan. It's believed that part of the loveliness of the blossoms lies in the knowledge that they're fleeting. What do you think about this?
Peonies are my favorite flower, and I write about them in my memoir. Yesterday I saw the peony garden at the big shrine in Kamakura near Tokyo. They had winter peonies, which I'd never seen, and the peonies were at their very end: huge, blown open, like torn paper. Some of those shreds of peony petal were just beginning their journey to rot. The flowers will go into the earth, and they will come back again. That's the metaphor of the garden in my book, the peonies that my husband Ficre planted for me, that bloomed after he died, that bloom even now that we no longer live in that house, that gave us such impermanent joy. They bloom on my birthday without fail, just for a day or two.
So I really understand the overwhelmingness of beauty that is not permanent. Having lost it, I'm struck by: Did it really happen? Yes, it did. Is something indelible within us? Yes, it is. Can we do anything other than be in the moment of that beauty, when it comes again? No, that's all we can do.
Calling all HuffPost superfans!
Sign up for membership to become a founding member and help shape HuffPost's next chapter