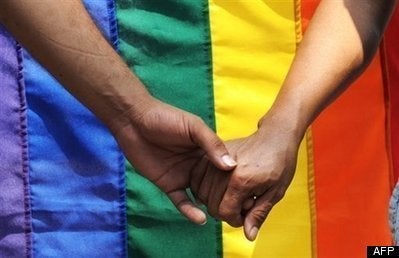 Last Spring I had the honor of meeting with Lt. Dan Choi in my office. While it was a relatively short meeting, 20 minutes or so, it was extremely meaningful for me. I'll never forget Dan telling me how every day that he served, he was asked to lie...lie about who he was, who he loved and how he spent his time back home. Dan's story brought home for me just how damaging the "Don't Ask Don't Tell" policy really is and I thought, if only everyone could hear the stories of the heroic men and women who serve our nation honorably but have been discriminated against by this unjust policy. I truly believe telling the stories of those who've been impacted by DADT is a strategy to help us move the debate forward and achieve full and immediate repeal.
The Don't Ask Don't Tell Story Project will introduce Americans to some of the brave men and women who have been harmed by this unjust policy. So far we've posted the stories of 10 former servicemembers, all of whom were affected by DADT in some way. We also ask the thousands of other men and women who have been dismissed under DADT to share their stories.
Joe Simenec, after graduating from West Point and successfully completing his Infantry Officer Basic Course, was offered 1 of the 5 first slots in Ranger School, a very prestigious honor. But Joe was getting pressure to disclose his sexuality and, wanting to be more upfront about who he is, told his commanding officer he was gay. The discharge process began shortly thereafter.

Becky Kanis was the first woman to command a company in the 112th Signal Battalion (Special Operations) (Airborne.) Becky had an extremely promising career ahead of her but ultimately resigned her commission on National Coming Out day in October 2000 to pursue a relationship without concern for losing her job. She should never have had to make that choice.
Tanya Domi enlisted in the army in 1974 and was able to rise through the ranks to Captain, despite several investigations into her sexuality, only by denying who she really was. Tanya received an honorable discharge 3 years before Don't Ask Don't Tell passed and speaks out regularly against the ban on gays and lesbians serving.
You can watch my appearance on The Rachel Maddow Show below:
As you know, the President on Wednesday reiterated his pledge to overturn "Don't Ask Don't Tell" and this morning the Senate Armed Services Committee held its first hearing on the policy since it was instituted 17 years ago -- a hearing I'm proud to have had a hand in making happen.
I will be back soon with more of my thoughts on today's hearing, but I wanted to share the story project with you right away. In the meantime, you can read my full statement I submitted to the Senate Armed Services Committee today here.
This policy is wrong for our national security and inconsistent with the moral foundation upon which our country was founded. It is critically important for this Congress to take up President Obama's call to permanently end the ban on LGBT Americans serving in our armed services. We will strengthen America - both militarily and morally -- by repealing this discriminatory policy.
Please help me move hearts and minds by spreading the Don't Ask Don't Tell Story Project to everyone you know and urge anyone who's been impacted by the policy to submit their own stories.
P.S. I was on CNN earlier tonight debating "Don't Ask Don't Tell" repeal with Rep. Duncan Hunter. You can watch it below:
Calling all HuffPost superfans!
Sign up for membership to become a founding member and help shape HuffPost's next chapter