Although he's the son of two Chinese immigrants who worked in the restaurant and fashion industries, actor and singer Telly Leung has had a connection to the entertainment business since birth. While his father learned English largely through listening to American music, his mother picked up the language by watching television. "Her favorite show in the 1970s was Kojak", Leung says, "which starred Greek-American actor Telly Savalas. So she named me after him, because she liked the show and the name."
That incongruous link to show biz came to fruition when the Brooklyn native began pursuing theater at Manhattan's prestigious Stuyvesant High School, and later at the Carnegie Mellon School of Drama. Not long after graduation, he made his Broadway debut in 2002's Flower Drum Song, followed by roles in musicals such as Wicked, Rent, and Godspell. In 2015, he garnered high praise for his star turn in Allegiance, the play based on George Takei's experience in a Japanese-American internment camp. Leung not only portrayed a young version of the Star Trek legend, but co-starred with him as well.
Television audiences know him best from Glee, where he played opposite Darren Criss as Wes of the Dalton Academy Warblers. And fans of Leung's remarkably expressive voice have flocked to his charming cabaret and concert appearances, and are enjoying his two albums... the most recent being the eclectic Songs For You.
Leung is now on track to co-star in In Transit this November, a Broadway musical inspired by the rhythms of life on the New York City subway system, and he'll be performing his club act on September 13th and 14th at Feinstein's/54 Below in Manhattan. He lives in NYC with his longtime (and publicity-shy) partner Jimmy, and we spoke about it all in this wide-ranging conversation.
SN: You're 36, and Carol Channing is nearly 96. What's the connection between the two of you?
TL: (Laughs). Well, when I was a high school senior, I saved up my allowance money, went to the TKTS booth in Times Square and managed to get a ticket to see Carol Channing in the 1996 revival of Hello, Dolly. It was pouring rain, I was drenched, the theater was air-conditioned and freezing, and I got super sick during the show.
But in my fevered haze, I watched her sing Before the Parade Passes By, about how one has to keep living life to the fullest. I felt like she was singing that to me, and saying, Telly, life is short, and you should seize the opportunity and do what you want to do while we have this time on earth. You know you want to be on a Broadway stage. So, it was very inspiring to me.
SN: And what did your immigrant parents think of your career ambitions?
TL: I wanted to go to colleges that taught theater performance, and my parents wanted me to go to "regular" college to become a doctor or lawyer; anything but a starving actor.
SN: That, despite the fact that the music they played at home had really influenced you, right?
TL: Yes. My parents came to this country in 1975, and they didn't speak very much English. They went to night school after work, but they also supplemented their English lessons by listening to a lot of popular American music. My dad had an incredible LP collection, and that was my first introduction to music, the sounds of the 1970s: John Denver, the Bee Gees, KC and the Sunshine Band, Donna Summer, the Carpenters. Those were the sounds in my house.
And I started imitating the singers that I loved, the people from my dad's records, and also 1980s singers like Michael Jackson, Madonna, Cyndi Lauper, Luther Vandross and Whitney. They were all my vocal influences growing up.
SN: Some actors just sort of fall into the business, but you were determined to really learn your craft, despite your parents' concerns. How did you end up in Carnegie Mellon?
TL: The conservatory theater program there was not something they knew about or understood, as immigrants, and they were adamant about me also studying other things, as a fallback position. But Carnegie Mellon offered a lot of financial aid, which I needed, and when we visited the school, a woman who later became my voice teacher, Claudia Benack, looked my mom in the eye and said, "When Telly graduates, he'll only be 21, and if the theater thing is not for him, he can still go to law school or med school." And I think having that mother-to-mother moment between Claudia and my mom, Judy, was what made my mom feel good about me going there.
SN: It quite obviously worked out, as you've been appearing on Broadway for 14 years now. I saw your truly moving performance last year in Allegiance, and your reviews were extraordinary. Let me quote a few excerpts: "Firmly establishes himself as a leading man"; "engaging and energetic"; "breakout power"; "a passionate and committed performance". It must have been such a highlight for you.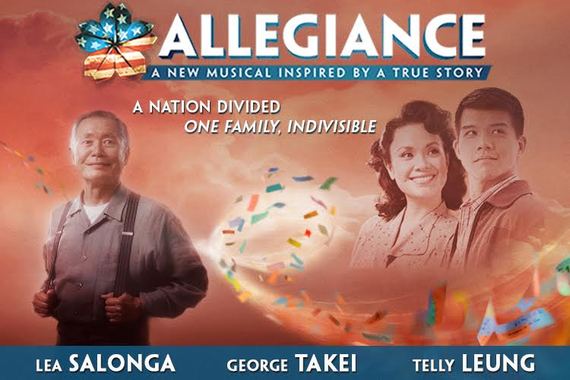 TL: It was a thrilling experience. It was wonderful to get all those accolades, but I had been attached to the show for seven years before it got to Broadway, and we were so worried about whether the show would even happen. So getting to do it was the blessing; we all were so grateful for that opportunity to tell this kind of story.
My friends who came to see it kind of said, "You know, this is a big deal; you and Lea Salonga are the leads of the show!" And I guess it didn't really dawn on me, because the work was so much in the forefront.
The show also gave George Takei a platform to tell his origin story, of how he became inspired to become such an advocate of social equality, for equality for the LGBT community. It came from that early time in his life when he experienced inequality.
SN: How does getting a role on an enormously popular TV show like Glee differ from your stage performing, both in terms of the work itself, and the response you get from fans?
TL: When I was first asked to be on Glee, I knew it was a big hit, but I had no idea the storyline I was part of was going to have such a massive effect. And by telling the story of two gay teenagers in high school, the Glee writers truly used their powers for good. They did something bold and daring, something we hadn't seen on television before, and they did it in prime time.
As an actor hired for the job, I was just happy for the gig. It wasn't until later that I discovered this storyline had an influence on a whole generation of youngsters who were figuring out their own identities. It also had an effect on the national conversation about bullying, about teen suicide, about coming out, about having straight allies.
I had no idea it would have that impact when I was doing it, but later I thought, this is amazing.
SN: Switching back to live performance: what should people who have never seen your cabaret act expect at Feinstein's/54 Below?
TL: I love doing club acts, because it's not "Telly as Angel in Rent", or "Telly as Sammy in Allegiance", it's Telly as Telly, and it gives me great joy to be on a stage with no fourth wall. I like my audiences to feel like they're with me in a living room, we're sharing stories, and those stories happen to have a song attached to them.
We're all hanging out with my band; I like people to feel like it's just a big musical hangout when they come to see a show.
And as I tell people a little about me, I hope that something in my life resonates with them. I hope they hear something in my story and feel that they're not alone. It's a bringing together of people to realize that we're all more similar than we think. I think that's the power of being so personally revealing in cabaret.
And, of course, I like people to hear great music. A lot of the songs are classics, and we try to rearrange them in ways so that you feel you're hearing them for the first time, without taking away from the essence of why it's a standard to begin with.
SN: And some breaking news from Broadway: what can you tell us about In Transit?
TL: I'm brand new to the project, and it's very exciting for me. It's a show about New Yorkers who are unrelated to one another, and it takes place in the NYC subway system... which is kind of an analogy to the way those of us in NY go from place to place to place. We're always in transit, and how often do we stop and appreciate where we really are, instead of worrying about where we're going? That's the main theme of the show.
The novelty of the show is that it's Broadway's first a cappella musical. They've assembled an incredible cast of actors who are also very good singers and musicians. And I know that my storyline in the show is, I'm part of a gay couple that's engaged to be married, and I get to be engaged to the wonderful Justin Guarini!
SN: TV and Broadway critics have often written about your appearances in various shows. If you were writing a review of your career up to this point, what would you say?
TL: Oh, gosh! Like a tag line? I would say "The multi-talented, ever-resilient Telly Leung". I know the hurdles I've had to jump over to get to my career, so I think ever-resilient is a good term for me.
SN: And the final question is, it's been nearly two decades since you first shocked and concerned your parents with your career plans. What are they thinking now?
TL: They've definitely now realized that the "theater thing" is not just a fad or hobby for me. It used to be when a show I was in would end, they would say "OK, is playtime over, are you going to grad school now?" And they still sometimes ask that! There's a part of them that will never change, and I know they say it out of a place of love and worry about the financial stability of their only child.
But the fact is, I have been doing this for some time, I have found ways to diversify myself as a performing artist, and also as a producer and teacher. That leaves me many avenues to make a life for myself as an artist, in a field that I love. I think my parents are now realizing that, and they've cut me some slack.
(Telly Leung: Songs for You will be presented on September 13th and 14th at Feinstein's/54 Below in New York City. Tickets available by clicking here.
Calling all HuffPost superfans!
Sign up for membership to become a founding member and help shape HuffPost's next chapter