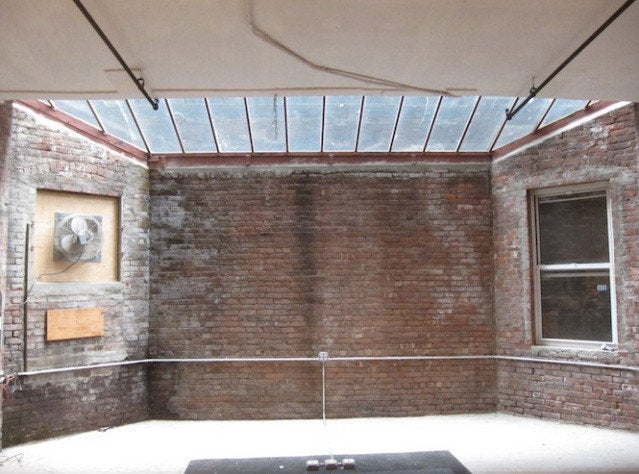 Twenty-somethings love talking about twenty-somethings... this is no huge shocker. But considering the cache of Thought Catalogue and all things Lena Dunham-related, it seems like the world loves talking about twenty-somethings as well.
NYU grads Alex Ahn and Ari Lipkis are testing that premise in Tribeca with the opening of Temp, a gallery for their peers. Called Temp because it's on loan from one of Ahn's family friends, the space offers young artists a shot at that rare opportunity: to show work in New York.
As a result, the gallery's first exhibition, "Working On It," is a post-millennial angstfest of the first order. All the miseries familiar to many a Russian author get updated shout outs here. Andrea DiStefano's, Divide II, for instance, picks up where Time's internet-era person of the year cover left off, turning a mirror into a tool for existential analysis. The cheeky installation invites viewers to look in a trick mirror constructed such that multiple viewers experience their reflections merging with each other. Elsewhere, self-observation remains king. A digital artistic journal by Tyler Healy has the hypnotic appeal of a particularly dense Tumblr, while Eunsun Choi's "Hide and Seek," is a meditation on her personal issues with shyness.
Ahn and Lipkis, both 23 years old, are determined to use their greenness to their advantage. "Mark Zuckerberg was only in his early twenties," they told the Huffington Post in a phone interview, referring to Facebook's founding. "Being young with fresh ideas, we have the ability to do something great. The art world is so institutional sometimes." The title of their opener, they said, is about "the spirit of how young people feel today."
At NYU, Lipkis, a New Yorker by birth, studied Italian Renaissance, while Ahn, who hails from Los Angeles, went for mid-century abstraction. (Sticking points remain, we learned during the interview, when a conversation about Rococo turned briefly into a playful shouting match.) The future business partners used the campus as a testing ground of sorts. As co-presidents of the University's Fine Arts Society, the guest speakers they courted included such art world bigwigs as Philippe de Montebello and Simon de Pury.
In Tribeca, their company is significantly lower-fi: Artists Space, Art in General and The Clocktower are all neighbors. "It made sense for us to be surrounded by other non-profits, and not in somewhere like Chelsea," they told us. Here's betting on a Chelsea satellite location when these kids hit 30.
"Working on It" features work from EunSun Choi, Andrea DiStefano, Jack Greer, Tyler Healy, Laura Hudson, Sandy Kim, Maggie Lee, Dean Levin, Matthew Morrocco, Wilson Parry, Evan Robarts, and Elspeth Walker. It runs from September 8 to October 14 at TEMP ArtSpace.
REAL LIFE. REAL NEWS. REAL VOICES.
Help us tell more of the stories that matter from voices that too often remain unheard.
BEFORE YOU GO