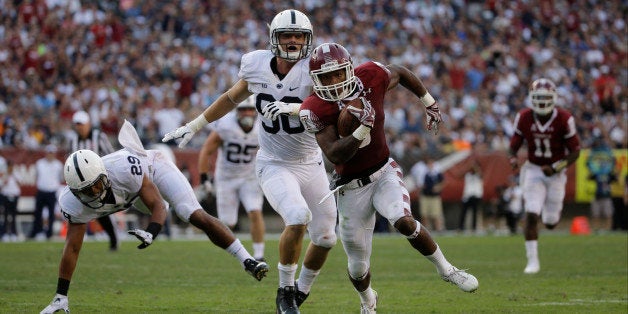 Hell froze over and pigs flew on Saturday.
At least that's how it seemed for long time die-hard Temple football fans like me. The Owls finally beat Penn State 27-10 for the first time in 74 years. Sports talk radio even let Temple fans call in to boast (between calls about Tim Tebow being cut by the Eagles). ESPN commentators gave Temple's defense a game day helmet sticker for their dominating performance. They received Top 25 votes in the major polls.
I've been going to Temple football games since 1975. I graduated from Temple Law School and currently teach Journalism at Temple. I bleed Cherry and White.
For a 17-year period from 1991 to 2008, Temple fans had to suffer with an endless string of losing seasons, embarrassing blowouts and heartbreaking defeats. Temple was unceremoniously booted from the Big East Conference in 2004. The Board of Trustees barely voted to keep the football program intact. Sports talk radio and newspaper columnists universally mocked Temple's team and urged that Temple drop its football program. Temple seemed doomed.
The tide started to turn when the MAC threw Temple a lifeline and let it join for football only in 2007. Temple moved from the unfriendly confines of cavernous Veterans Stadium to a much more modern and welcoming Lincoln Financial Field. They hired successful coaches like Al Golden, Steve Addazio, and Matt Rhule. In 2011, they won their first bowl game since 1979. They have been bowl eligible for four of the last six years. Two years ago, they were readmitted to the Big East, which evolved into the American Athletic Conference.
Saturday's game against Penn State was the culmination of the change in Temple's football fortunes.
On the subway down to the game, the "We are" "Penn State" cheers were rebutted by chants from the Temple students. One peacemaker led a Kumbaya moment by starting a Fly Eagles Fly song and E A G L E S chant.
For the first quarter of the Penn State-Temple game on Saturday, it looked like the same old script of an easy Penn State win, as the Nittany Lions raced out to a 10-0 lead.
However, Temple's experienced and gritty team hung tough , eventually taking control of both sides of the line of scrimmage. Tyler Matakevich, arguably the best linebacker in college football, and the rest of the defense were a parliament of Owls that made Penn State quarterback Christian Hackenberg's afternoon miserable, sacking him 10 times. The atmosphere at the game was electric, especially in the Temple student section during the second half.
Many Penn State fans are ready to jump off bridges and fire coach James Franklin after this loss. They need to chill. Franklin took over a tough situation, he won a bowl game last year, he has recruited well, and Penn State has a favorable schedule and is likely to bounce back for an 8- or 9-win season. Many people locally and nationwide are viewing this as a sign of how Penn State is a bad team and aren't giving Temple the credit that it deserves.
This is a huge year for Temple football. The recent emergence of the Power Five sports conferences has led to a haves and have nots situation in college sports. Right now, Temple is in the American Athletic Conference (AAC), which is part of the college football kids table. While its national television exposure is pretty good, its financial revenue from television and bowls is dwarfed by teams in power conferences like the Big Ten. Temple took a public relations hit when it cut some non revenue sports, but it was necessitated by this discrepancy in conference revenue.
Conference expansion seems to be on hold for now, but it could start again at any time. If the Big XII Conference doesn't get a team in the football playoff this year, expansion might be an option. Possible speculated candidates have included Boise State, BYU, Central Florida, South Florida, Cincinnati, Houston, SMU, Connecticut, and Memphis. Temple generally has not been on the radar as an option. However, Big XII Conference officials indicated that adding eastern teams might be a preferred option to help West Virginia with travel. The ACC still could add a team or two. Temple has the advantage of being in a large top five television market, but its traditionally small fan attendance and poor football perception nationwide has hurt it.
Hopefully, Temple's win over Penn State will go a long way in overcoming the nationwide negative perception of Temple football. The 800 pound gorilla is finally off Temple's back. This win can be a stepping stone for recruiting. If the team can stay focused and win a bowl game this year, it might permanently turn the corner to being a consistent winner. Ongoing consistent success could also lead to better fan attendance.
Temple football and its long suffering fans deserve this one shining moment. This game wasn't a fluke. It wasn't about how bad Penn State was. It was about how good Temple is starting to become.
Calling all HuffPost superfans!
Sign up for membership to become a founding member and help shape HuffPost's next chapter