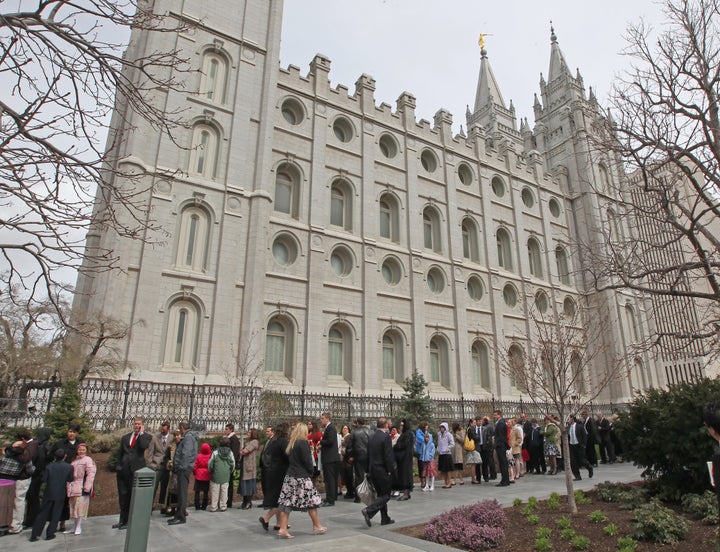 By Peggy Fletcher Stack
Salt Lake Tribune
SALT LAKE CITY (RNS) You see them on Temple Square nearly every day, pacing nervously or strolling aimlessly, staring down at the tulips or up at the spires.

They are parents, siblings, cousins and friends of Mormon couples being wed inside the LDS sanctuary. But, for one reason or another, they are not allowed inside.

Maybe they are non-Mormons, former Mormons or lapsed Mormons who don't qualify for a "temple recommend" to enter the iconic structure. Whatever the reason, their exclusion can divide families at a time when weddings usually unite them.

What should have been a joyous occasion was "one of the most painful experiences of my life," says Jolene, a Utah County Christian whose daughter became a Mormon and was married in the Salt Lake Temple. "I kissed her goodbye at home and then cried on her sister's shoulder."

For 20 years, the devoted mother (who asked that her last name not be used to not offend her daughter or neighbors) showed up at every important moment in her daughter's life. To be excluded at her daughter's wedding was deeply hurtful, she said.

Some engaged couples soften the pain with a ring ceremony outside the temple, or gather their families near the temple for photos. Others simply feel that the temple ceremony -- which Mormons believe can "seal" a marriage for eternity -- is too important to dilute with other traditions.

"The church is very aware of the issue you raise, and it has been exhaustively discussed over many years," church spokesman Michael Otterson wrote last fall to Jean Brody, a former Mormon in Canada who is concerned about being shut out of her grandchildren's weddings.

"This is a sensitive and difficult issue, with many complexities, not all of which are always apparent."

Jolene has joined with Brody and Michelle Spencer, another Canadian woman, in circulating a petition asking Mormon leaders to allow couples to have a civil wedding first and then choose when they want to go to the temple for the sealing rather than waiting a year as currently required for LDS couples in North America.

For years, many Mormons living outside Utah had a civil ceremony first, then went to an LDS temple as soon as they could. Presidential candidate Mitt Romney, for example, exchanged rings with his wife Ann in a civil ceremony in Michigan and then flew to Utah the next day to be sealed in the Salt Lake Temple.

That two-step approach is still the norm for Mormons in many European and South American countries, where governments require marriage ceremonies be open to the public.

"There is no doctrinal reason for the one-year waiting period," Jolene said. "They would do it if they genuinely valued all families -- as they say they do."

She is not optimistic that the church will change, so when other locked-out parents call her, this is her advice: Put a smile on your face and be as gracious as you can while your heart breaks.

Temple worship is the "highest form of religious expression for Latter-day Saints," said church spokesman Scott Trotter. In these sacred structures, Mormons "make formal commitments to God and receive the crowning sacraments of the faith, including the marriage of couples for eternity."

Because of its significance, only members "who have demonstrated their adherence to the tenets of the faith may enter," Trotter said.

Exclusion is never intended, he added.

"It is the LDS church's hope that having an understanding of the sacredness and significance of a temple marriage can help those who care about the couple share in their joy and feel appreciation for the commitment they have made to each other and to God."

Part of the problem is that weddings have moved from the sacred to the secular, said Brigham Young University sociologist Marie Cornwall. Marriage was once a church-centered celebration but is now seen as a chance to bring everyone together to celebrate the newlyweds.

"Everyone now has relatives who are not religious," she said. "So weddings have become more and more part of the market. Couples are spending huge amounts of money for celebrations to include all their friends."

Modern Mormons with non-temple-going family members have sought ways to satisfy both traditions through extra rituals -- ring ceremonies, elaborate parties, even gatherings that might include prayers, musical selections and a spiritual message from a local LDS leader.

Julie M. Smith, a Mormon convert in Austin, Texas, made her own do-it-yourself ring ceremony at a Houston country club with a wedding march, rings, flowers, bridesmaids, vows and photos. The couple gave their Mormon bishop a word-for-word script to follow.

The LDS church may not encourage ring ceremonies that imitate a traditional wedding, she says, but she felt good about what she did for her family.

"We had about 100 people listening to a Mormon bishop talk about the temple," Smith says. "It was an incredible missionary opportunity."

Smith's one regret? Instead of saying to her parents, "You're going to have everything you dreamed of," she started with, "We are getting married in the temple and you're not invited."

The way couples celebrate their union is the first of many decisions they will make in uniting their two families.

"Many are going to run into problems with church members and nonmembers for the rest of their lives," said Kristi Young, curator of BYU's Wilson Folklore Archives. "How they make this work can be indicative of how they are going to deal with their families at lots of important moments -- like baby blessings, baptisms and priesthood ordinations."

Peggy Fletcher Stack writes for The Salt Lake Tribune.
Related
Popular in the Community