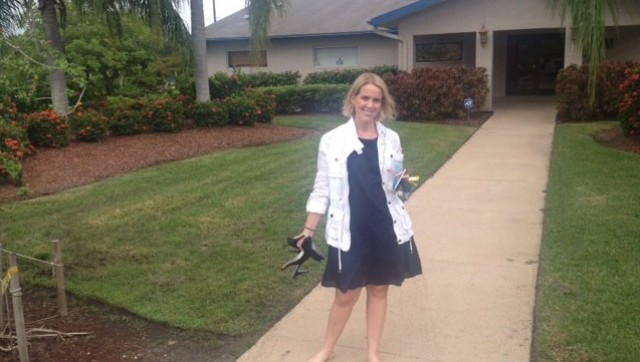 This year, more than any other year, I woke up starving. I was fasting. The smell of my kids' bagels in the toaster forced me to stay in my room and linger in bed just a bit longer (I don't do well with temptation). You see, I don't fast on a regular basis. But, I am Jewish and my family and I observe the holiday of Yom Kippur. Yom Kippur is the Day of Atonement. Jewish people traditionally observe this holy day with a 25-hour period of fasting and prayer. This is the holiest of holidays and we make the obligatory visit to the temple. It's ironic (or actually sad) that the Temple is normally less-than-full. However, on Yom Kippur, the sanctuary is standing room only. By the looks of the overflowing parking lot, most of us would do Billy Joel proud as we have chosen to "laugh with the sinners rather than cry with the saints."
As I got dressed and applied a little makeup, I cursed the headache that was taking over. Apparently, my head (and energy level) missed my morning cup of coffee. However, fear, tradition and a guilty conscience reminded me that fasting (and repenting) was not a choice. I grew up in a traditional Jewish home. My own (always stylish) mother always led the way by example. A simple, classic black or beige St.John suit was as "flashy" as my mom got on this holy day. This holiday was about repentance, she often reminded me. No need for too much makeup, or a fussy dress. I often looked at the Jewish women who had chosen not to fast, or not to participate in prayer. I did not recognize many of the faces, and wondered if they were new to the community? Draped in their fanciest frocks, which often included a large and elaborate hat-and-purse combo, a fashion show of sorts often took place in the sanctuary. I remembered my mom's elegant and appropriate style, and got dressed in a loose-fitting black Tahari dress. No belt or ruffles, just a plain dress.
As I walked out my front door, my friend-slash-confidant-slash-keeper of secrets, the UPS man, bumped right into me. I could not resist the urge to open the box right away, and boy, was I glad I did. The box contained a highly anticipated pair of black patent leather peep-toe Prada pumps. It would be a sin not to wear my new shoes! I put them on right away. I thought about my mom's flat sandals. She often reminded me that this holiday required a lot of repeated sitting and standing. Never mind, I thought. I can still wear these new shoes. Like I said, I'm not great with temptation.
This year, my husband and I were given an honor, and we needed to be standing on the bimah at 11 a.m. sharp (the bimah is a pedestal located in the front and center of the temple). As I jumped out of my car and started to walk, I realized that these new pumps were extremely tall and dare I say -- uncomfortable. My legs shook and my toes started to ache. I was already regretting more than just my sins; how would I sit and stand all day in temple? How would I ever walk in front of the entire congregation without falling? I barely made it inside the temple before my name was called out, and my husband and I walked to the bimah to read from the Torah. Not only was my walk up to the front of the temple painful and scary, but my time standing on the bimah was even more difficult. As I read the passages, all I could think about were my shoes. I was in pain and hoped nobody could tell.
PHOTO: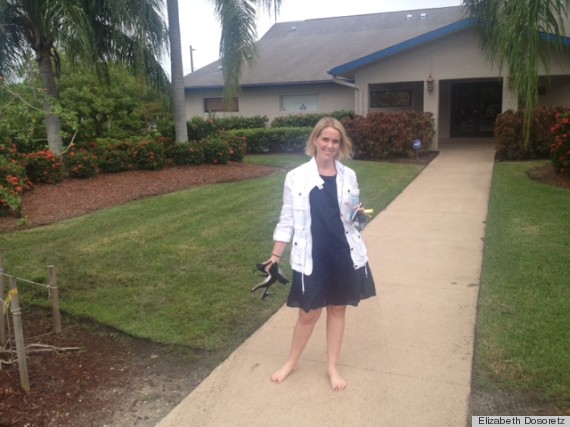 Thankfully, I did make it back to my seat without falling. Throughout the rest of the service I complained (internally) and wondered: Should I sit down and rest my feet, or take my shoes off and remain barefoot? I did neither, and opted instead to suck it up and deal with this ridiculous situation. I mentally chastised myself and wondered if perhaps this same shoe existed with a lower heel, or if my new shoes were even refundable? Of course, this question led me to do a quick search on my iPhone. (Don't worry: The sound was off and the entire search lasted no more than five minutes). It wasn't long after my Google search that we were back in the car on the way home. I couldn't help but to feel badly about the morning's service. Yes, I had fasted, and I had attended the Yom Kippur service. However, while I had been physically present, my mind and thoughts were not where they needed to be. I obviously had more in common with the fancy-frock females than I wanted to admit.
I used my time in temple to worry, complain and Google my style choices and quandaries. I am ashamed of this, and wrote this post as a confession (I know, it's a little late). This whole Yom Kippur/shoe episode got me thinking about a bumper sticker I recently saw. It read, "Don't judge me because I sin differently than you do." Prior to this Yom Kippur, I had not understood the elaborate hats or makeup. Now I get it: We have to each make a conscious effort to be present and honest with ourselves. I knew where I needed to be, and Saks.com was not it. So, I apologize now for the sins of last year, and promise to do an extra good deed (or two) to make up for style sins.
Want more? Be sure to check out HuffPost Style on Twitter, Facebook, Tumblr and Pinterest.
REAL LIFE. REAL NEWS. REAL VOICES.
Help us tell more of the stories that matter from voices that too often remain unheard.