Documentaries about food can often be found in the programs of minority film festivals (CAAMFest 2015's program is certainly no exception). However, if one chose their viewing opportunities carefully, 2015's festival offered a superb chance to see how creativity exerts its influence from the earliest stages of manufacturing specialty foods to the home kitchens of aspiring restaurateurs and, finally, to the menus of star chefs working in major hotels and four-star restaurants.
Three documentaries focused on Asian-American cuisine (Bruce Seidel's new PBS series entitled Lucky Chow, Grace Lee's delightfully nomadic Off The Menu: Asian America, and Edmond Wong's high-end Supper Club) approach the subject from different angles which find a tasty synergy when food is delivered to the table. Those tables, however, vary dramatically in size, shape, and location. The smallest may be an office worker's cubicle (where an employee is snacking on some store-bought sushi). If not the biggest table, one of the biggest food operations can certainly be found at the Googleplex in Mountain View, California.

In a segment of Lucky Chow, Danielle Chang visits with the leadership of the Googleplex's vast food program, which includes everything from campus food trucks to salad bars; from employee cafeterias to sit-down restaurants. At Google, the fact that employees eat for free offers some interesting opportunities wherein the dining table often becomes the springboard for discussions that may lead to innovative projects.
Because Google's kitchens try to source their foods from local farms, much of what appears on a diner's plate is fresh, nutritious, and tastier than the offerings found in high school cafeterias or restaurants featuring cheap, all-you-can-eat buffets.
Because Google has so many Asian and Asian-American employees, some of its restaurants can serve food which will have special appeal to programmers from India who are working at Google on special visas (as well as to employees who crave the kind of foods their grandmothers made at home).
With the cross-pollination of workers having dinner at any one time, it's likely that Google employees may be exposed to ethnic cuisines they would otherwise not encounter in the course of their daily lives.
Two key elements in Asian cuisine are tofu and noodles. As part of her journey around the United States, Grace Lee visits Banyan Foods, located in Houston, Texas. Owned by the Chiu family (who left Taipei to move to the United States), Banyan Foods has developed a curious specialty: vegan tamales made with tofu (instead of beef, chicken, or pork that has been fried in lard). In 2001, the company began selling egg rolls stuffed with tofu; in 2005 they introduced their tofu tamales. In fact, the packaging for their product boasts that "Santa Anna, Chiang Kai-Shek and Stephen F. Austin are rolling over in their graves right about now."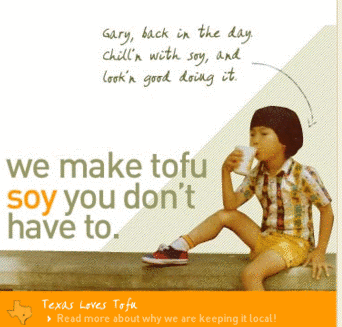 Poster art for Banyan Foods
The Lucky Chow team visits an artisanal tofu factory in Oakland named Hodo Soy, whose founder is Minh Tsai. In the following video clip, the Vietnamese-American entrepreneur explains what inspired him to create Hodo Soy.
While many college students are familiar with cheap ramen noodles (monologist Mike Daisey claims to have had nightmares about the time he was in a theatrical production where the only food the cast could afford was ramen), high-quality ramen is treated with great respect in many Asian restaurants.
Danielle Chang also visits New York's Yuji Haraguchi (whose Yuji Ramen restaurant was at one point located above the Whole Foods store in Manhattan's Bowery district before its owner opened a new restaurant in Brooklyn). While at the Bowery location, part of Haraguchi's good luck was to be able to get bones every day from the butchers at the Whole Foods Market below, which he could stew in a broth made from mussels, tuna, and other seafood in a "surf-and-turf" approach to creating a rich ramen broth. His other specialty was a breakfast ramen made with torched bacon, poached egg, and kale.
In another segment, Ivan Orkin (the owner of Ivan Ramen) prepares a specialty ramen with cheese (an ingredient not often found in Asian cuisine).
During Lucky Chow's visit to The Ramen Shop in Oakland, Danielle Chang accompanies the chef to a farmer's market that provides unusual ingredients for some of his dishes. Among these are:
A vegetarian ramen that uses persimmon, apple, and carrots.
A veggie shoyu Meyer lemon ramen with salt-cured egg, maitake and king oyster mushrooms, mei quing choy rabe, red carrots, kabocha nimono, and mizuna.
A ramen made with shiitake and king oyster mushrooms, baby bok choy, shaved purple carrots, and roasted butternut squash.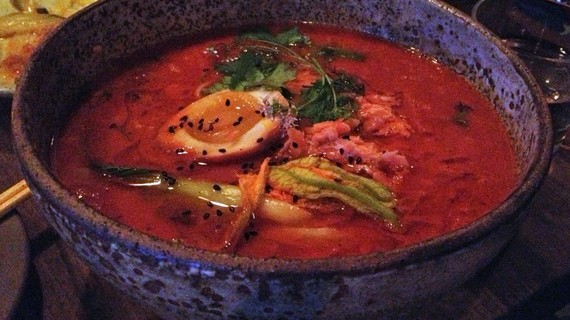 A spicy miso ramen dish from The Ramen Shop in Oakland
For many people, food has a mysterious power to evoke excitement, ecstasy, and passion. Whether as an aphrodisiac, an invitation to gluttony, or a creative outlet for talented chefs, food offers an adventurous cook as wide a canvas to play with as almost any art form. Is it any wonder that Lionel Bart titled one of the songs from his 1960 hit musical, Oliver! "Food, Glorious Food"?
In the course of his prodigious career as a cook, author, and television personality, Anthony Bourdain has earned a reputation as a culinary explorer who seeks out new challenges, risky foods, innovative treatments, and decadent dining experiences. In the following clip from 2008, he visits Bo Innovation, the creation of Hong Kong's "Demon Chef," Alvin Leung (who practices his personal form of "X-Treme Chinese Cuisine" with the deference and discipline an art form truly deserves).
Edmond Wong's new series, Supper Club, follows Leung (now a media celebrity in his own right) as he visits a string of restaurants in the San Francisco Bay area. Among the chefs he meets are Michael Mina, Ken Tominaga, Corey Lee, and Adam Mali. As they discuss their approaches to finding key ingredients, honoring culinary traditions, mixing flavors from various cultures, and finding new ways to express their artistic visions, all of the participants in this series show a deep passion for their work.
As a documentary, Supper Club is tailor made to tease the palates of inquisitive foodies, yet it also delivers a highly entertaining form of culinary education that offers viewers further insight into the personalities, preferences, and passions of some of the Bay area's leading chefs.
Popular in the Community