Turtle Cookie Balls couldn't be cuter as a make-ahead holiday treat. Homemade gifts are the best, and these babies prove it!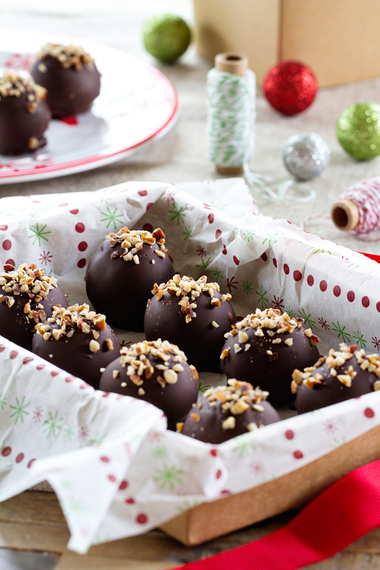 Now that Thanksgiving is over, it's time to think about the gift-giving season! I'm trying my very best to make sure I am ready this year by having lots of homemade treats on hand to give to my loved ones. Store-bought gifts are awesome, sure. (I'd never turn down some new candles from that smell-good place at the mall, after all!) But there's something so lovely about giving your family homemade yummies.
Like these Turtle Cookie Balls. Let me just say that there's something truly spectacular when chocolate, caramel, vanilla wafers, and pecans come together in one little morsel. And they're SO easy to make!
Honestly, the hardest part is keeping yourself from eating the filling by the spoonful before you can enrobe each little ball with a decadent covering of chocolate.
The kind of chocolate you use is important, so make sure that you know the differences between them. Working with chocolate is easy, but delicate work. Knowing all your Chocolate 101 will ensure that these nibbles and any other desserts you make this holiday season come out perfectly.
For these, all you need is some cream cheese, vanilla wafers, caramel ice cream topping, pecans, and semi-sweet chocolate. I like to use the same semisweet chocolate every time I make truffles like this, because it's consistent. I know I'm going to get the same silky smooth result every time.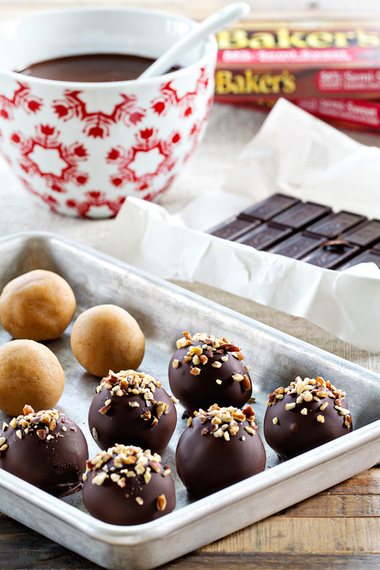 Melting chocolate for recipes like these Turtle Cookie Balls couldn't be easier. In fact, you can get perfectly smooth results using a microwave. Here's how you do it in just a few easy steps.
1. Break chocolate into pieces and place in a microwave-safe bowl.
2. Microwave on high for 30 seconds and stir.
3. Repeat and stir.
4. Continue cooking and stirring in 10 second increments until completely melted and perfectly smooth.
It really couldn't get much easier!
Have you started stocking up your pantry for the holiday season yet? It's time. Pick up a few items off a separate list every time you go grocery shopping. By the time you're ready to get to whipping up these Turtle Cookie Balls, you'll have all your staples ready to go, especially when they're shelf-stable, like chocolate. You can keep it on hand all year round, because let's face it; Turtle Cookie Balls will not just be for Christmas once you've made them one time.
These Turtle Cookie Balls will store in the refrigerator until you're ready to gift them out to everyone you love or indulge a little after a long day at work.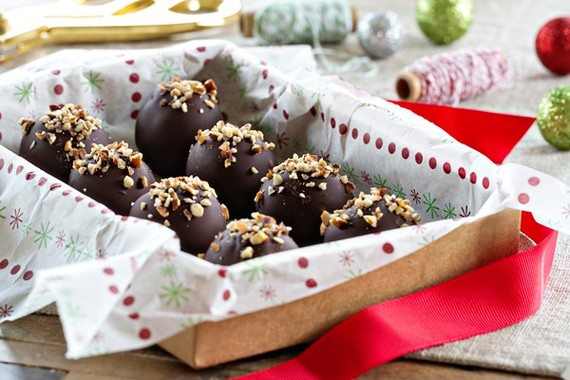 Think of the other combinations you could try too - chocolate sauce and peppermint chips, cherry sauce and lime zest - this cookie truffle recipe is fully customizable!