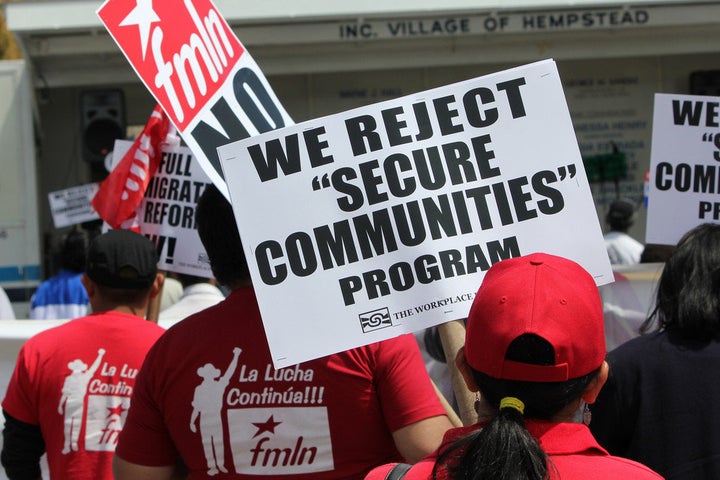 What began as the latest public hearing organized by a U.S. Department of Homeland Security task force to address deportation policy concerns ended in the arrest of 10 immigration reform activists Wednesday evening in Chicago.
(Scroll down to watch video from Wednesday's protest.)
But proponents of the program, which automatically shares fingerprints from arrestees with Immigration and Customs Enforcement (ICE), see it differently. They say the program successfully locates and identifies dangerous criminals.
"They had to have a previous record," Secure Communities Assistant Director John Gurule told ABC 7. "They had to have previously [been] arrested by immigration, they have to have a previous criminal conviction, they have to have something that their fingerprints are in the system already."
The task force, which has also held meetings in Los Angeles and Dallas in recent weeks, wants to allow community members to air their concerns with the program, according to the Department of Homeland Security. In Chicago, more than 500 individuals showed up to do at Wednesday's hearing. Attendees packed Chicago's IBEW Hall to capacity doubling the attendance of the department's two preceding hearings, the Chicago Sun-Times reports.
A coalition of dozens of local and national immigration reform advocacy groups also issued a letter [PDF] Wednesday that called for members of the DHS task force to resign because they feel the department is not "operating [the hearings] in good faith."
"Rather than engage in an earnest effort to address legitimate concerns raised by governors, law enforcement professionals, and affected communities about a program plagued with problems, DHS leadership appears to be using the task force process as a nakedly political gesture to defend the status quo," the letter read.
Popular in the Community