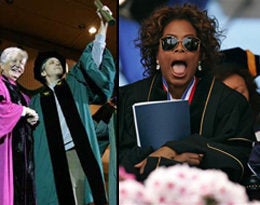 It's graduation season: a time when I'm reminded of a day sitting under the New Hampshire sun -- yes there is summer sun in New Hampshire -- praying that the ceremony would end so I could nurse a very hungover body. Of course, it didn't help that my mother was lurking around my row, angling in for photos of her little graduate sweating under a bulbous black gown. Needless to say, I wasn't able to pay much attention to my commencement speaker (author and historian David McCullough).
Over the years, I've gathered that many of my friends at other universities had similar experiences. The endless sitting, the fear of tripping on stage, the intense desire to go to the bathroom and the drunken blur of your last night as a college student really obscure the words of wisdom begin passed down by the esteemed speaker.
Don't fear if you weren't listening. The Huffington Post -- with the help of Facebook friends -- has cooked up a list of the best commencement speeches out there. Read them in the quiet of your office or home. And this time, you won't be busy trying to calculate the fastest post-ceremony route to the bathroom.
The speeches were chosen for the intensity of their messages, humor and historical significances. It's a mixed bag! Let us know which one you like the most in this poll.

STEVE JOBS AT STANFORD JUNE 12, 2005.
Select quotes below... full text here.
"Your work is going to fill a large part of your life, and the only way to be truly satisfied is to do what you believe is great work. And the only way to do great work is to love what you do. If you haven't found it yet, keep looking....

Your time is limited, so don't waste it living someone else's life."

GEORGE C. MARSHALL AT HARVARD JUNE 5, 1947.
Select quotes below... full text here.

"Political passion and prejudice should have no part. With foresight, and a willingness on the part of our people to face up to the vast responsibility which history has clearly placed upon our country, the difficulties I have outlined can and will be overcome."

JON STEWART AT HIS ALMA MATER, WILLIAM & MARY MAY 20, 2004.
Select quotes below... full text here.

"I was in New York on 9/11 when the towers came down. I lived 14 blocks from the twin towers. And when they came down, I thought that the world had ended. And I remember walking around in a daze for weeks. And Mayor Giuliani had said to the city, "You've got to get back to normal. We've got to show that things can change and get back to what they were." And one day I was coming out of my building, and on my stoop, was a man who was crouched over, and he appeared to be in deep thought. And as I got closer to him I realized, he was playing with himself. And that's when I thought, "You know what, we're gonna be OK."

PRESIDENT JOHN F. KENNEDY AT AMERICAN UNIVERSITY JUNE 10, 1963.
Select quotes below... full text here.

"Some say that it is useless to speak of world peace or world law or world disarmament - and that it will be useless until the leaders of the Soviet Union adopt a more enlightened attitude. I hope they do. I believe we can help them do it. But I also believe that we must reexamine our own attitude - as individuals and as a Nation - for our attitude is as essential as theirs.

TONI MORRISON AT WELLESLEY COLLEGE MAY 28, 2004.
Select quotes below... full text here.
"Although you will never fully know or successfully manipulate the characters who surface or disrupt your plot, you can respect the ones who do by paying them close attention and doing them justice. The theme you choose may change or simply elude you, but being your own story means you can always choose the tone."

STEPHEN COLBERT AT KNOX COLLEGE JUNE 5, 2006.
Select quotes below... full text here.

Now will saying "yes" get you in trouble at times? Will saying "yes" lead you to doing some foolish things? Yes it will. But don't be afraid to be a fool. Remember, you cannot be both young and wise. Young people who pretend to be wise to the ways of the world are mostly just cynics. Cynicism masquerades as wisdom, but it is the farthest thing from it. Because cynics don't learn anything. Because cynicism is a self-imposed blindness, a rejection of the world because we are afraid it will hurt us or disappoint us. Cynics always say no. But saying "yes" begins things. Saying "yes" is how things grow. Saying "yes" leads to knowledge. "Yes" is for young people. So for as long as you have the strength to, say "yes."

OPRAH WINFREY AT HOWARD UNIVERSITY MAY 12, 2007.
Select quotes below... full text here. Scroll through the transcripts for the speech.

"You know, I come from good stock. Dr. Swygert was mentioning my grandmother who had a dream for me. And her dream was not a big dream. Her dream was that one day I could grow up -- she used to say, I want you to grow up and get yourself some good white folks, because my grandmother was a maid and she worked for white folks her whole life.

And her idea of having a big dream was to have white folks who at least treated her with some dignity, who showed her a little bit respect. And she used to say, I want you to -- I hope you get some good white folks that are kind to you. And I regret that she didn't live past 1963 to see that I did grow up and get some really good white folks working for me."

RUSSELL BAKER AT CONNECTICUT COLLEGE MAY 27, 1995.
Select quotes below... full text here.

"So I will not waste my breath today pleading with you not to go forth. Instead I limit myself to a simple plea: When you get out there in the world try not to make it any worse than it already is. I thought it might help to give you a list of the hundred most important things you can do to avoid making the world any worse. Since I'm shooting for 15 minutes, however, there is no time to give you all 100. You will have to make do with 10. Short as the public attention span is these days, nobody could remember 100 anyhow. Even 10 may be asking too much.


DAVID FOSTER WALLACE AT KENYON COLLEGE MAY 21, 2005.
Select quotes below... full text here.

And I submit that this is what the real, no bullshit value of your liberal arts education is supposed to be about: how to keep from going through your comfortable, prosperous, respectable adult life dead, unconscious, a slave to your head and to your natural default setting of being uniquely, completely, imperially alone day in and day out. That may sound like hyperbole, or abstract nonsense. Let's get concrete. The plain fact is that you graduating seniors do not yet have any clue what "day in, day out" really means. There happen to be whole, large parts of adult American life that nobody talks about in commencement speeches. One such part involves boredom, routine, and petty frustration. The parents and older folks here will know all too well what I'm talking about.

BONO AT THE UNIVERSITY OF PENNSYLVANIA MAY 17, 2004.
Select quotes below... full text here.

"But I don't want to make you cop to idealism, not in front of your parents, or your younger siblings. But what about Americanism? Will you cop to that at least? It's not everywhere in fashion these days. Americanism. Not very big in Europe, truth be told. No less on Ivy League college campuses. But it all depends on your definition of Americanism. Me, I'm in love with this country called America. I'm a huge fan of America, I'm one of those annoying fans, you know the ones that read the CD notes and follow you into bathrooms and ask you all kinds of annoying questions about why you didn't live up to that. I'm that kind of fan."

Related