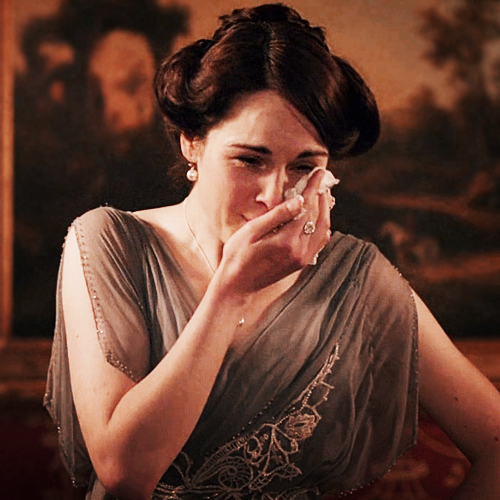 Now that season 4 of Downton Abbey is drawing to a close, don't spend the long hiatus crying over how much you'll miss the Dowager Countess's cutting quips and Miss Patmore's savory puddings. Instead, dive into these novels (and their film and TV adaptations), which are guaranteed to keep you elbow-glove deep in aristocratic drama until the Crawleys make their comeback.
The Forsyte Saga by John Galsworthy
Read It: First published in 1922, this trilogy about a dysfunctional wealthy London family follows three generations. Most notably, the chilly demise of Irene and Soames Forsyte's loveless marriage.
Watch It: The 2002 PBS miniseries starring Damian Lewis and Gina McKee is sumptuously satisfying.
The Pursuit of Love and Love In a Cold Climate by Nancy Mitford
Read It: Imagine Tina Fey, Mindy Kaling and Lena Dunham standing in for Ladies Mary, Edith and Sybil. You'll get the gist of the hilarity in these coming-of-age novels based on the socialite author's upbringing on an English estate.
Watch It: Judi Dench leads the cast in a 2001 mini-series of Cold Climate, but the film version doesn't do justice to the book's comedy, in our opinion.
The Cazalet Chronicles by Elizabeth Jane Howard
Read It: This four-volume series follows the tangled lives and loves of several generations of an aristocratic family just prior to WWII. Sound familiar?
Watch It: A six-episode 2001 BBC series, The Cazalets, stars a familiar face to Downton fans: Lord Grantham himself, Hugh Bonneville!
Diary of a Chambermaid by Octave Mirbeau
Read It: Upstairs, Downstairs meets 50 Shades of Grey in this naughty French novel that offers a glimpse of the upper class's moral lapses and fetishes in the early 1930s, as described by a not-so-puritanical housemaid.
Watch It: A French-language film adaptation from 1964 stars screen siren Jeanne Moreau.
Brideshead Revisited by Evelyn Waugh
Read It: View aristocratic life from an outsider's perspective as "common man" Charles Ryder narrates memories of friendship with a blue-blooded Oxford pal named Sebastian Flyte.
Watch It: There are two great Brideshead viewing options: the original miniseries starring Jeremy Irons and Anthony Andrews, or a recent feature film starring Matthew Goode and Ben Whishaw.
Zuleika Dobson by Max Beerbohm
Read It: A vivacious, devil-may-care beauty in the vein of Downton's Lady Rose distracts Oxford scholars from their studies. The class of male undergrads forms a suicide pact of sorts, so besotted are they by the book's title character.
Watch It: Sadly, this novel hasn't been adapted yet, although we'd love to see someone like Jessica Brown Findlay (Sybil) tackle it!
Parade's End by Ford Madox Ford
Read It: The work is a volume comprising four different novels set in England during the era of World War I. The psychologically complex story follows a government statistician through his time on the front and his domestic struggles at home.
Watch It: A recent BBC/HBO adaptation starring Benedict Cumberbatch has been called "the thinking person's Downton Abbey."
Lucky Jim by Kingsley Amis
Read It: This comic novel follows the exploits of a medieval history prof who can't quite manage to fit in amid the pseudo-intellectual ivory-tower types at the English university where he teaches.
Watch It: A 2003 made-for-TV movie features actresses Keeley Hawes and Helen McRory as two of Jim's love interests.
Up At the Villa by Somerset Maugham
Read It: A beautiful young British widow in her thirties must decide whether to remarry as suitors a-plenty come out of the woodwork. She ends up in a real bind after a one-night stand results in a dead lover on her hands (Downton's Lady Mary could certainly relate to this novel!).
Watch It: Kristin Scott Thomas stars in the 2000 film adaptation, with Sean Penn as an independently wealthy playboy who helps her navigate the scandal.
Where Angels Fear to Tread by E.M. Forster
Read It: On a trip to Italy, British widow Lilia falls in love with someone her family disapproves of -- no, not a chauffeur or a jazz singer, but a dynamic young Italian man. Lilia's former brother-in-law is sent to intervene. What happens next may rival even Sybil Crawley's tragic death.
Watch It: If your favorite aspect of Downton is the melodrama, this novel's 1991 film adaptation starring Rupert Graves, Helena Bonham Carter, Helen Mirren, and Judy Davis should be right up your alley.
Calling all HuffPost superfans!
Sign up for membership to become a founding member and help shape HuffPost's next chapter