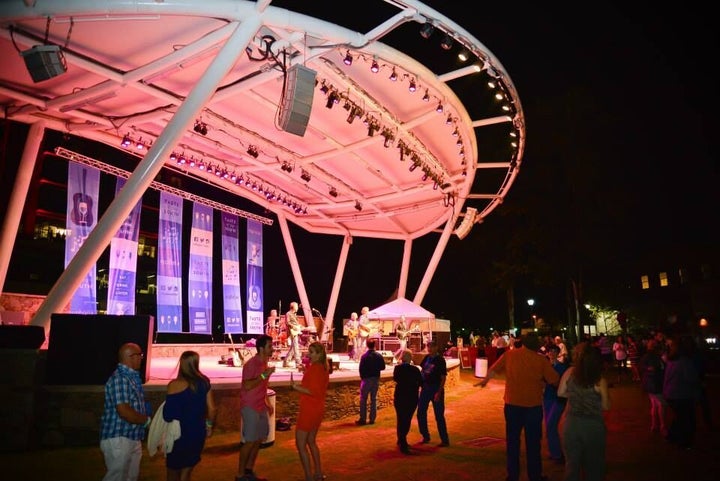 I grew up in Greenville, SC. It's where I learned the difference between the salad fork and the dinner fork. Hint: work from outside in. Greenville's where my taste buds learned to sing. I remember eating at the newly constructed "The Lazy Goat" eleven years ago tasting roasted figs for the first time with my Youth Leadership Greenville class. It was 2006, and at 16 years old, we were being exposed to the new flavors and restaurant concepts that would eventually define Greenville as a food capital of the South. Little did I know as I munched on that fig, was that the owner behind "The Lazy Goat " and it's accompanying restaurant group that launched a thousand flavors aptly named Table 301, was in the middle of developing Euphoria.
Euphoria, the food and wine festival of Greenville, SC was created in 2006 by Greenville's local singer-songwriter legend Edwin McCain, i.e., "I'll Be," and Table 301's Carl Sobocinski to bring awareness to the Upstate's thriving culinary and arts scene. Now, on its twelfth year, Euphoria tests out new event concepts to build buzz around healthy eating, educational classes and a child-friendly event so that the whole family can fully enjoy the four day festival. Euphoria has spread from its Main Street origins to including nearby venues in neighboring towns where events like "Big Easy Bash" are held in Travelers Rest ( a 7ish mile bike ride away) or a special evening event at Grits & Groceries in Belton, SC. The inclusive nature of Euphoria's model suggests the growth of the festival in the past decade, and its positive economic impact on the city for years to come.
So, rent your Air BnB or call up your second cousin twice removed who lives in Greenville, SC and tell them to ready the guest beds September 21st- 24th. Here are the Top Ten Events I've got my eyes on...
1. Dig In: An Organic, Plant-based Dinner with Southern Pressed Juicery and Local Provisions
Having encountered Justin Burdett of Local Provisions in person at Highlands Food & Wine Festival the previous fall, I can attest to the strength of his presentation. Burdett's pairing with Southern Pressed Juicery to host a plant-based dinner paired with organic wines and organic pressed juiced cocktails hosted at The Loft at Soby's. A spot George Clooney was rumored to stay at during filming "Leatherheads."
2. Cycling with George Hincapie
Tour de France and biking legend George Hincapie will be hosting a 30 mile ride from his Hotel Domestique location nestled by the Blue Ridge Mountains in Travelers Rest. Riders will return to Hotel Domestique to dine at it's Restaurant 17 where Chef Graves will rehydrate participates with drinks and lunch.
3. Sweet Dreams Are Made of These – Liqueur & Chocolate Pairings Class
Three words: Elastic banded pants. As someone who really enjoys all things sugar laden, I fully support this event. La Rue Fine Chocolate of Easley, SC will be on site pairing their chocolates with Remy Martin 1738.
4.Healthy Lunchtime ThrowDown
Who says Michelin chefs have to always be serious? 3 star Michelin chef, Curtis Duffy will be riding his motorcycle (with spiffy Michelin tires) to Greenville with partner Michael Muser for their Euphoria events.The Healthy Lunchtime ThrowDown will have Chef Duffy serving as sous chef to kids in an on-stage to have their recipe on the Greenville County Schools lunch menu.
When people think of "Euphoria", Taste of the South should come top of mind. 17 Chefs show off their interpretation of southern cooking really means. Notable participants include Adam Hayes of the iconic Canyon Kitchen of Western North Carolina and Charleston's Amalia Scatena of Cannon Green and Kenny Gilbert of Gilbert's Underground Kitchen and Gilbert's Social. As someone who has tasted Gilbert's slow cooked alligator before, I can just go ahead and say that all participants should bee line in his direction first.
I'm a sucker for downtown Travelers Rest. The Big Easy Bash mixes chefs from Greenville and New Orleans to create a festive party in the park to the tunes of a traditional New Orleans-style jazz band. Family friendly. Also- if you're feeling crazy, I highly recommend ending the evening with ice cream from Sidewall pizza or Pink Mama's.
7. Southern Grown: A Dinner with Bacon Bros. Public House
What's a food festival without the meat sweats? Bacon Bros Public House is known regionally for Chef Anthony Gray's primitive meat-inspired menu. The Farm to Table concept is taken step further with Trough to Table at Bacon Bros Public House where guests can view meat curing from their tables in the restaurant. Shawn Kelly of the soon to open Fork & Plough and guest chefs Edgar Pendley and Blake Hartwick pair up with music by Darby Wilcox for a fun Euphoric night out at Quest Brewery.
A cocktail reception kicks off this event at Revel Event Center. Grammy-award winning Tim Nichols, Lee Thomas miller and Deric Ruttan share the stories behind their famous songs and top hits on the radio from artists such as Tim McGraw, Jana Kramer, Chris Stapleton and many others. Chefs from SC Chef Ambassadors participating include William Cribb of Cribb's Kitchen and Willy Taco in Spartanburg; Amy Fortes of Flipside Café in Fort Mill; Adam Kirby of Bistro 217 in Pawleys Island, and Sean Mendes of Roadside Seafood in Charleston. I have personally tasted Amy Fortes' tomato pie at the Atlanta Food & Wine Festival and marked it as one of the best things I've ever eaten. You can read about Amy's pie here.
It wouldn't be a Greenville festival without something going down at Fluor Field in the West End. This mini Fenway Park usually is home to Greenville's Red Sox affiliate "The Greenville Drive," but transforms into a foodie's paradise with Culinary Demo Stages, Grand Wine Tastings and over 60 breweries, distilleries, restaurants and chefs.
10. Sunday Supper presented by Certified SC
Euphoria closes out it's four days with a traditional family supper styled event in the Wyche Pavilion overlooking the Reedy River while cello-guitar duo " Wirewood " play nearby.
Like I said, Greenville's where I fell in love with flavor. It's the city of my childhood. I remember when a big night on the town was visiting the old Zazby's house on Laurens Road after a Gower swim meet and eating seasoned fries. Now, Greenville's receiving wide spread recognition for it's culinary creativity and opening the door to new restaurant concepts daily. It's a true joy to see a place that played such an integral building block to my love of food, build a name for itself in the culinary industry.
For more information regarding euphoria, visit their website: www.euphoriagreenville.com.
Related
Popular in the Community