If you are looking for a secure and uncomplicated and file sharing service, you will find box.com to be a wonderful way to share files from any device. Today, it is easier than ever for businesses to operate globally regardless of how large or small they are. This is because of the digital age that makes works products easy to share or transfer. Here are ten cool things that you can do with box.com.
Secure File Sharing
Secure file sharing is one of the most important things users do with Box. Because of data encryption and because of the advanced security features that are available with the service, users can access, sync and share files in a secure atmosphere. This can be done using any device and can help enhance productivity and very easy collaboration.
Sharing Files with Partners
Sharing files that are too large to be sent via email with people not in your organization can be a challenge. Sending a 300MB video file for an approval, a 500MB file that displays the stitching of a shirt, or an uncompiled app for review are great examples of places where you can leverage a Box account to send a file, and then trust that the person accessing the file is who they say they are, based on the fact that they have a Box account registered to the email address you sent the file to. And, if you want to disable this feature at an organization level, you can do that too!
File Synchronization
Despite the fact that files might be stored in a number of locations, these files can be updated through the box.com service. This ensures that the most up to date file can be accessed online generally for the purposes of backup. Box has file synchronization software that ensures that this can happen.
Document Management
Through a cloud document management system, you are able to store all of your content can be stored and shared. This is a dependable approach to the access of vital data. The data can be accessed rapidly when required and conveniently and from numerous locations. The traditional way you accessed your files was hierarchically. You put a file in a folder that made sense. These days, with the advent of fast search in cloud solutions, you should still lay out files in an intelligent hierarchy, but t's more common to search for a pattern in a file or file name. Or, use the tagging feature of Box to quickly sort and access files based on their tags, rather than their titles or contents.
View What's Changing
Box has an option to view a feed. This shows you a quick overview of the changes to files that you have access to. This helps coworkers stay on top of what is changing in the files they have access to. I rarely see people use this as part of their workflow, except when first logging in, seeing that an HR policy changed, or a position description. While not used often, it's a great feature of Box, and one that can, in the right circumstances, provide a lot of insight into what's happening around an organization, including what new users have been given access to a folder, usually indicative that you need to take a cupcake to the new hire in your department!
Digital Asset Management
If you are looking for a way to store, organize, locate and retrieve or share digital files, box is a very good option. Digital asset management is the best approach to quickly deploy digital assets and is very a simple and user friendly approach. You can also use custom metadata fields in Box to extend what is possible with automating asset management.
Add Apps to Your Box Deployment
And, you can integrate with third party solutions that can use scripted workflows to generate documents (e.g. from an OCR source), output documents, convert assets, and provide access to your files from services like Salesforce. For example, I once replaced a fax machine-based workflow for a restaurant chain with an automatic upload to Box workflow and cut out an hour every morning to get stores open, which provided an added benefit of having a much more consistent reporting and supply chain capability in the home office, amplifying savings by allowing them to throw away way less perishable items.
Instant Photo Gallery
You could make box an instant photo gallery by selecting good photos and placing them on a sharable file. You can upload the photos that you would like to share with special people and then share the link so that the photos can be shared through a gallery format.
Project Management Through the Box
The box is an online workspace and you can keep your files in a secure place online so that when you have a project, all those working on the project can have access. They can have the most updated version of the project. Working remotely is made possible through the box and telecommuters are able to access files and stay updated.
View the History of What Happened to a File
We've all tried to access a file on a share only to find it was edited in a way we didn't want. You can see who made what edits in the sidebar of a file when viewing in Box.
Share Music Online
It is possible to share music online through the box application. iTunes is a very simple approach to accessing music from just about anywhere. You can have your music library online through Box and share with anyone anytime you like.
Keep Personal Documents Online
Loosing personal document can be devastating. If you have copies that are stored online, it's a good place to start. You can scan important personal document such as passports, driving license and many other essential documents and store then on Box.
Store Games on Box
With a service like Box, you could store your games in a central and synced location where it is easy to access them. You could even pick up your games where you left them using another computer.
General Backups and Password Storage
You can backup just about anything using Box. Space can be at a premium, compared to unlimited online backup solutions, but it's quick to go get a file in the event that it becomes corrupt or goes missing.
Use Box Notes to Sync Notes Between Computers
Box Notes provides a way to create a quick note in a Box folder. The best part about these notes is that they're then able to be edited by multiple people concurrently. That. Is. Awesome. Note taking in meetings can allow people to be more focused on the meeting, geographically dispersed teams can work more collaboratively, and people who might not otherwise provide that much input can have their voices heard a little more.
Embed Files and Lists of Files in a Web Page
I use WordPress a lot. And I frequently embed YouTube videos, graphics files, and other assets into my pages. One cool thing you can do with Box is to embed a file into a page. Or Sharepoint portal. Or whatever you like. Pretty... Cool...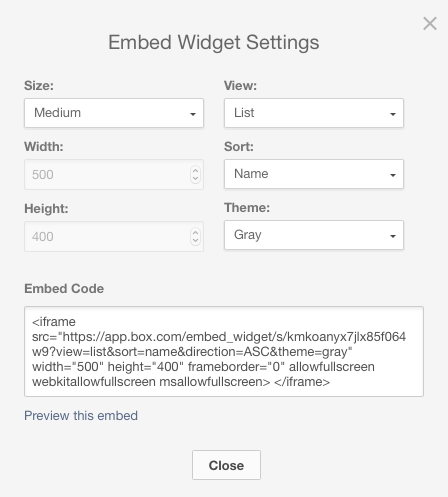 Shared Bookmarks
These days, companies are dealing with sprawl across a lot of systems. You might have a wiki with information about a business process, store your files on Box, and use a Basecamp site for project management. You can put bookmarks into Box though, which allows you to bookmark a site that explains how to fill out contracts, for example, in the folder that has contracts. Closing the loop between assets that are stored in disparate locations is super-helpful, and rarely used.
Log in Without a Password
One of the great things about Box is that it integrates perfectly with tools like Okta and One Login. This means users aren't having to enter a password manually. Instead, a token is used to login to Box (and other services), which means less tasks to login AND a more secure session.
View Supported File Types Without an App
I have known tons of organizations over the year that have to buy Office so that computers that only ever view data are able to access and see what's in a file. The spreadsheet of orders for the parts warehouse, the contracts that a given customer signed, etc. For these systems, all you need is a browser and a smile (smiling because you didn't have to buy software)!
Build Your Own Tools
And Box comes with one of the better APIs for such tools. This gives you the power to build your own tools and scripted workflows. Which means that you can basically do anything you want with Box. For example, why not write a workflow that leverages If This Then That to flash the lights on for your Hue when you upload a file that has Accepted Statement of Work in it?
Overall, Box, as with competitor services, is a very cool solution. You can do a ton with it, and you can extend its capabilities to include a lot more than might seem obvious out of the Box (yes, bad pun intended). So if you're using Box, consider these tips for some ways that you can save time and have a better experience with the files that your organization stores.
REAL LIFE. REAL NEWS. REAL VOICES.
Help us tell more of the stories that matter from voices that too often remain unheard.