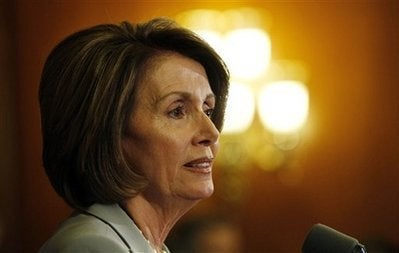 On Monday of last week, I published an article '10 Republicans Who Should Go Away.' For some reason, the article went down a storm and received well over 100,000 hits on my site TheDailyBanter.com. Reading the comments and emails I received was probably more fun than writing the article (which I enjoyed immensely), but I was a little taken aback at the debate I seemed to have sparked off. A host of conservative bloggers were up in arms, raging about liberal 'hate' I was spewing, and the temerity I was showing for insulting their idols. Neal Boortz called me a 'Moonbat,' and Michelle Malkin fans left comments on my site accusing me of being a 'liberal terrorist' and a 'communist.' I did however, receive some intelligent emails asking why I was only focusing on Republicans.
The Democrats have in some ways, been worse than the Republicans. As a party, they've stood idly by as the Bush Administration has literally ransacked the country, trashing the constitution and driving the national debt into uncharted territory. So in order to show the Right that progressives are not reflexive liberals, I thought I would pen an article listing the top ten Democrats who should go away. And by 'go away,' I don't mean censor, or prevent from speaking. I'm asking that they do it themselves -- shut up for the good of the country. Here they are:
Lieberman is not a Democrat in any real sense of the word (he is technically an 'independent Democrat', but that is still a stretch.) The junior United States Senator is a foreign policy hawk and a fiscal conservative, remaining liberal on only a few token issues (abortion, gay rights, etc). Lieberman was a vociferous supporter of the war in Iraq, threatening Democrats if they didn't support it and hyping up the non-existent threat from Iran (a country that spends the same amount in a year on its military as the U.S does in a week in Iraq). Lieberman is the quintessential corporate shill, selling his soul to the pharmaceutical companies and defense contractors while painting himself as a 'moral' Democrat, mostly because he doesn't cheat on his wife (see his outrage over Monica Lewinsky) and believes in blowing up Arabs whenever possible. Supporting John McCain was one thing, but breaking a pledge not to go negative on Obama was completely unforgivable. The only reason Joe is still a Democrat is because his party is almost as spineless as him, and won't throw him out for fear of appearing too liberal.
It's hard to find a kind word about Mark Penn, CEO of PR company Burson-Marsteller and chief strategist of Hillary Clinton's campaign. Penn is about as greedy as they come in the modern era of political hackery and corporate corruption, and Penn has his fat little fingers in about as many dodgy pies as humanly possible.
Burson-Marsteller has represented stellar companies like Blackwater and Countrywide, and lobbied hard for Free Trade agreements that have wrecked the lives of millions of poor people. While Hillary Clinton went on an anti NAFTA campaigning jaunt throughout the Midwest, Penn was busy promoting a free trade agreement between the U.S and Colombia at the behest of leading human right's violator and president of Colombia, Alvaro Uribe. So corrupt was Penn, that he had to resign from Clinton's campaign (never known for its purity), and publicly apologize for the clear conflict of interest. In terms of strategy, Penn exemplifies the slash and burn politics of Karl Rove, using anything and everything to win. He wanted to use Obama's foreign upbringing during the primary, focusing on his lack of 'American values.' He wrote in a strategy paper:
"All of these articles about his boyhood in Indonesia and his life in Hawaii are geared towards showing his background is diverse, multicultural and putting that in a new light.....

It also exposes a very strong weakness for him -- his roots to basic American values and culture are at best limited. I cannot imagine America electing a president during a time of war who is not at his center fundamentally American in his thinking and in his values."
We've not heard much from Penn in the political arena since, and hopefully it will stay that way. He'll no doubt continue to destroy the lives of poor people in the corporate world, but his stock as a political consultant was damaged badly after the Clinton debacle. Penn is not obsolete, but with operatives like David Axelrod and David Plouffe taking center stage, his days are seriously numbered.
When the Democrats took power in 2006, they were elected by war weary citizens that were fed up with President Bush and the Neo Conservatives. Despite his position as Senate Majority Leader, Reid failed spectacularly to reduce war funding or establish a firm time timetables for troop removal from Iraq. Reid showed the cojones of a neutered kitten, and has spent the last two years backing down to the Bush Administration instead of doing what he was put in power to do: stand up, and stop the war. When the effort to put timetables for withdrawal in the war funding bill failed to override Bush' veto, Reid and other members of Congressional leadership caved and gave Bush all the money he asked for in the first place. Amazingly, Reid didn't even push for a compromise. Should Obama follow a more centrist agenda than he promised during his campaign, you can bet Reid won't do anything to hold him accountable.
Nancy Pelosi finds herself on this list for many of the sames reasons as Harry Reid. Failing to enact a serious timetable for withdrawal from Iraq, as well as repeated caving to the Bush Administration's war efforts, Pelosi also refused to seriously consider impeaching President Bush. Pelosi argued her role as Speaker of the House was to "try to bring a much divided country together," and that "impeachment would be divisive.". She believed that Congressional Leaders would not be able to further their Democratic agenda in the midst of an impeachment process, regardless of the overwhelming evidence that serious crimes had been committed. Representative Dennis Kucinich introduced 35 articles of impeachment that asserted directly that impeachable offenses (crimes) had been committed. These crimes include taking a nation to war based on lies, the deaths of a million Iraqis (constituting a war crime), illegal wiretapping, rendition, torture, and illegal detention. If impeachment can't take place because it's politically inconvenient, it begs the question as to whether or not the Legislative Branch still serves as a check and balance on the Executive Branch. According to Pelosi it can't, and as a consequence, her name will go down as one of the most ineffective Speakers in history.
Chris Matthews seems like a genuinely nice guy. He loves politics, and he loves his job, but for all the wrong reasons. Matthews knee slapping, frat boy journalism has contributed massively to the dumbing down of politics in America. The title of one segment in his show is called 'The Politics Fix,' which really says it all. For Matthews, political issues are to be consumed like cups coffee, quenching an addiction rather than enlightening our intellect. Discussions often look like public masturbation as 'experts' of various sorts are invited to pontificate on inane subjects they've specialized in. In a panel discussion, here's what Matthews had to say about President Bush's 'Mission Accomplished' speech back in 2003:
"We're proud of our president. Americans love having a guy as president, a guy who has a little swagger, who's physical, who's not a complicated guy like Clinton or even like Dukakis or Mondale, all those guys, McGovern. They want a guy who's president. Women like a guy who's president."
Most disturbingly, Matthew's analysis of the war consisted of how it rated with undersexed housewives:
"Check it out. The women like this war. I think we like having a hero as our president. It's simple. We're not like the Brits. We don't want an indoor prime minister type, or the Danes or the Dutch or the Italians, or a [Russian Federation President Vladimir] Putin. Can you imagine Putin getting elected here? We want a guy as president."
Thanks, Chris. Don't worry about the thousands of innocent lives lost in the invasion, the enormous waste of tax payers money and monumentally catastrophic consequences for the region. Matthews is capable of real journalism when he wants to, and is apparently looking to run for the Senate in 2010 as a Democrat. Let's hope he grows up by then and takes it seriously.
Popular in the Community